There's never been a better time to transform your home into a sanctuary. This year we could all use a place to tuck in and feel completely comfortable. While your space should be a reflection of your own personal character, it's always fun to borrow inspiration from the experts' list of latest trends for the coming year.
We searched and gathered our favorites for autumn from all over so you didn't have to. Check out this curated gallery of the hottest interior-design styles and tips on ways to incorporate these looks into your own space in the coming season.
Image via Hadley Court/Southern Living
GRANDMILLENNIAL STYLE
In a recent House Beautiful article that went viral, it's noted that the recently acclaimed trend of 'Grandmillenial Style' is having its big moment in the spotlight. If you're unfamiliar with the new terminology, the look consists of traditional design with a contemporary twist: blending elements of classic design like scallops, natural fiber rugs, topiaries, and more, with a present-day edge (think: modern art and clean lined furniture).
This is particularly appealing to those of us that love a fresh, clean look that incorporates classic elements and detail. It's such an easy look to pull off, you may not even realize that you're already doing it by mixing old with new – which transitions us nicely to our next trend.
LAYERING OLD AND NEW
There is something so comforting about a room that speaks to nostalgic things we love in our lives (like souvenirs from travel or family keepsakes) showcased cleanly on a bookcase or piece of furniture with fresh, modern appeal. Things that feel homey-enhanced, like an old cozy chair decorated with modern pillows and a timeless reading light.
People taking the design of their homes to the next level by getting comfortable with mixing and matching old and new; even purchasing locally made souvenirs while on their travels to help tell the story of who they are and where they've been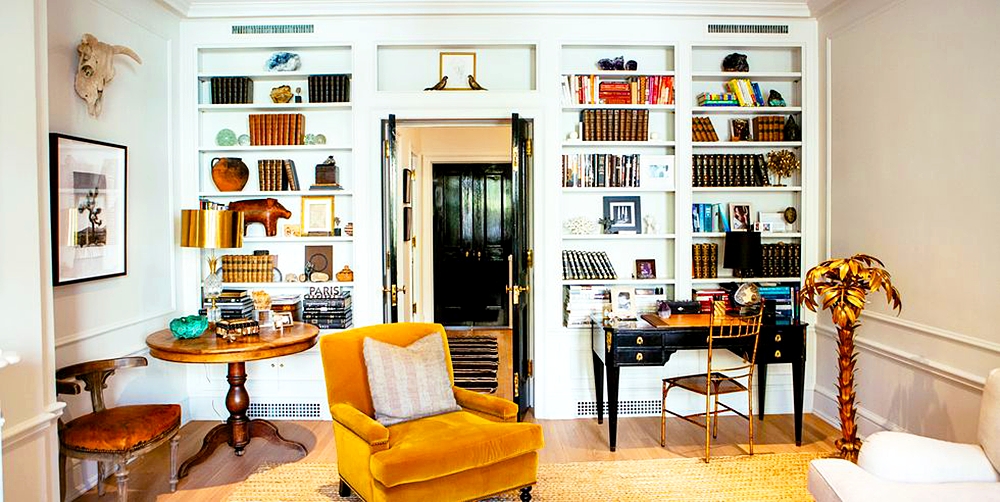 Reading Room Mix via Lauren Buxbaum Gordon of Nate Berkus Associates

CRYSTAL & NATURAL STONE
One trend at the forefront is the use of natural crystal and stones. Made popular because they are a true work of art that is formed by one of our favorite artists, Earth. They have organic substance and structure that translates to each being unique. Everyone is guaranteed to find their own gem to bring a personal touch to their homes.
Natural Foundations Collection via West Elm

Looking sophisticated and precious, these minerals come with a plethora of unique shapes and color combinations sure to add a pop of visual interest and character to any setting. Try placing one on your coffee or side table or one that decorates a jewelry box for your dresser.
Natural Stone & Quartz Collection via West Elm
Another reason to put crystals on your wish list? Crystals are believed to possess healing properties that can help us to ward off negative energy. So if you're looking for alternative ways to restore your inner peace during these chaotic times, why not give them a try? Just remember to use a retailer that's committed to sourcing crystals responsibly to keep the good karma going around.
Mii Amo Crystal Grotto via Enchantment Group
NEUTRAL TILE WITH BOLD PATTERNS
If you're looking for a way to level-up your kitchen or bedroom – two rooms that people are spending even more time in these days and are at the heart of every home – consider a statement tile with a big, bold pattern in a neutral tone.
Bedroom Tile via Fornace Brion
A new look for a floor can revamp an entire room and project more time and effort spent in the upgrade than reality requires. Muted color palettes are incredibly stylish yet versatile and can work well with nearly any interior concept. Choose a smooth, matte finish and experiment with different patterns, materials and textures. A little change can make a big difference… leading us to our next fav.
SMALL CHANGE BIG IMPACT
You don't have to go for a large-scale renovation project or switch out every piece of furniture to get a new look or feel to your space. Quarantine-life can be seen as an opportunity to give your house a 'little makeover' while you've had the time to get more familiar with it. And what better place to do it than in the dining room!

Dining Room via The Editors 
Nothing says 'home sweet home' louder than a cozy, inviting dining room. Restyle and dress up the blank walls with your favorite-found artwork, photographs, or even an eclectic glass collection on a reclaimed wood surface (think one-off coupe glasses on a bar). Even if you've got a small room, you can make it outstanding by choosing chairs cushioned with a custom fabric and/or enhanced with metal details such as hammered rivets. Simple, strategic changes that compliment your table's scale and style can create quite a drastic juxtaposition and draw your guests eyes around the room with envious interest.
To lift the mood, bring the outdoors in with a large floor plant like a Fiddlehead Leaf Tree or a several small pots filled with succulents placed on a sideboard or console. Go for a low-maintenance variety that suits the light available and then sit back and enjoy each other's company.

Fiddlehead Leaf Plants via Apartment Therapy
SURROUND YOURSELF WITH NATURE
Want to bring the outside in? Try decorating with fall leaves. Their bright colors are an infinite source of inspired combinations for any room in your home. Fill a large vase with branches displaying vibrant fall leaves to add warm natural tones into your home or explore other creative options like strands of garland or eucalyptus. Whether it's bright yellow to reds or muted greens and browns, the palette array is endless and is certain to please.
Decorating with Fall Leaves via Remodalista
In these stressful times, creating a soothing reprieve is so important. Adding touches of nature to your home can instantly offer a calming effect. Some simple ways to accomplish this is with a seasonal flower or foliage arrangement with a candle placed nearby that provides the feeling of fall. Even if the elements are faux, the experience of welcoming fall into your home translates either way.
Feel like splurging? Sign up for a gift that keeps giving with a subscription to the season's finest flowers from Winston's. They've recently launched a monthly program where their fabulous designers create original arrangements featuring the most exceptional in-season blooms. These exquisite bouquets are exclusive to program participants. Simply choose a subscription to receive monthly flower designs delivered straight to your (or your besties) door.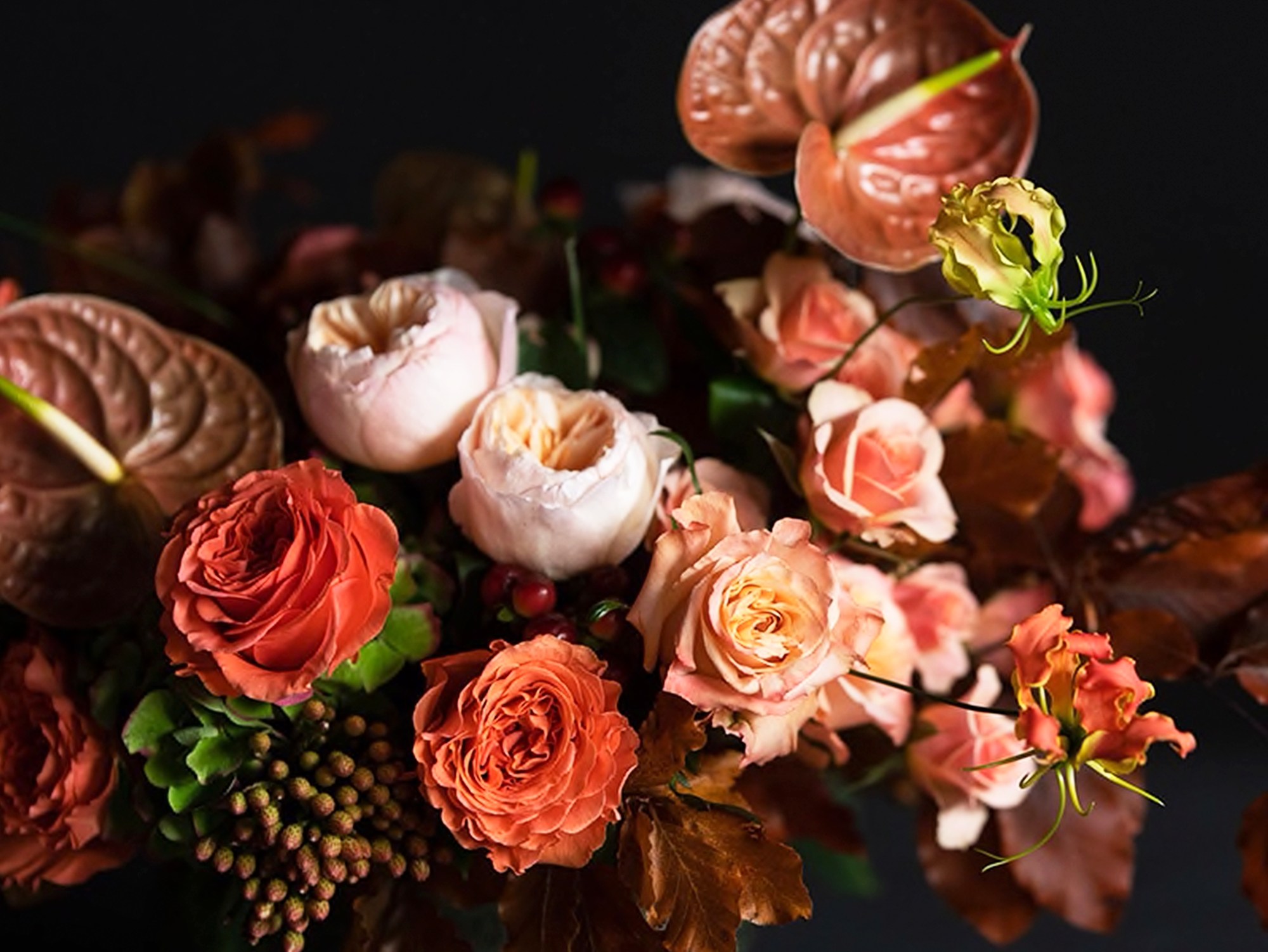 Seasonal Bouquet via Winston Flowers
ADD A TEXTILE ART PIECE
Want to try something different from the usual art prints and posters? Consider buying a handmade piece of textile art such as a mobile or pennant wall art to be hung alone on a focal point – like above your bed. For a really original result, you could also try adding a statement rug with a graphical pattern, not to be used on floor but to be placed on the wall like a tapestry. Interesting designs made from different materials can be displayed in outside-the-box ways. Play around with things you like… if you like a pattern on the floor, how will it look on the wall? You can always put it back on the ground but why not experiment a little, you might be surprised by what you prefer.
Image via Planete Deco
CREATE A BEDROOM SANCTUARY
With the demands the digital age places on our time and attention, the need for getting quality sleep is becoming more pressing. The bedroom is the one place in our homes that is meant to be a haven of peace, tranquility and relaxation to after a long day and rejuvenate us for the next.
Bedroom lighting is often overlooked when planning your home's lighting design. It's not enough to merely set a lamp beside your bed and call it done. The best practice is to use a blend of different light sources in addition to natural light—including accent lighting to add drama to your most cherished objects, task lighting and ambient lighting to create an intimate atmosphere. To inject more character into the room, set up a cozy little reading corner where you can relax with a good book, meditate or simply give your mind a rest with your favorite music.
Add a touch of warm caramel or cinnamon – adding earthy colors are also a trend this year and will surround you in earthy, organic tones. These are hues that come naturally to our minds. Think cinnamon, caramel, terracotta; these immediately add a warmer touch in any interior. If you don't feel like repainting walls no worries, you can achieve a great result even only by replacing some cushions and textiles.
Cinnamon Bedroom via Daily Dream Decor
While going to bed early might be more of a challenge, turning off or putting away our devices before bedtime can be more appealing if we have created a comfortable, beautiful sanctuary for sleeping. Besides setting the right room temperature, soft bedding and materials play a major role in how we rest. Whether you prefer luxuriously smooth silk bedding or extra comfy cotton sheets be sure to choose the materials and colors that you like. Instead of trying to copy the look that you see from those interior design magazines, pick a bedding that can reflect your personality and taste.
The focus on creating a comfortable lounge vibe in our sleep studios is here to stay, Try this in your home with the use of natural materials (like authentic hardwood) or look for ultra cozy furniture pieces that will beckon you to hunker down with a cup of tea and a good book
Or try incorporating Pantone's soothing color of the year, Classic Blue, into the mix. in all its hues, will play a big part this fall, particularly in shades of navy.
Classic Blue Bedroom in Pantone's Color of the Year via Jane At Home
TWIN WORKSTATIONS (HIS & HERS)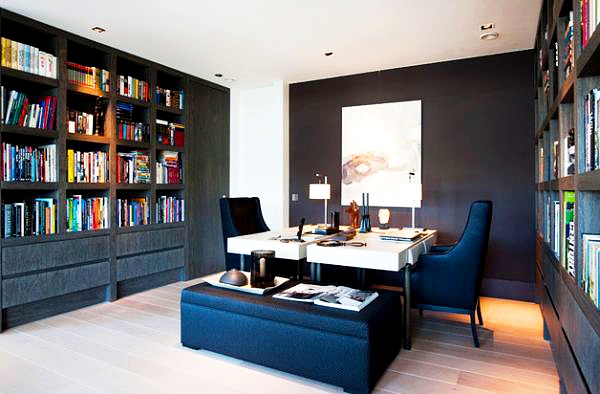 Dual Elegant Workspace via Decoist
Recent events have influenced all aspects of our lives, including the way we commute (or don't) to work. Work from home is the new 'black' and (no surprise) has left many of us struggling to maintain a healthy work-life balance with office and home becoming one in the same place.
It's vital to keep your professional and personal life separate to maintain a healthy balance, especially with so many of us spending more time at home. Setting up a separate workspace will make you feel comfortable and productive.
Chic Dual Work Space via Home by Hattan
Bonus tips: Brighten up your office by incorporating some plant life, add enhanced storage to hide away work when you're done, and include a display shelf to keep some treasured items in view. Don't forget to invest in a comfortable, sturdy office chair and a stylish, functional desk lamp. All of these are sure to make your time at work more enjoyable and productive.
AFRICAN TEXTILES
The vibrant tones found within the modern African design trend are truly designed to dazzle, creating a dramatic yet equally comforting mood in the home. I
f you enjoy bringing global influences into your own home to express your love for exploring different cultures, this one's for you. Additionally, it will see us all through those gloomy colder months.
If you're not ready to embrace the bold color movement (further down our list), perhaps just take it slow and try an eye-catching piece of home decor like a rug or an oversized vase with African motifs against a neutral background.
African Pattern Textile Rug via Eva Sonaike
VIBRANT MONOCHROMATIC
Monochromatic does not need to equate to a neutral or pale palette. Colors like Cobalt Blue, Kelly Green, or even Tangerine can play on monochromatics in a daring way full of personality and elegance. We love a room set in neutrals that allow the accents to take center stage, but who doesn't love walking into a room that oozes drama and personality. Take a chance on a bold statement room. When done right, there's nothing quite like it to make a big impression.
Monochromatic Room in Cerulean Blue via Decorist

---
INSPIRATION SOURCE
Grand Millennial Style via Hadley Court
Reading Room Mix via Lauren Buxbaum Gordon of Nate Berkus Associates
Natural Foundations Collection via West Elm
Natural Stone & Quartz Collection via West Elm
Mii Amo Crystal Grotto via Enchantment Group
Bedroom Tile via Fornace Brion
Dining Room via The Editors 
Fiddlehead Leaf Plants via Apartment Therapy
Decorating with Fall Leaves via Remodalista
Seasonal Bouquets via Winston Flowers
Bedroom Wall Chandelier via Planete Deco
Cinnamon Bedroom via Daily Dream Decor
Pantone's Color of the Year Classic Blue via Jane At Home
Elegant Dual Workspace via Decoist
Chic Dual Work Space via Home by Hattan
African Pattern Textile Rug via Eva Sonaike
Monochromatic Room in Cerulean Blue via Decorist