Just in time for fall, here's a round-up of stylish spaces filled with cozy touches ranging from warm hues to layers of textured accessories. Get inspired to try these simple design tricks to make your own interior space warm and inviting for the chilly season to come!
BLEND WARM HUES WITH BOOKS
It's common to think about color first when designing a warm space – and there's good reason why. Warm hues like gold and chestnut create an inviting cozy atmosphere in any room. Adding a collection of books on a coffee or side table will also add a sense of quiet, thoughtful coziness.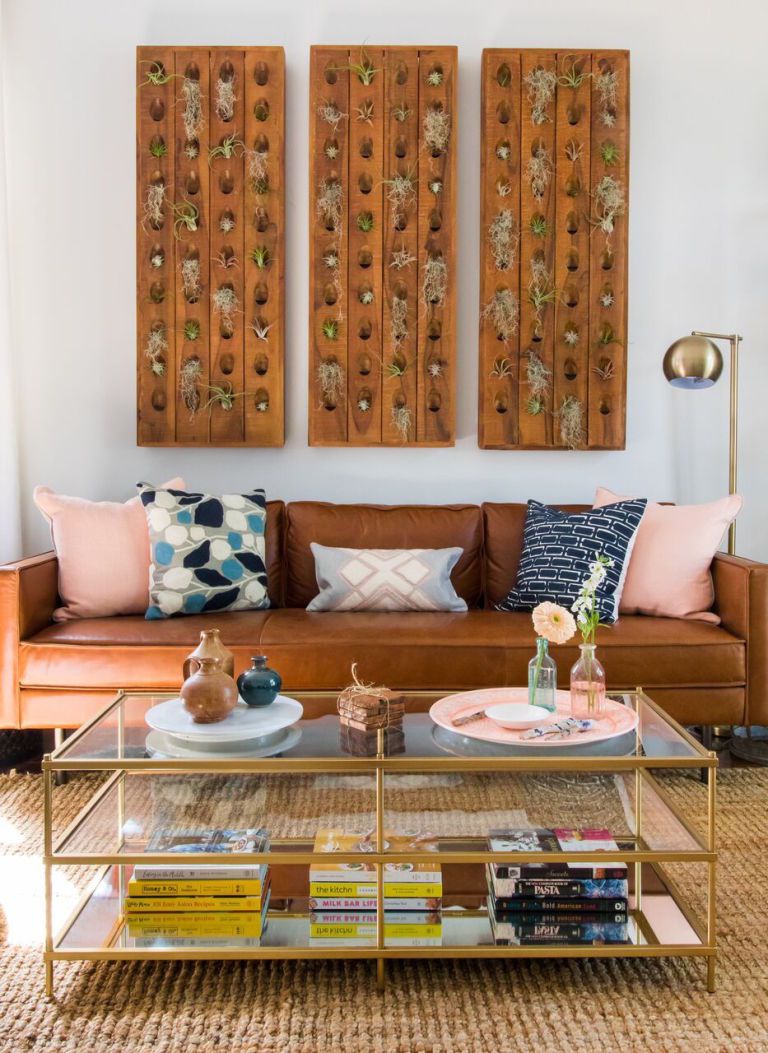 MIX LEAFY FOLIAGE AND NATURAL WOOD
This rustic wooden bowl carved with natural lines filled with soft green, textured foliage paired with soft white pumpkins and beige squash set an inviting table for visitors to gather around cozily.
ADD KNITS WHEREVER POSSIBLE
Knits have a way of making you feel cozied up and at home, and there are so many ways to incorporate them into your living space. This reading nook paired with a knitted pouf and a woven blanket complete with textured pillows, warm woods in the side table and mirror with a fluffy rug layered over a nubby carpet.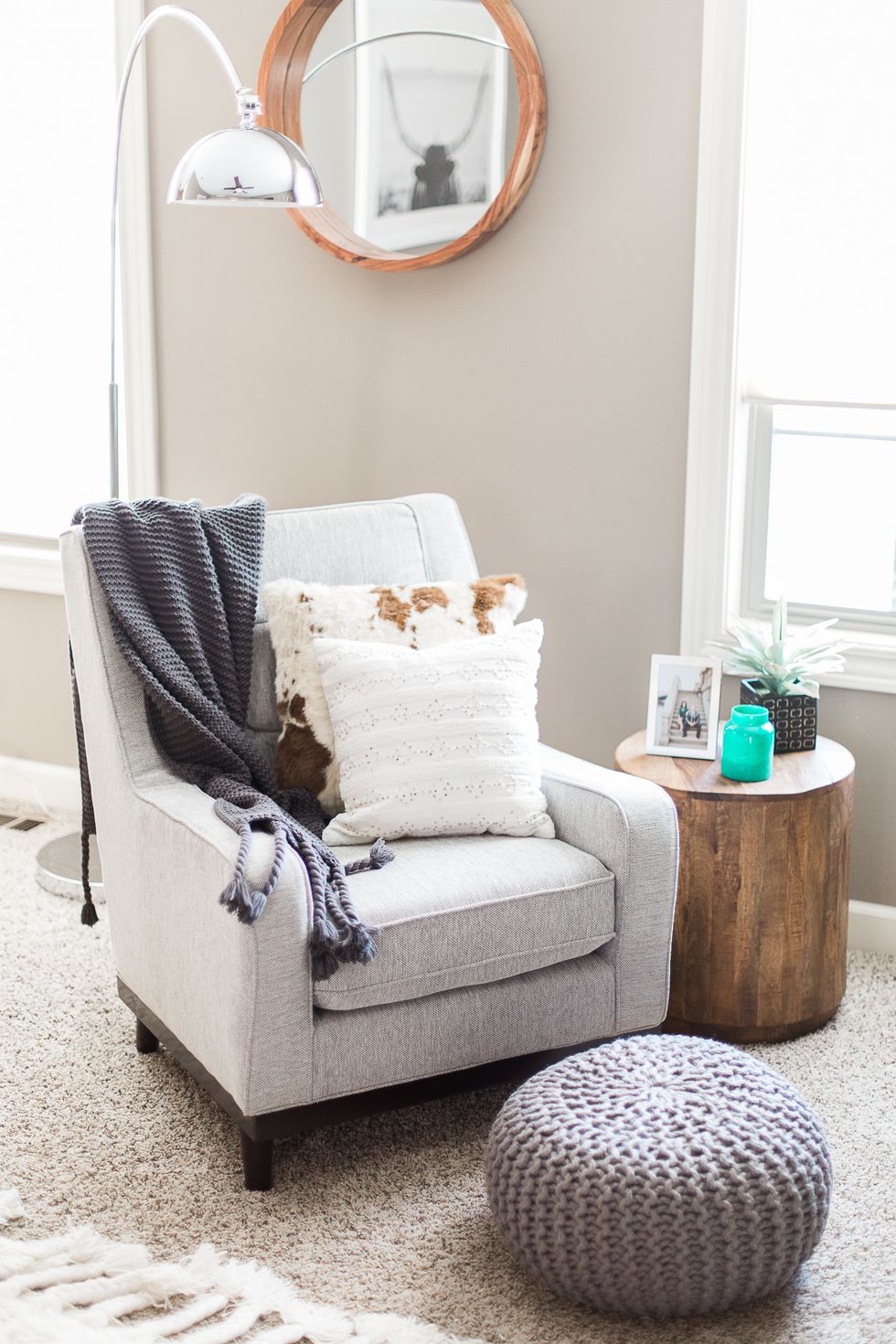 LAYER, LAYER, LAYER
Warm design needn't be reserved for the den, library or bedroom. Even a high-ceiling, sun-filled living room can be made cozy with abundant layering. This room prior to styling is cold with it's exposed brick, black windows and white wooden beams – yet a plethora of layered rugs, pillows, throws, plants and design accents instantly create warmth. Try layering two rugs on top of each other under a coffee table then placing some stacked pillows on the ground to invite guests to cozy-up where they please.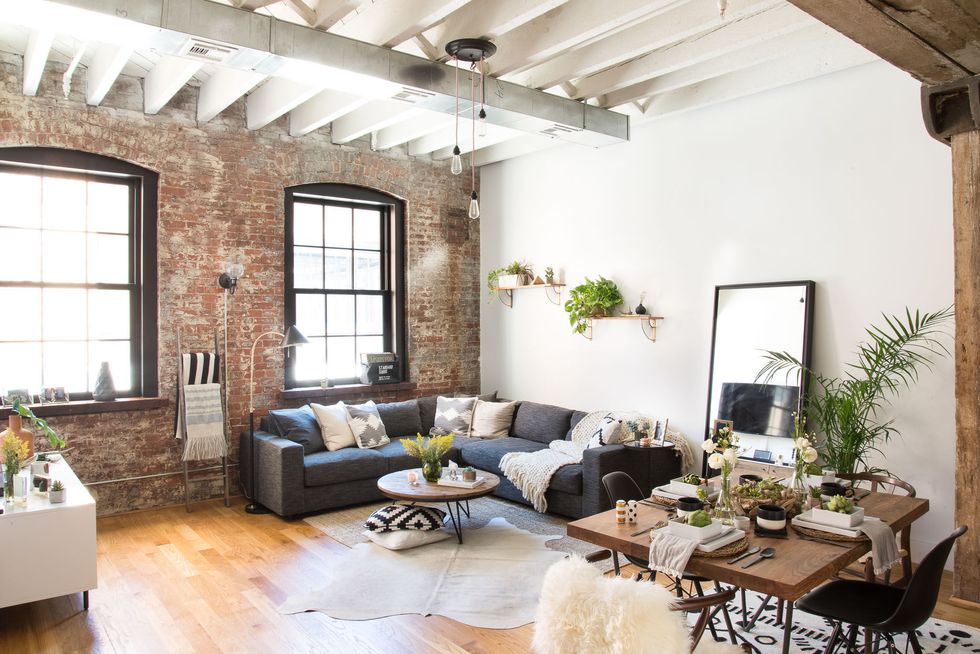 MIX PASTELS WITH BRASS
A rosy pink bedroom pairs two warm brass mirrors that reflect the bedspread's fabrics and textured pillow that highlight the dreamy hues. Golden orange flowers illuminate the dresser and a soft rug underneath it all keeps toes cozy on chilly mornings.
WARM PHOTOS AND A READING LAMP
This cozy living room has all of the elements of warmth and comfort; a surplus of pillows, a textured rug and a luscious green plant. Perhaps most striking is the quadrant of warm-hued photos that add shades of orange and yellow to the room, a and a curved reading lamp that makes the space fell like a relaxed reading nook.
ALWAYS OPT FOR TEXTURE
The combination of an upholstered velvet headboard, plush throw pillow and elaborate fury blanket laid along the foot of the bed makes this bedroom warm and inviting for cuddling on cozy nights.
CONSIDER A DARK COLOR SCHEME
If 'elegant-cozy' is your thing, consider a room that could benefit from a dark color scheme. In the inviting den of this modern loft, dusty charcoal walls compliment a custom 1960's Harvey Probber sofa covered in a muted grey Ralph Lauren silk velvet fabric.