After such a glorious spring and summer, it's hard to imagine looking forward to a new season. But the promise of fall in New England calls to mind everything warm, welcoming and nostalgic that makes autumn a favorite for so many folks year-after-year, whether born-and-bred natives or just-visiting transplants.
Come September, Bostonians' find renewed energy after a sometimes lazy summer. Post school vacations, breaks and quiet time spent lounging in the sun, turn to cooler nights and a fresh focus on accomplishing projects and exploring all the season has to offer while it lasts.
It's time to get things done, get outside, and get moving. We hope this curated list of tips, trends and teasers helps to inspire you!
2023 New England Fall Foliage Tour via Country Heritage Tours
We have curated the best of everything 'fall' in our collection below and there isn't a shortage of inspiration to pull from each and every year. Use this to day dream about paint colors, home decor, flower arrangements, accent candles, blankets & throws, pillows, and even baking ideas to get your home filled with sensational scents. Read on for our favorite design muses of fall 2022!
LET'S TALK EXTERIOR COLOR
Fall is a great time to rethink the color of your home. With so much to play with in terms of landscape, there are so many options – whether choosing complimentary colors that blend into the background or dynamic colors that pop out with high contrast, it's all about having fun and showing off your style.
Project Ideas & Inspiration via Benjamin Moore
Aligning exterior paint colors with outdoor hues is one way to ensure a spectacular end result. Most homeowners typically use three to four paint colors when creating an exterior color scheme. It may seem like a lot but the varying shades and hues really create a stunning outcome. So when planning your color palette, consider the following spot locations to test out various color choices for trim, windows, garage doors, shutters, and any other exterior element such as awnings, posts or beams, and decorative wood details. This will help you pull together a master plan for the final look.
Don't forget to use direction from unchanging exterior elements like roofing, stone, brick and the surrounding landscape. If exterior accents are warm tones, consider using hues of brown, red, orange, or yellow and if they are cooler, then lean towards gray, blue, greens and violet.
2023 Color Trends via Hello Lovely Studio
Here's a handy guide to using warm and cool paint colors if you want to dive deeper into learning the basics that show how your choice of warm or cool color influences your home's style.
DYNAMIC + MONOCHROMATIC COMBO'S
This award-winning exterior color combo found on a historic Maine home is delightful with its detailed diagonals, multi-toned green hues and metal roof in a vibrant, deep terracotta hue.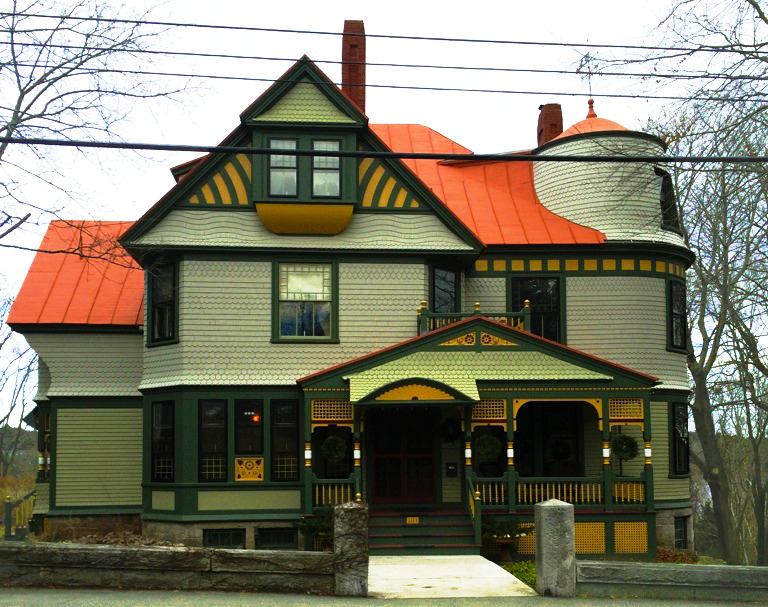 Award Winning Exterior Color via Historic House Colors
We discovered the above gem on Robert Schweitzer inspiring website. With a portfolio of over 1500 homes that he's consulted on for color, he's a notable expert in his field. Not to mention having taught architectural history and historic preservation for over 25 years and serving as Director of Research for the Arts & Crafts Society.  If you're looking for ideas, we suggest you explore his website. You'll find homes from all over the country including several located throughout Massachusetts like this breathtaking monochromatic Queen Anne Victorian in Winchester.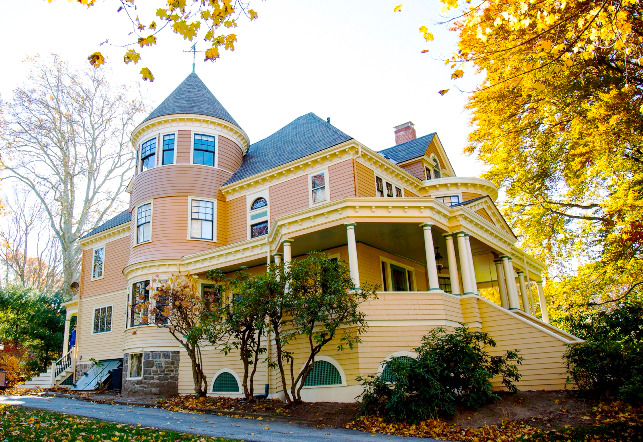 Monochromatic Queen Anne Victorian via Historic House Colors
Or, if you prefer a dramatic, high contrast option, this deep toned Victorian in plum, purple and red hues with contrasting cream and soft green accents, proves that even modest homes can work a dark palette with the right color choice.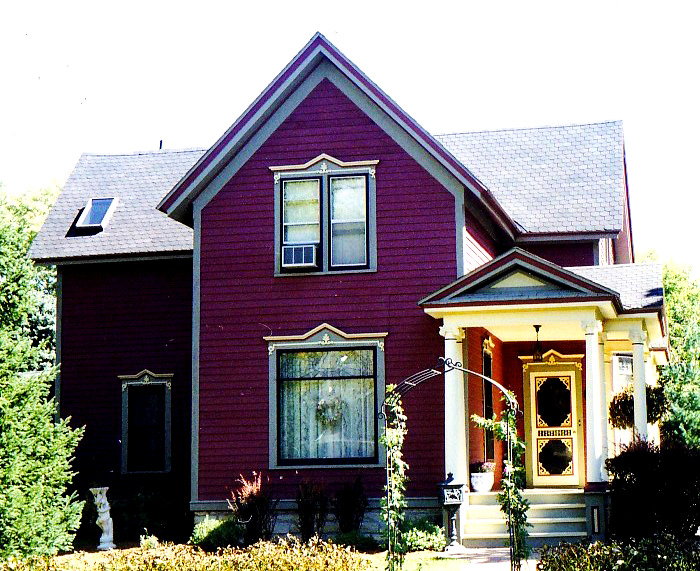 Deep-Toned Victorian in Plum via Historic House Colors
SEASONAL INTERIOR EYE-CANDY
With the exterior sorted, let's take a look at some fun ways to celebrate the season inside. From wreaths of eucalyptus, and centerpieces of gourds to spiced-candles and rustic coffee table accents to tease our senses towards Thanksgiving. The choices are endless and they will create a welcome invitation every time you walk through your door. Here are our favorite find for fall.
PUMPKIN & SPICE
Assorted Glass Pumpkins via West Elm
Pumpkin Luminaries via Grandin Road
There are so many things you can do with pumpkins. The above clear glass pumpkins are so elegant and can subtly accent a formal room, while the metal pumpkin luminaries make a dramatic visual statement on a porch, deck or in a hallway window. We love the simplicity of a natural gourd and pumpkin display – either inside or out as a centerpiece or stairway decoration (especially paired with twinkle lights below by Kelly Nan), but the convenience of reusable faux decor is becoming irresistible with the live look nearly perfected.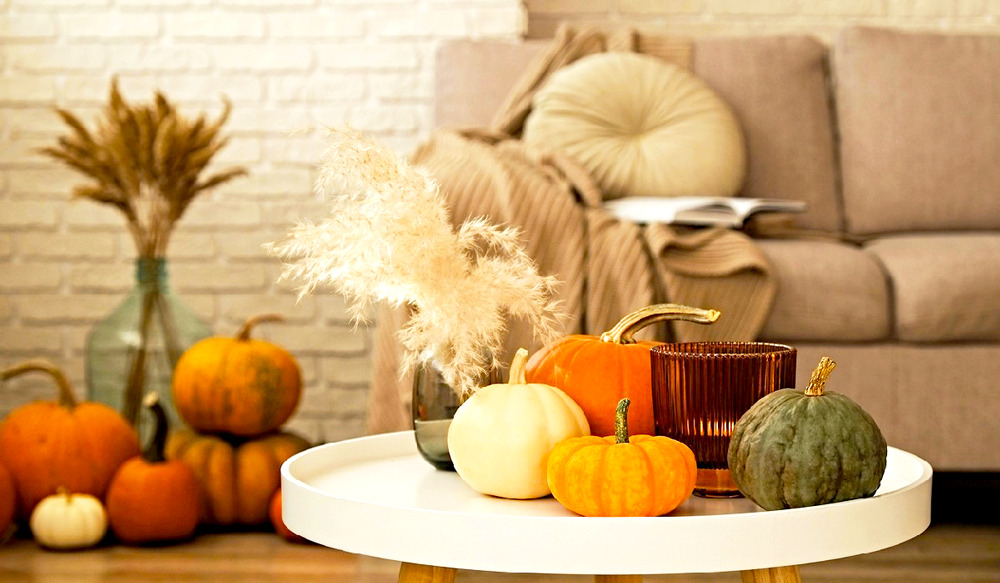 Gourds Galore via Trendy Fall Decor
The twinkle lights below looks so charming at dusk on these front steps by Kelly nan, but the display of chrysanthemums and pumpkins is impressive at any time of day.
Fall Porch Decor via  Kelly Nan
If you want to have pumpkins to use year after year, try these gorgeous set of faux pumpkins and gourds from William Sonoma.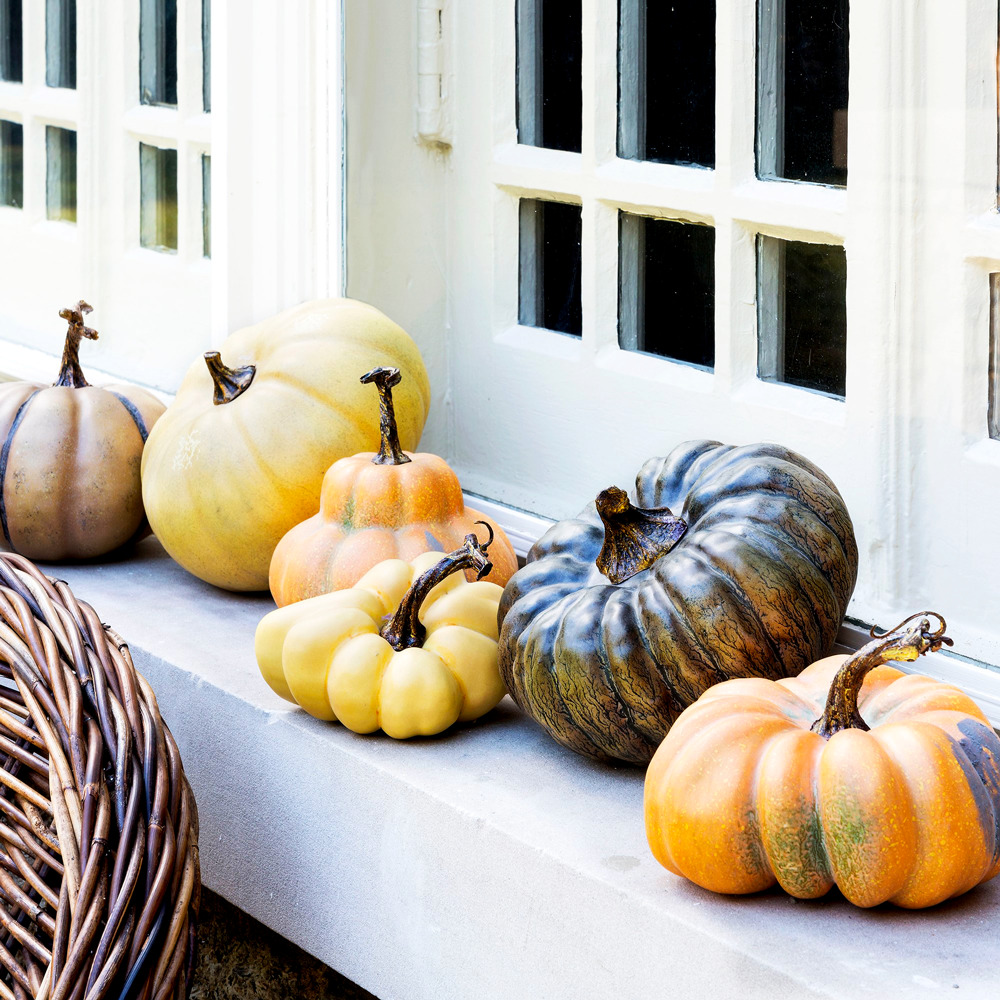 French Faux Gourd Set via William Sonoma
Get creative with your pumpkin and go with plush velvet orange-hued accents such as arm chairs or a faux fabric pieces. Combine it with a bright or deep cerulean blue and ivory to create an outstanding display of color.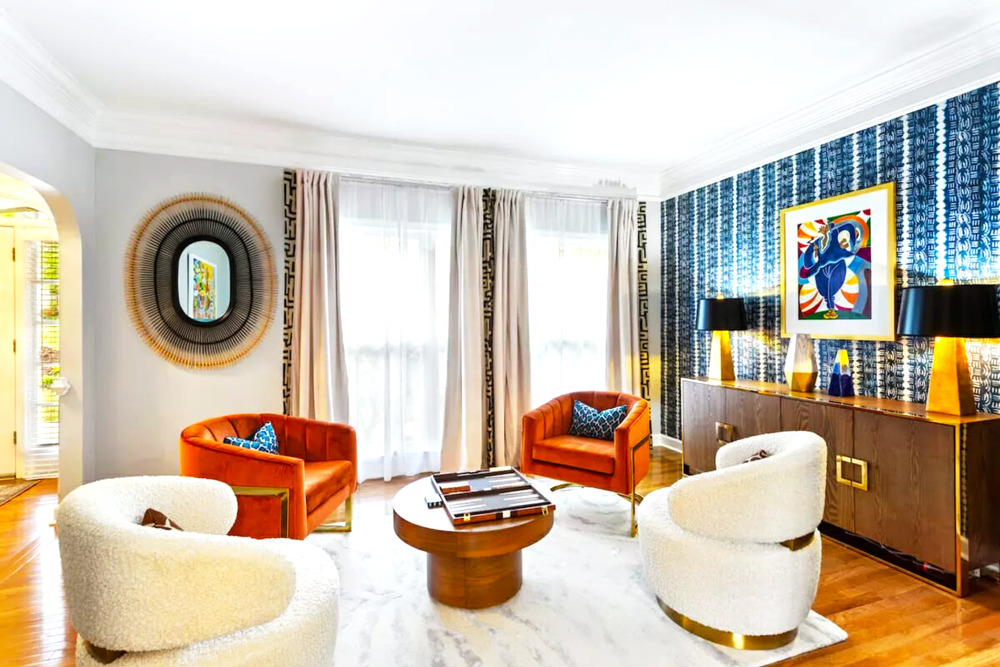 Velvet pumpkin chairs via Decorilla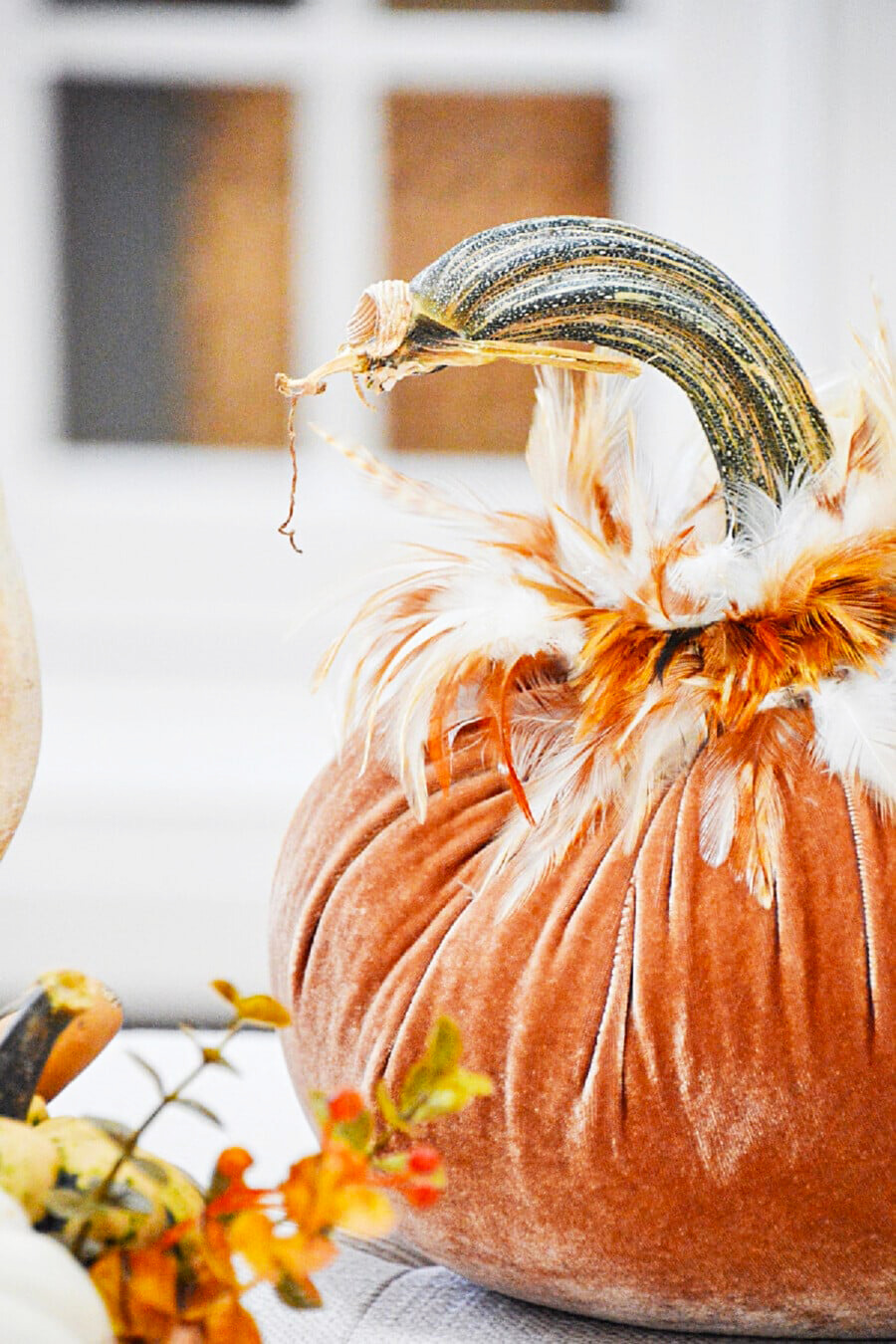 Velvet Pumpkin Puff via Stone Gable
ORGANIC ACCENTS & AROMA'S
This year we're seeing lots of drama in decor with dark, elegant backgrounds mixed with vibrant, rich color. Deep earthy tones or black combined with ivory, white, evergreen, gold, amber and orange that make a statement in any room whether the dining room for a Thanksgiving celebration, or a living room as an especially cozy nook.
Dahlia & Evergreen Wreath via Balsam Hill
Dahlia & Evergreen Garland & Wreath Dining Decor via Balsam Hill
Emerald Green Velvet Couch & Wood Panels via Canadian Log Homes
Your options are endless depending on your style. We love this list of 85 Fall Decorating Ideas for 2023 by Canadian Log Homes. It has the perfect balance of rustic meets classic in a mix of color, style, tones and decor for any room in your home.
Faux Stems & Wooden Inlaid Wall Art via Canadian Log Homes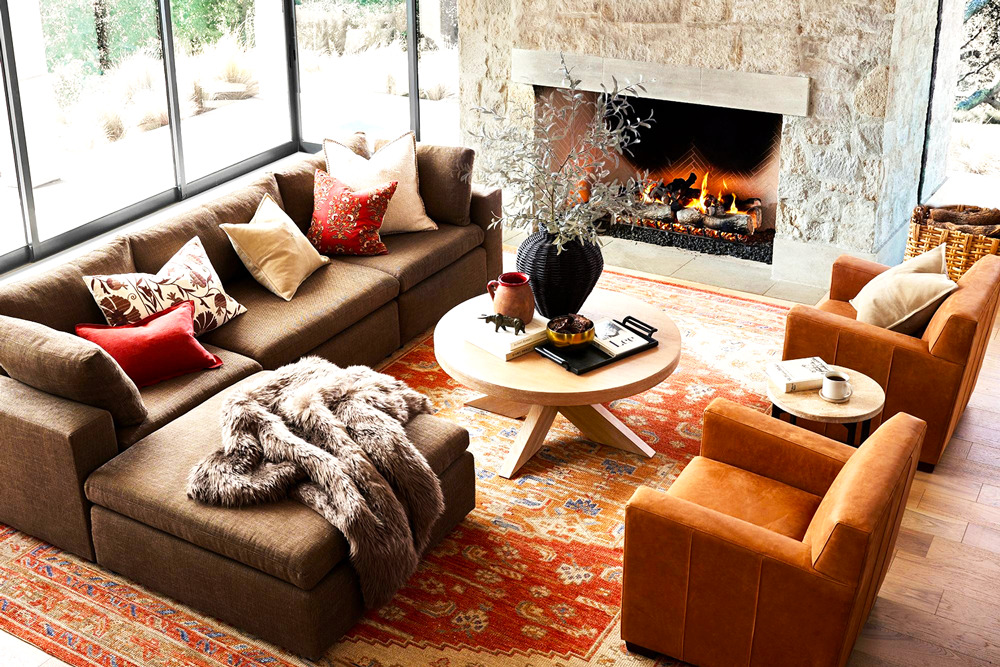 Earth, Black and Orange Living Room via Canadian Log Homes
Looking for something a bit more chic or glamourous? Try mixing in golden, or bronze metallic accents with your organic wooden details. Place modern textures or a hint of black to make it truly stunning.
Organic Wood Coffee Table & Stool via Elle Decor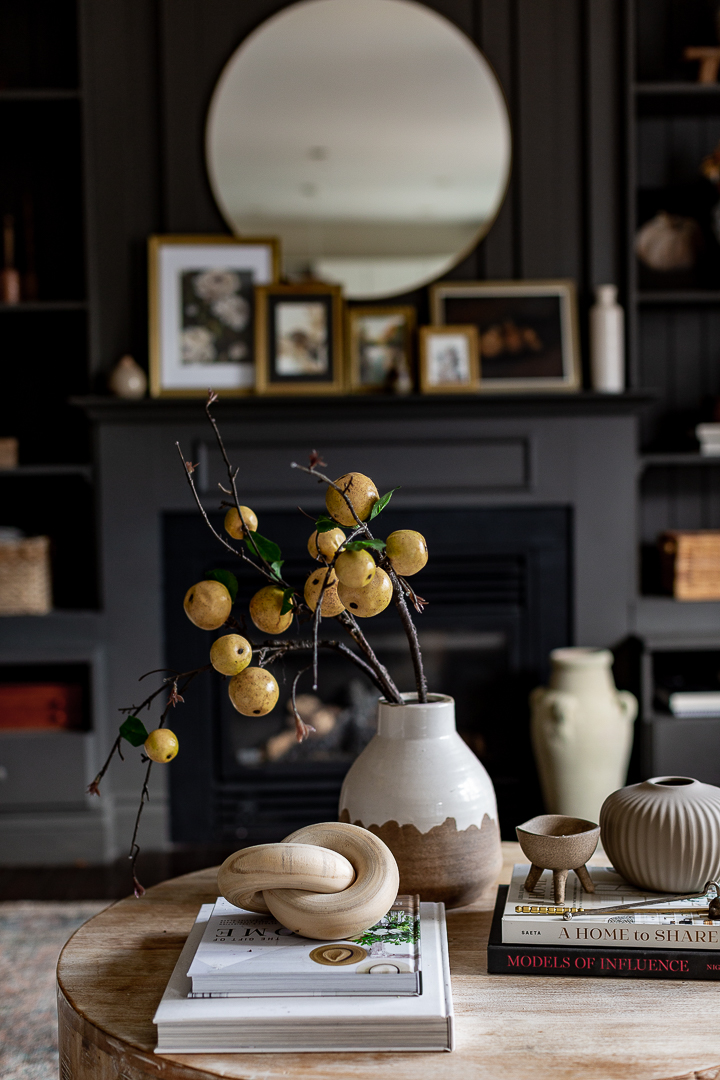 Charcoal Gray, Brown, Ivory and Wood via Carbury Bush
Sweet water décor has an endless array of fall scented candles that conjure up notable autumn nostalgia with names such as,  Cozy Season, Cinnamon Rolls, Farmhouse, and Sunday Brunch. We wish they had a sampler of every single one so we could try them all. Pair them with a Sweet Water blanket, tea towel, mug or journal to indulge in a total fall experience.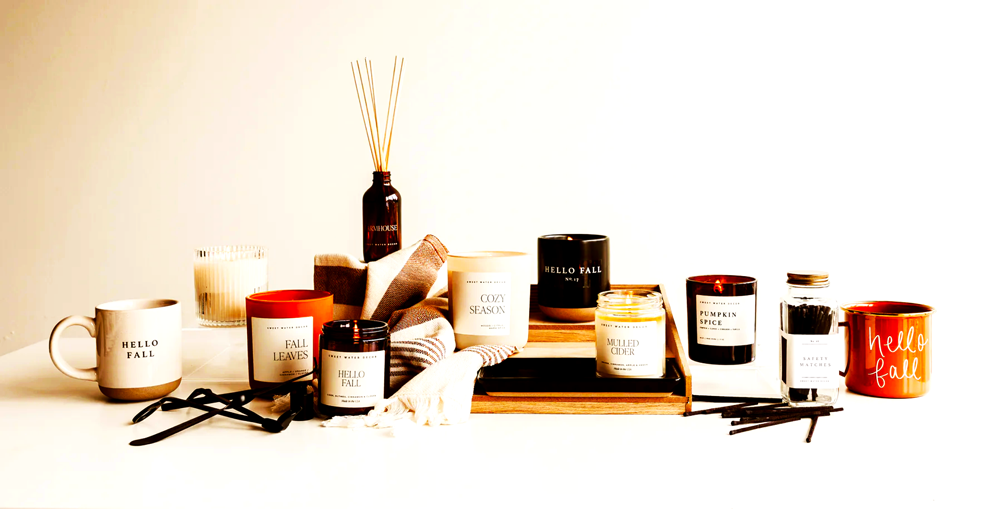 2023 Fall Collection via Sweet Water Decor
FALL FLORALS
There's something so lovely about a blush-y soft salmon pink paired with a deep, lush green. This peachy color can be found at the top of 100 foot maple trees when they first start to turn towards a deeper hue. The transition as the sunlight hits it at dusk or dawn is majestic. It's probably why Limelight Hydrangea's are so popular for both spring and fall garden interest.
Copper, Evergreen, Ivory Wreath via Driven By Decor

Wood & Paper Autumn Bouquet via Etsy Evergreen
A SEASON OF FLAVOR
Just thinking of fall makes our mouths water for pumpkin and spice, cranberry delights, or crisps and crumbles. There's nothing like a warm slice of homemade pie or baked nutty bread to welcome you home or share over a cup of tea. This orange zest cranberry bread drizzled with icing is a perfect recipe for gifting or offering at a holiday feast.
Orange Cranberry Bread via Sweet & Savory Meals
But if a crisp or crumble is more your style, swap the apple for a fresh cherry crumble or a sour cherry crisp. Top it with a dollop of whip cream, ice cream or cream fraiche and indulge yourself in the best, savory-seasonal way.
Sour Cherry Crumbles via Umami Girl & Fresh Cherry Crisp via Joyful Treats
A TOUCH OF BLACK
Following along with are deep, dramatic decor above. Black is a star this season. It's a timeless accent your home and it can really elevate a space. We have seen the trend for black kitchens, front doors, window frames, and metal roofing but black is a true design chameleon. It works with almost all decor, just be aware that a subtle touch is all you need to make a statement. Too much can be… well, too much.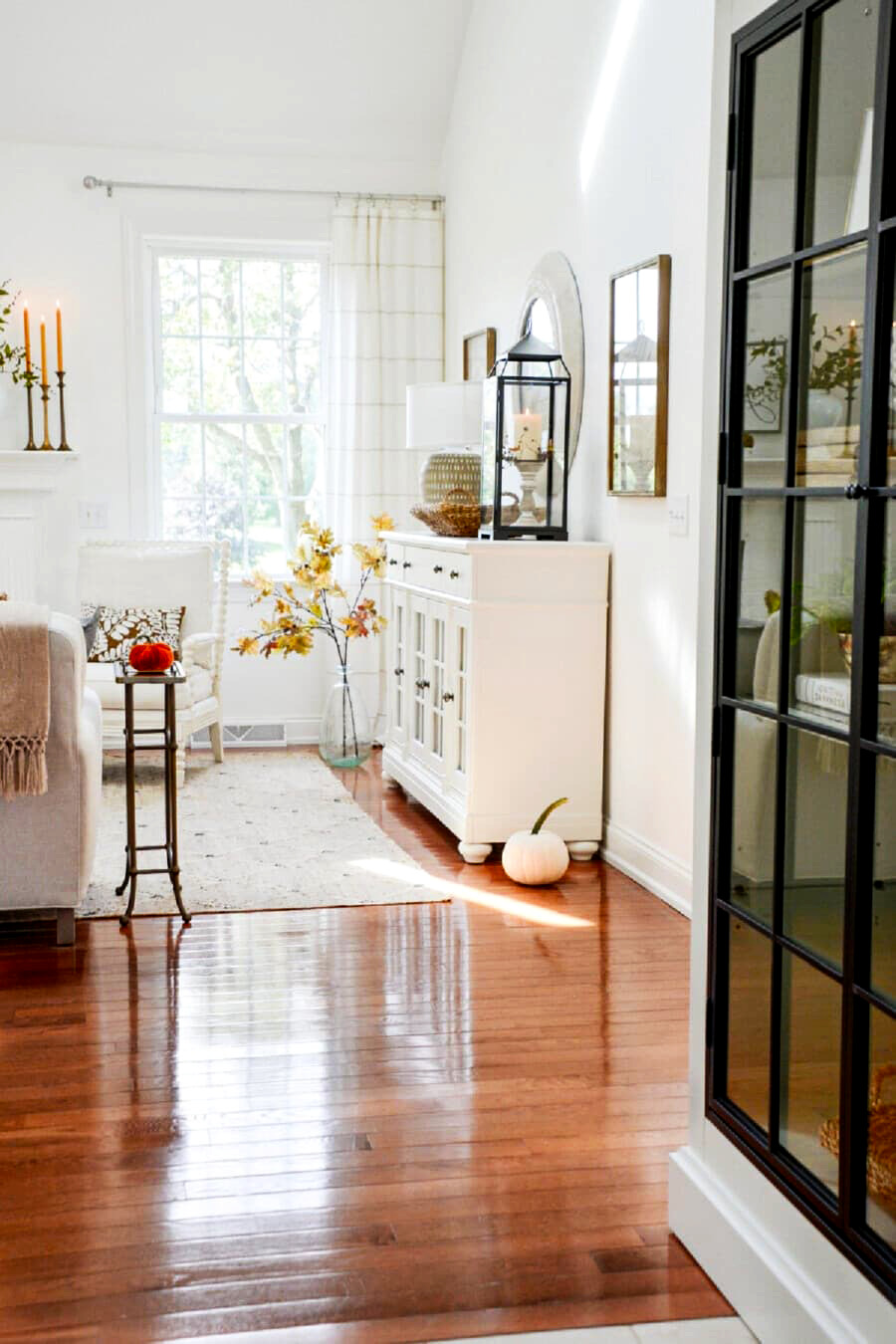 Ivory & White Fall Decor with a Touch of Black via Stone Gable
And of course, black is always perfect for Halloween. We love this assortment of scare-worthy collection of pillows from Pottery Barn will get you in the spirit. Furry spiders, black cats, bats, pumpkins, ghosts and skeletons offer an endless selection to get your 'boo' on. As well as the pumpkin mugs, serpent stemware coupe glasses and witch-y pillows from West Elm. Adorable.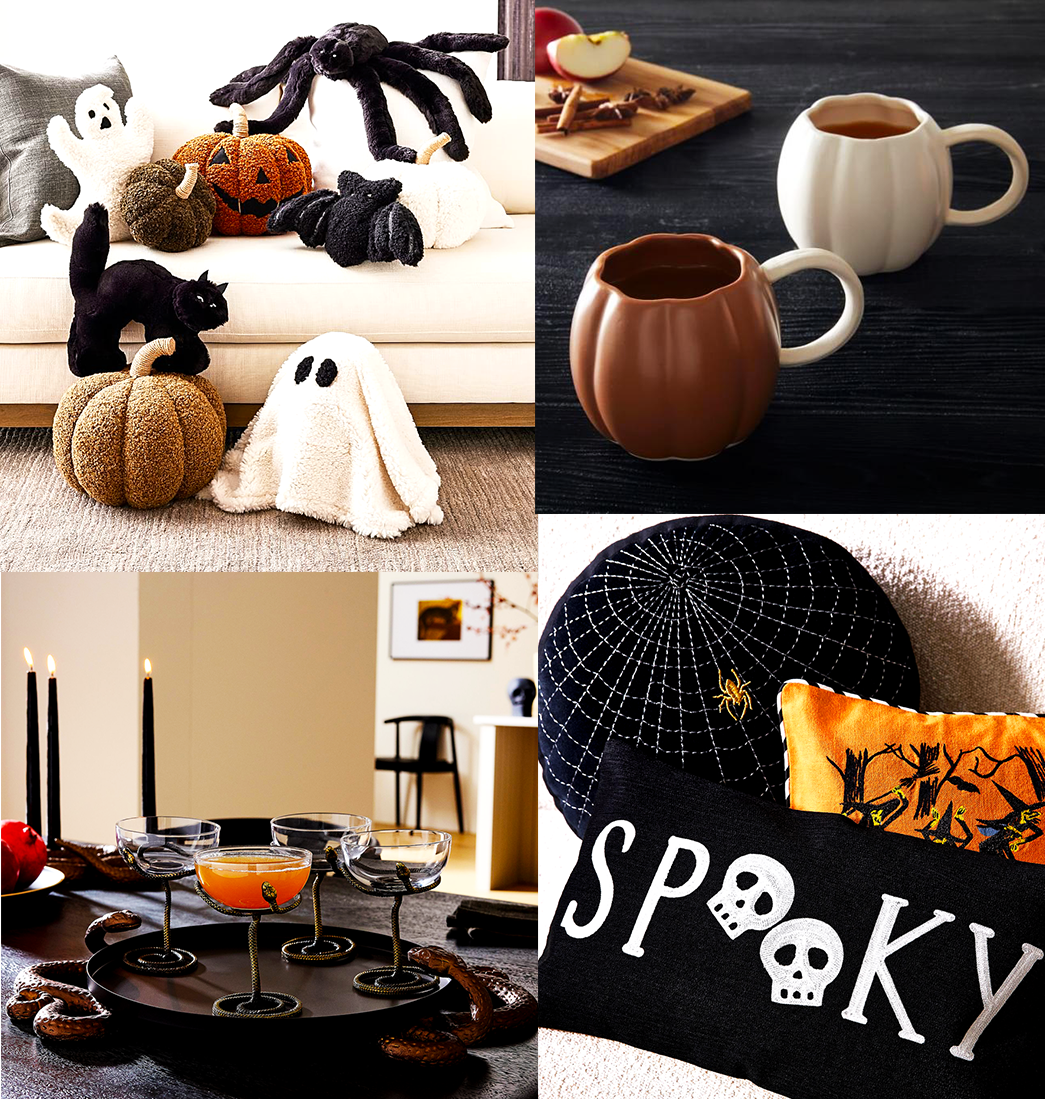 Spooky Pillows, Serpent Coupe & Pumpkin Mugs via West Elm
THE PERFECT PORCH
The dropping temperature doesn't mean sitting inside. Fall is the perfect time to pump up your porches curb appeal by placing pine cones, pumpkins, lanterns, blankets by a cozy rocking chair or porch swing. There's nothing like sipping a steamy cup of coffee or mulled wine in the fresh autumn air while taking in the changing trees and fall leaves.  New Englanders' love their sweater weather and it's time to get your outdoor space ready to welcome the coming holidays!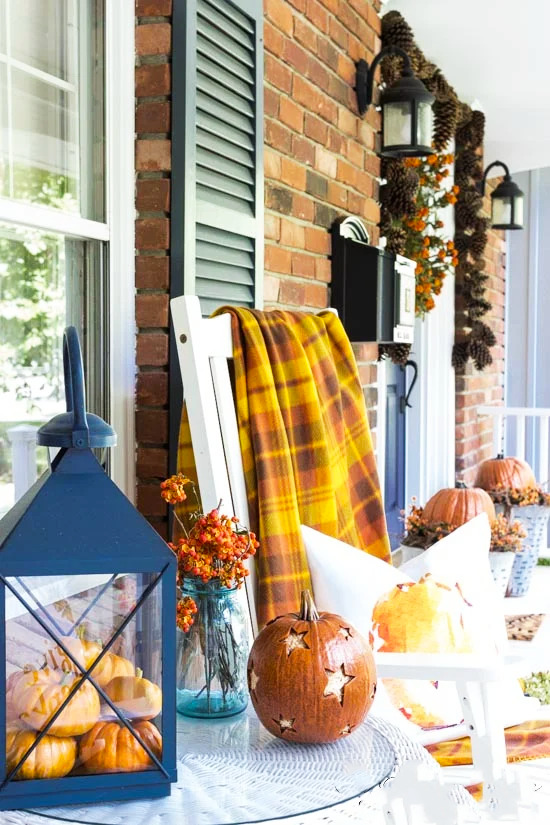 Easy Front Porch Decor Ideas via On Sutton Place
Hello Pumpkin Welcome Mat via Etsy Market
And what better way to wrap up this post then curled up under a blanket with our best fury friend. We hope you enjoy this list of our favorite fall inspiration for 2023 and if you need any help getting your home curb-ready for fall, get in touch with Julie today. The Fall Real Estate Market is Here!
Cozy Porch Swing via Snowy Pine Boughs Tumbler
---