As summer comes to an end and weather begins to cool, what better way to welcome the season than with a festive outdoor oasis, or an invitingly cozy room for hanging out with friends and family. From pumpkins to gourds to that irresistible fall palette, there are endless ways for you to dress up your exterior and interior nooks. Welcome guests with an autumn entry or amp up your curb appeal with these brilliant decor ideas sure to be easily recreated in your own space whether insider or out.
Bohemian Lounge via Elle Decor
VELVET ACCENTS
A dose of velvet never fails to add warmth to a room or exterior space. To celebrate the fall season, go for a burnt amber velvet accent, like a throw pillow, corner chair or a curved sofa, which can then become the highlight of your space year-round.
FAUX FUR THROWS
Virginia-based designer Janie Molster likes to drape white faux fur throws over the back of dining chairs for a luxurious look. A rustic centerpiece of colorful flowers and fruits backed by tree branches add to the arrangement.
Faux Fur Throws via Janie Molster
VARY TEXTURE IN CHAMPAGNE COLORS
With a champagne color scheme and plenty of bottles for popping, give a toast to autumn with a festive fall party. Here, Ashley Luengo of Modern Glam used pampas grass as a centerpiece, with gold sparkly pears to ground each place setting.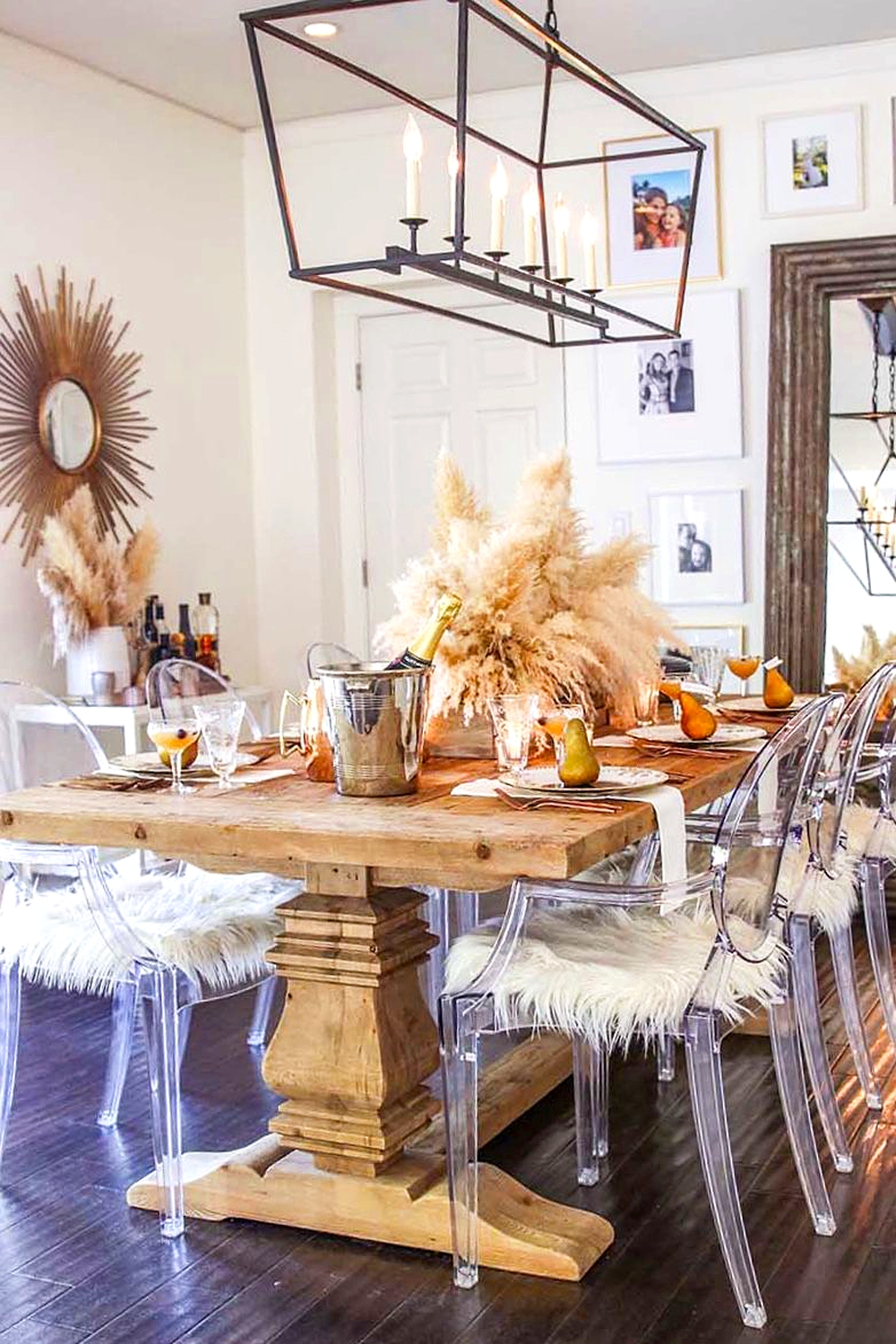 Textures & Champagne Neutrals via Modern Glam

As the weather begins to cool down, bring some cozy blankets into the mix of your outdoor seating area.
Outdoor Throws & Cozy Details via Douglas Friedman

CREATE AN ETHEREAL HOOP WREATH
Skip the party favors this year and  give out a gorgeous wreaths as a long lasting decor keepsake! This hoop wreath—crafted by Ashley Luengo of Modern Glam—is as simple to make as it is beautiful to display. Make some extra's for gifting this fall!
DIY Hoop Wreath via Modern Glam

OPT FOR DIY HERB GARLAND INSTEAD
This DIY fresh herb garland—which takes about 10 minutes to make—is the perfect excuse to gather with friends. After the party recycle for other decor, floral arrangements or herbal aroma accents.
Herb Garland via Modern Glam

SEASONAL BOUQUETS & ACCENTS
Emily Burton Designs used string lighting to frame a floral chandelier, serving as a focal point (and outdoor lighting) for this festive porch.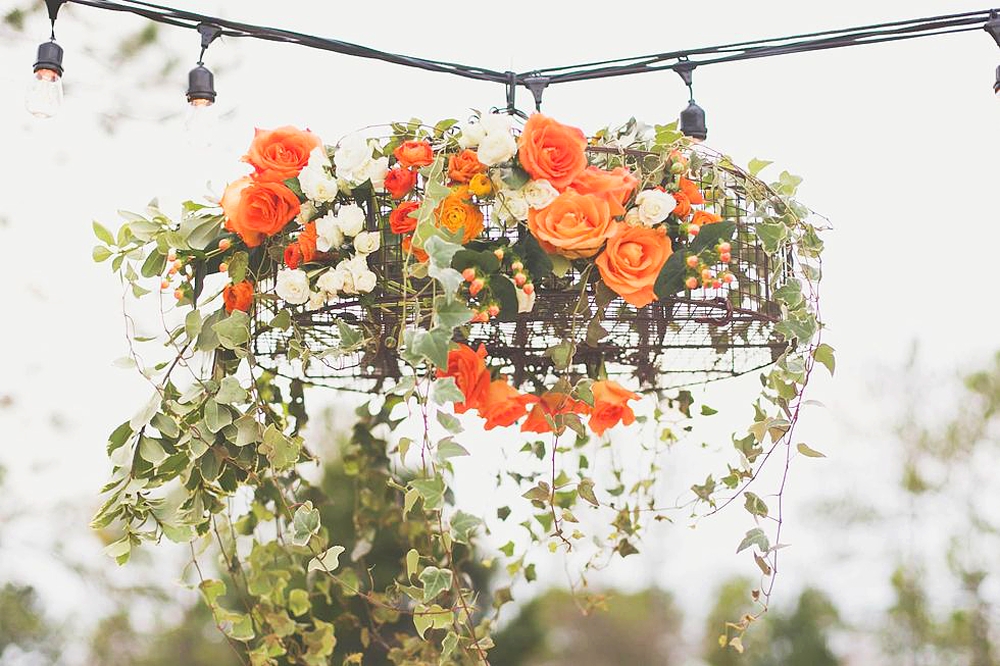 Floral Chandelier via Emily Burton Design

Ground an outdoor seating area or a corner gathering space with seasonal bouquets and candles to set the mood.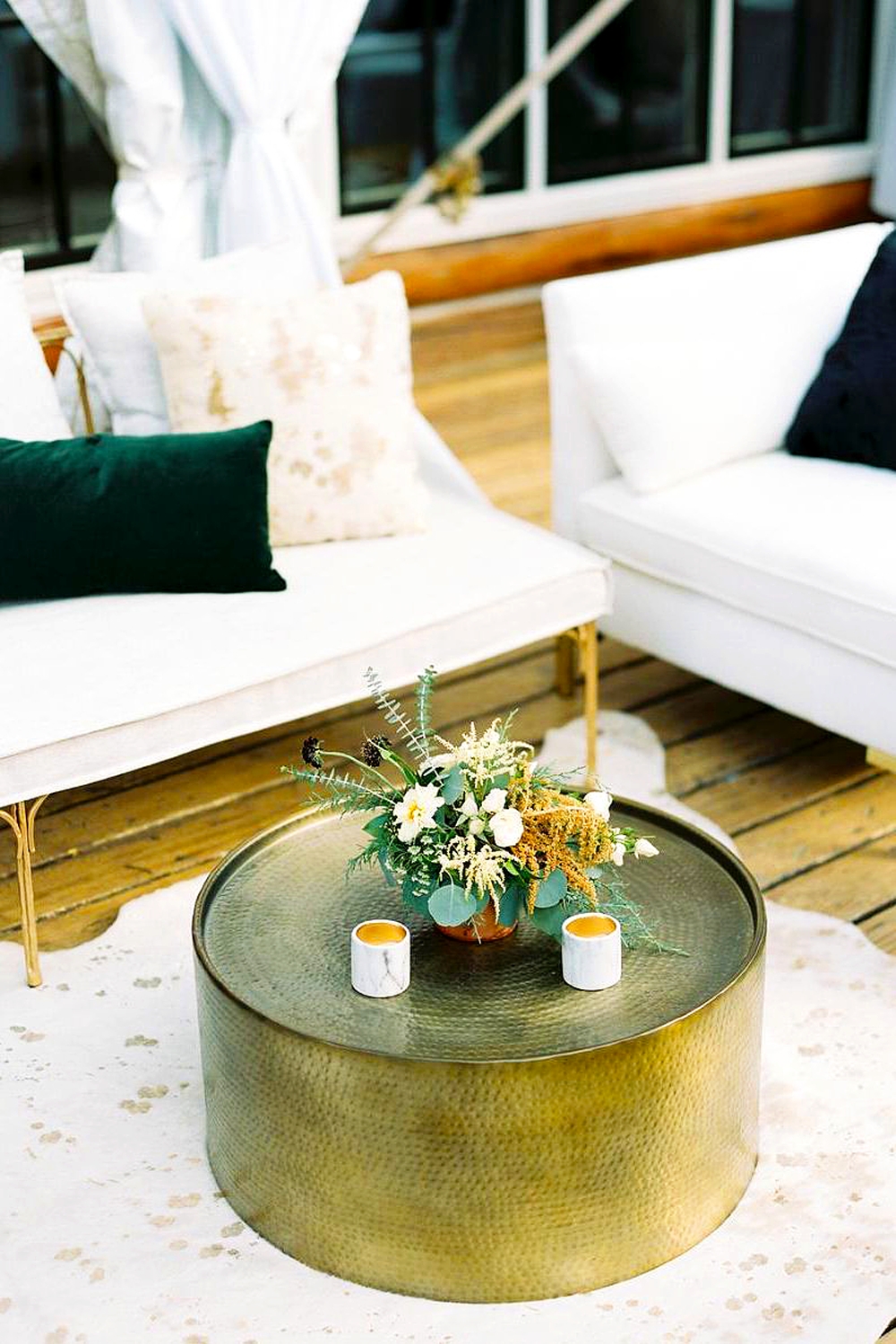 Seasonal Bouquet via Winsome and Wright Photography
Dress up a living room mantle with everything from brass candlesticks to an assortment of potted plants. Add color with small floral arrangements that embody the season. Deep colors that pop in contrast next to earthy green tones will add just the right amount of dramatic impact to an accommodating  shelf space.
Foliage Mantle via Kate Edwards
BOHO SIMPLICITY
A zinc outdoor bench by Piet Hein Eek is topped with a vintage glass vase and a dried branch.
Willow Branch & Pottery via Joe Schmelzer
PLAID SEATING
Fall-inspired porches and outdoor seating feature a cozy spots with plaid pillows and neutral-patterned throws. An assortment of corn stalks and pumpkins play up the nature of the season.
Brass, Neutrals & Plaid Accents via Modern Glam

AUTUMN PICNIC
Prop a picnic bench on your porch and enjoy autumnal al fresco dining, like this setup by Style Me Pretty Living that features plaid throw blankets and festive centerpieces.
Autumn Picnic via Style Me Pretty Living
MOODY HUES & RUSTIC ELEMENTS
A fall wreath needn't be bright orange. This stunning earthy, entryway wreath from Coco Kelley and Saipua uses blackberries and feathers rather than typical autumn foliage.Embrace a sultrier side of autumn with a dark, berry-covered wreath.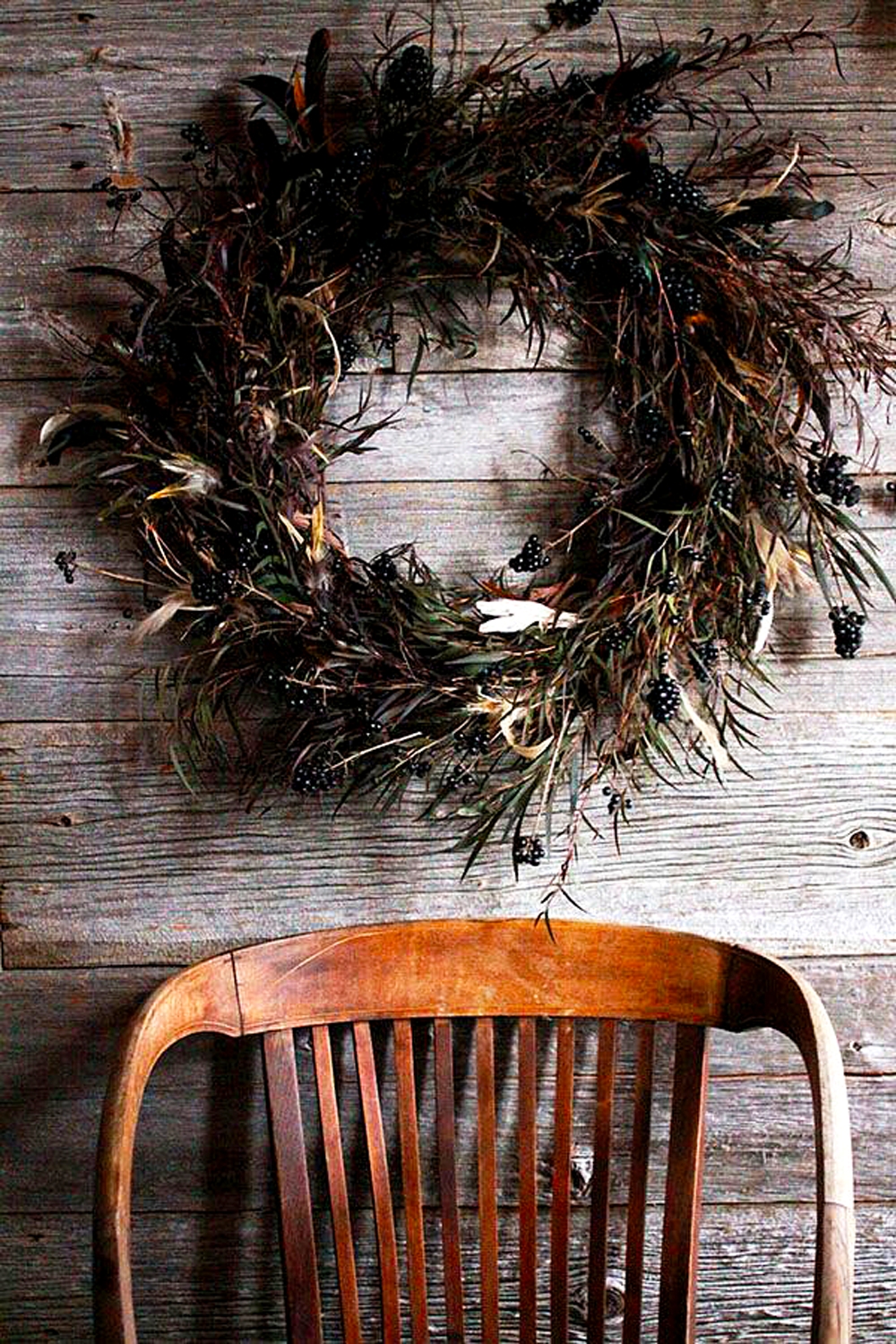 Textured Smoky Wreath via Salpua

RUSTIC DINING
A vintage dining table topped with seasonal centerpieces is the perfect way to enjoy an al fresco autumn moment.
Elegant Outdoor Setting via William Abranowicz

AUTUMN CURB APPEAL
Spruce up your front yard by creating a welcoming porch, deck and doorway for autumn. Trim any overgrowth from the warmer months, throw in a pop of colorful fall flowers, spatter various size pumpkins on front steps and throw in some late season foliage for texture.
Outdoor Shades of Terracotta via Casa Colibri Terra
Autumn Front Door via The Yellow Cape Cod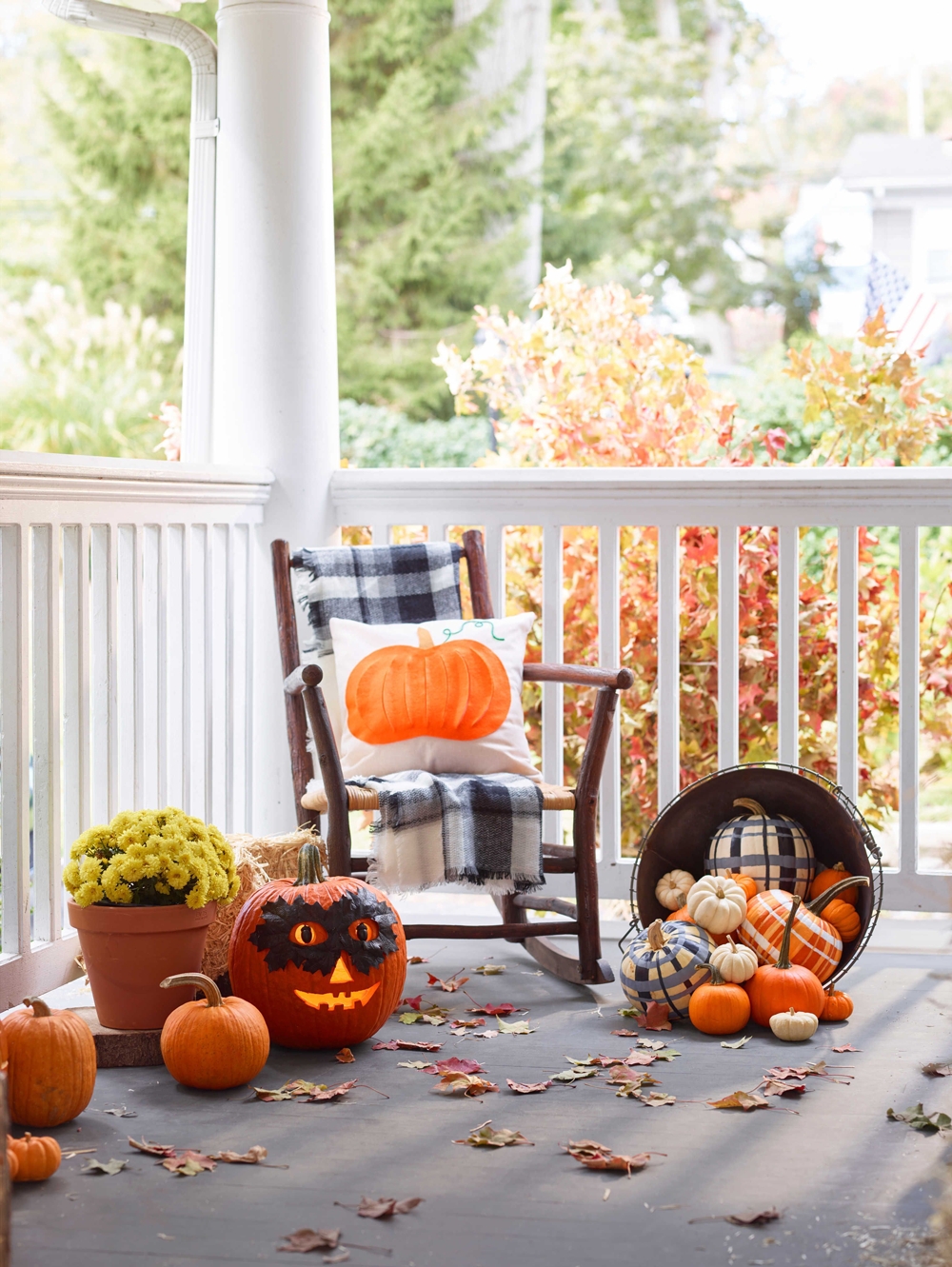 Halloween Nook via Elle Decor
HOST A GATHERING JUST BECAUSE
While Thanksgiving may be the highlight of the season, gathering friends to celebrate with a festive feast is the perfect way to give thanks. Keep it easy and have everyone chip in for a pot-luck. Give yourself a reason to show off all of your cozy decor and details created for this special fall season!
Festive Friendsgiving Gathering via Elle Decor
---
INSPIRATION SOURCE
Bohemian Lounge via Elle Decor
Faux Fur Throws via Janie Molster
Textures & Champagne Neutrals via Modern Glam
Outdoor Throws & Cozy Details via Douglas Friedman
DIY Hoop Wreath via Modern Glam
Herb Garland via Modern Glam
Floral Chandelier via Emily Burton Design
Seasonal Bouquet via Winsome and Wright Photography
Foliage Mantle via Kate Edwards
Willow Branch & Pottery via Joe Schmelzer
Brass, Neutrals & Plaid Accents via Modern Glam
Autumn Picnic via Style Me Pretty Living
Textured Smoky Wreath via Salpua
Elegant Outdoor Setting via William Abranowicz
Autumn Front Door via The Yellow Cape Cod
Halloween Nook via Elle Decor
Festive Friendsgiving Gathering via Elle Decor