This fall, we're taking stock in three major ways to prepare your home for the coming months. From weatherizing to stylizing, we've got you covered in this must-do list. Tackle all the things that will make you not only feel good by doing, but also by seeing, having, sharing and experiencing. Read on for our pick of tips and trends to inspire you this fall!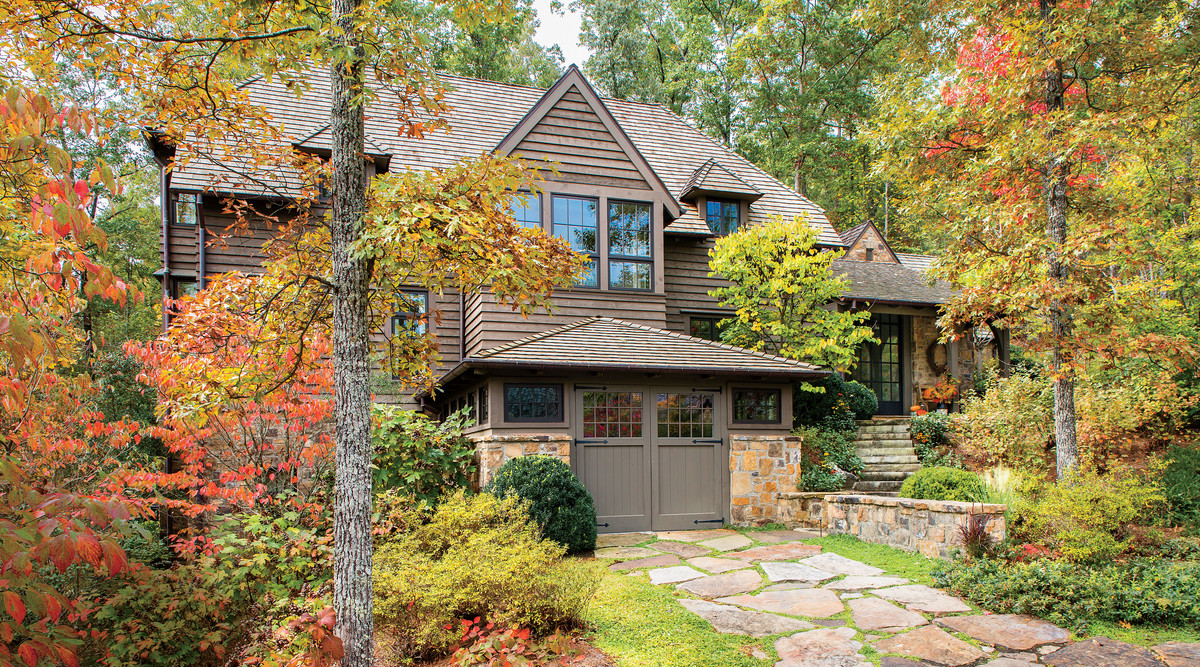 Autumn Home via Southern Living
CLEAN IT UP
Paint can be a miracle worker and a fresh coat can give your interior and exterior a complete lift. Is the front view of your house getting stale? A fresh look can be as simple as painting the front door. Choose something that goes with your surroundings but an accent color can go a long way. Try yellow to brighten up a dark setting or navy to give just enough color to create interest. Pop on a decorative wreath as a final detail then stand back and admire your gorgeous work. (don't miss our tip on how to decorate your newly painted doorway for fall below).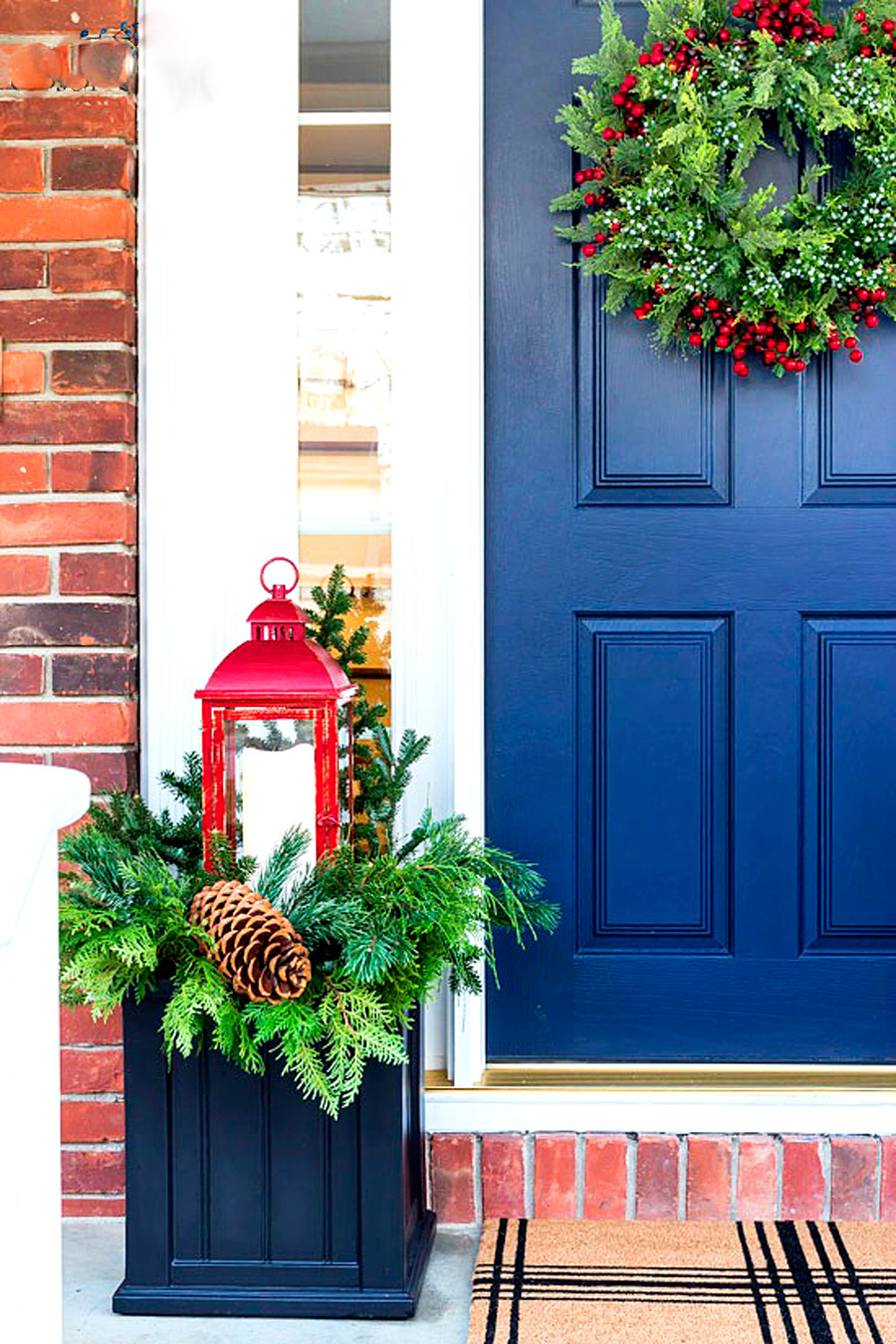 Navy Front Door via On Sutton Place
Love how the fresh coat of paint made your door look? Well, don't stop there. Take a walk around your interior and think about how a fresh coat of paint on interior doors and trim would work. Chances are, it will completely transform your space. Go with an existing color or change that up as well for something a bit more rich. Just remember to test out colors in different lighting since they'll change drastically depending on each particular room.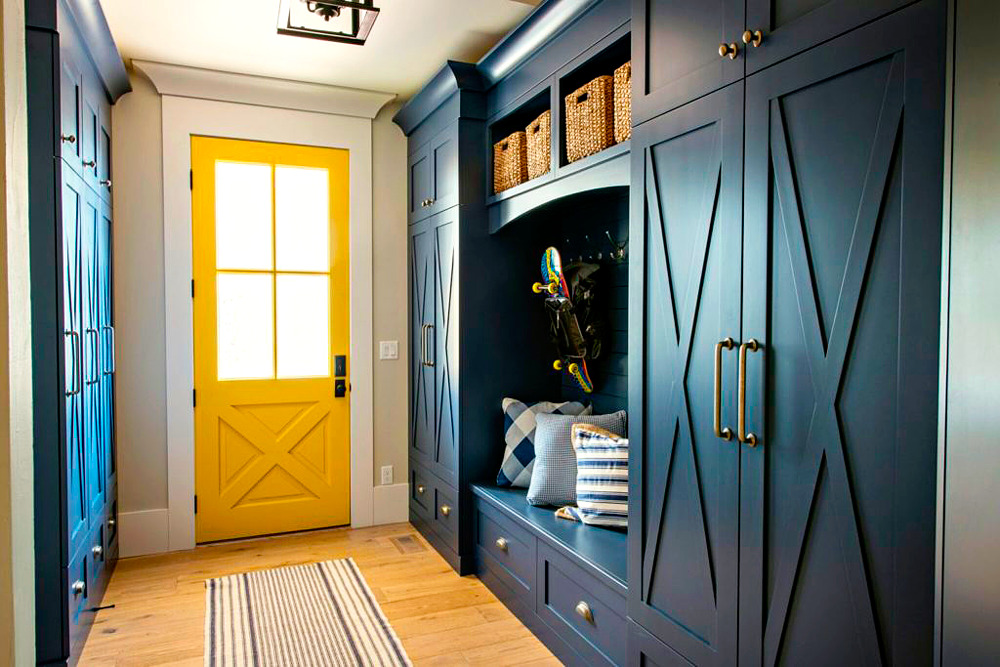 Yellow & Navy Mudroom via Welsh Design Studio
Don't feel obligated to make all trim and doors the same color. If you choose yellow for the doors, try a peel and stick wallpaper and an accent color on the inside of the hinge to really create a fun surprise.
Chartreuse Door with Surprise Scarlet via Welsh Design Studio
Five easy ways to really prep your home for colder weather is; Caulk windows and doors, Clean the gutters, re-mulch perennials, Clean your fireplace/chimney, and professionally power wash your home.
Specialty Window Seat via Anderson Renewal Group
And if you're really looking to tackle some fall home improvements, check out this must-read list on Angi's that has just about everything you need to winterize your home, Remodeling Project Ideas.
CHIC IT UP
Celebrate the season and give your front porch some love. Nothing says 'welcome' to guests more than a beautifully decorated front porch or entrance. Stacked pumpkins, fall planters with colorful mums, rustic sconces, dried leaves, and seasonal accents make an immediate impact upon being placed. Best part is, you don't even need to fuss much – organic shapes tend to look lovely no matter how they are displayed. Just have some fun with your favorites!
Autumn Door via Gemmells Garden Centre
Looking for more landscape ideas? Check out this article from Backyard Boss that has 22 autumn landscape ideas from pumpkins to patios for whatever you fancy.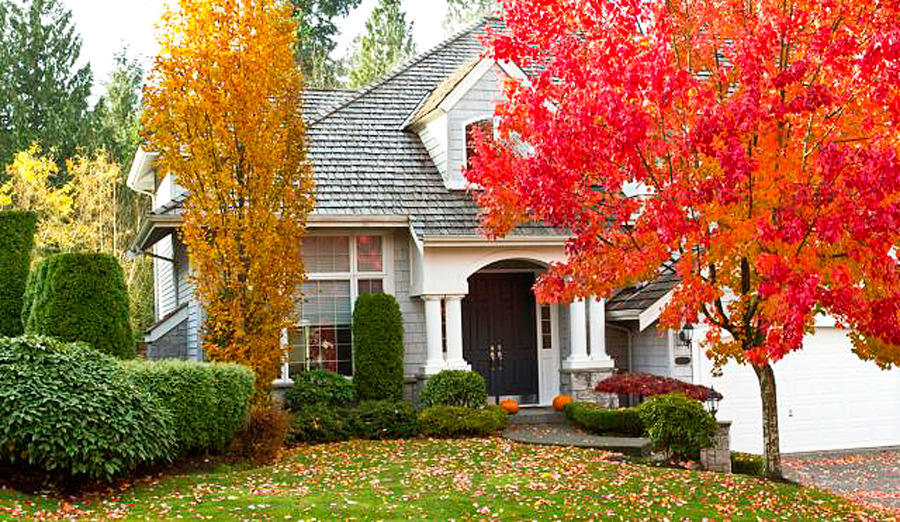 22 Autumn Landscape Ideas via Backyard Boss
COZY IT UP
Glimmer & Gleam. Vintage-meets-modern accents like handmade stoneware and blown glass are a perfect way to add a little homebody comfort to your nooks.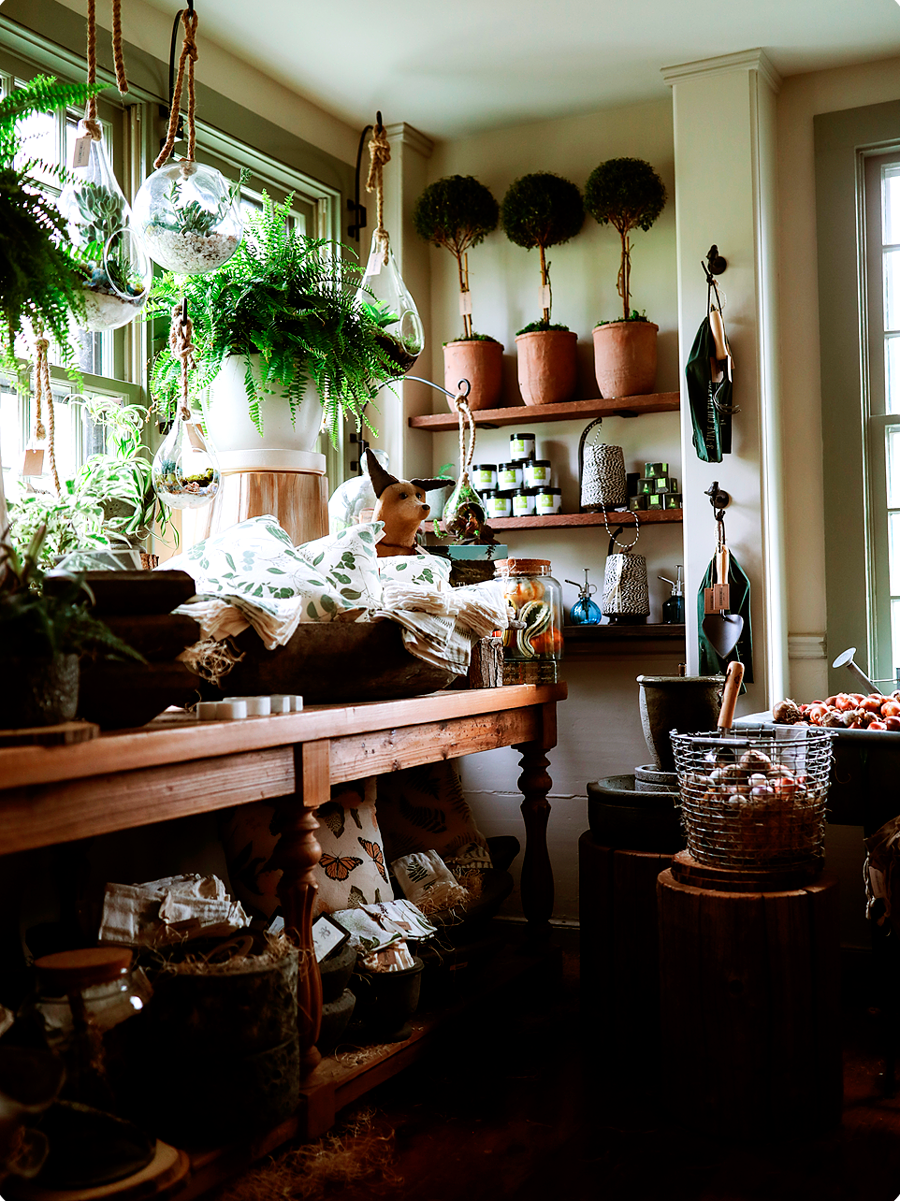 Vintage Home Accents via Groundswell Cafe & Garden
Try a glass terrarium near a window with dappled sunshine. Whether you hang one or place it on a table, the light that bounces and glimmers off the curved glass will give you a shimmer that's sure to warm your spirit.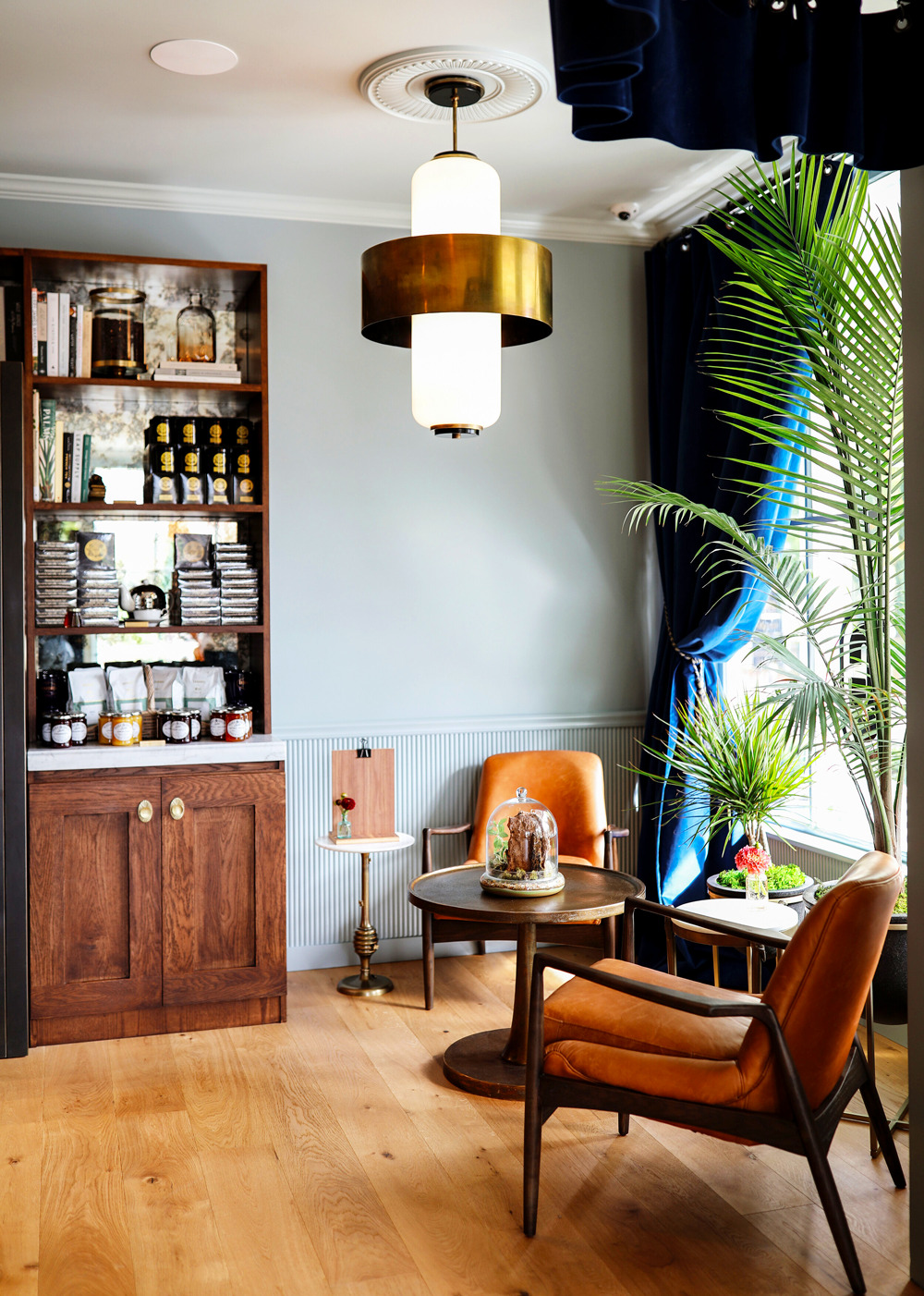 Rustic Cupboard & Terrarium  via Groundswell Cafe & Garden
Don't forget to pick up some bunches of dried flowers, seasonal grasses, fragrant herbs and decorative branches to place around the house in vases, hang from twine in window panes, or just place in little bouquets in lonely corners. There's something so charming about the combination of organic shapes and it's always a nice surprise to get a wafting aroma of lavendar or eucalyptus!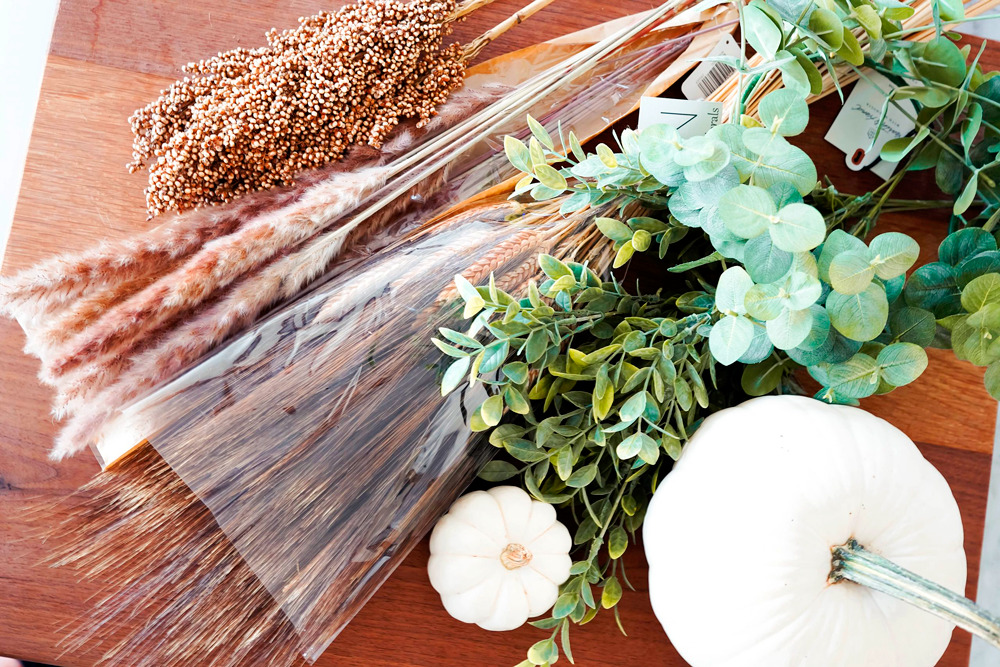 Dried Flowers & Herbs via Red White & Denim
Pair the above with a seasonal candle (scented or un) that will give you an extra spark whenever needed. Try a fresh pine or evergreen scented candle that brings the outdoors inside. Try a Vermont favorite, 'Aunt Sadie's Snowy Tree in a Can'. It's about as close to the real thing you can find.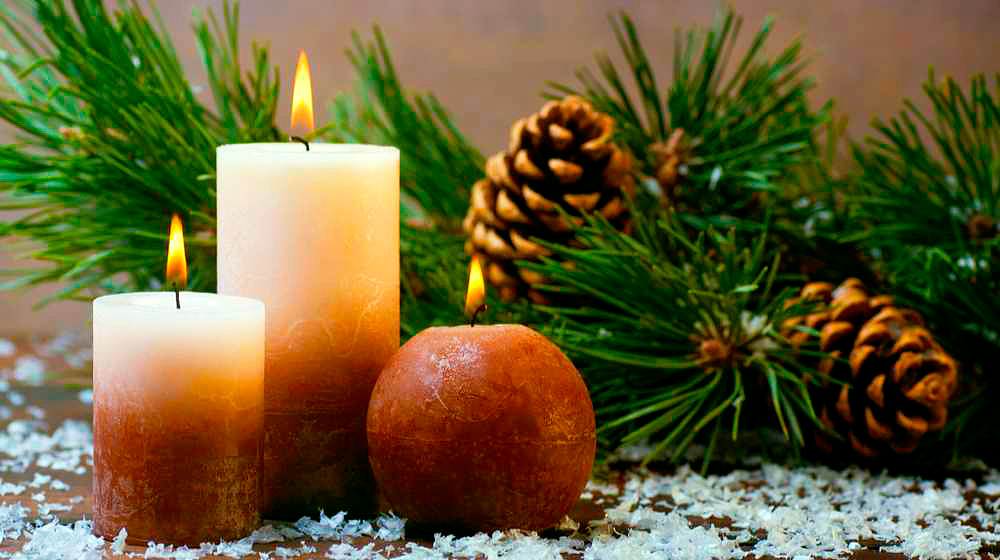 Pine & Candles via DIY Projects
Cushy Throws & Chunky Textures. Invest in an extra chunky knit blanket to throw over a reading chair or an ottoman. Try one in either merino or alpaca wool for a super soft, cloud-like texture that you'll want to wrap yourself in every chance you get.
Super Chunky Knit Blanket via Nordik Space
If you opt for Alpaca, you won't be disappointed! Choose a soft neutral or even better, mix and match a few varieties. There are some really gorgeous, and vibrant colors in patterns that pop. Try a stack of them in a crate by your firepit for a little extra warmth on a chilly fall night. They'll be a big hit at holiday parties and on game days too!
Ultra Soft Alpaca Throws via Etsy
Patterns & Pottery
Even if you pride yourself on being a minimalist, it's hard to resist the occasional call of a simple pattern, such as the latest visual trend, abstract line art. It's not an entirely new concept, but it took off substantially over the past two years when creating interest in our homes become more widespread. The increase of time spent within the walls of our homes created a desire to play with our blank palettes as a universal hobby. Yet, it's holding fast as people realize the curated home full of collectables, sculptures and collage has an ongoing and timeless appeal that appears to be lasting. Try a mix of neutral pieces on a single wall for max impact with minimal color.
Abstract Line Art via My Decor Trends
Tri-panels across a wide wall, a collage arrangement on a single wall, or one oversized piece of work situated between natural details like reclaimed wood can create a dynamic affect in a room, hall or stairway.
Statement Abstract Panel via My Decor Trends
The beauty of abstract line art is the clean aesthetic that appeals to a wide range of tastes since it's highly based on the viewers interpretation. It also allows the curator to play with monochromatic or bold color palettes, while pairing well with a variety of styles. You don't have to be a seasoned collector to know what you like and this is one trend that anyone can have fun experimenting with since beauty truly is in the eye of the beholder.
Asymmetrical Wall Collage via Decoholic
Finally, we can't leave this list without sharing a local fav designer, pottery master and ceramic extraordinaire, Jill Rosenwald. Her new collection of made-to-order patterned pottery and custom ceramics is beyond gorgeous, and since you can create your own, it's the ideal finishing touch for your fall decor.
Need something for the dining table? Try a mix of Cafe Au Lait bowls – you design your own so it's always a match made in heaven.
Design-Your-Own Cafe Au Lait Bowls via Jill Rosenwald
Or what about a happy, colorful mix of bud vases on a window shelf surrounded by neutrals.
Vibrant Tri-Colored Bud Vases via Jill Rosenwald
Or maybe you just want one big gorgeous bowl to sit perfectly on a granite island front and center in the kitchen for all to see.
Gigantor Bowl via Jill Rosenwald
Whatever you fancy, you're sure to find something in Jill's Boston Studio to admire, cherish or gift this fall.
Dynamic Custom Patterned Vases via Jill Rosenwald
---