Surround yourself in everything the fall season has to offer, from earthy texture, woody fragrance,  vibrant color, and ornamental design. Indulge in all the feel-good and nostalgic notes the coming months naturally bring each year that truly captivate us through its mesmerizing New England charm.
Whether you are a native from this nook of the East Coast, are a routine visitor, or have just admired it from afar – it is hard to deny the comforting, happy vibes a cozy fall day exudes.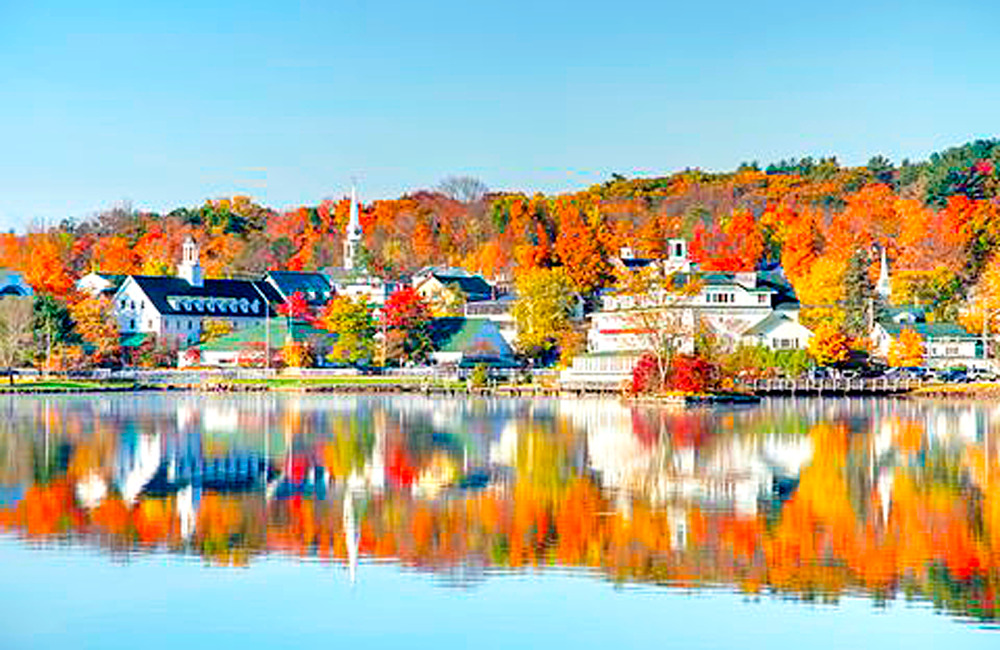 15 Best for Fall Foliage via Town & Country
We have curated the best of everything 'fall' in our collection below and there isn't a shortage of inspiration to pull from each and every year. Use this to day dream about paint colors, home decor, flower arrangements, accent candles, blankets & throws, pillows, and even baking ideas to get your home filled with sensational scents. Read on for our favorite design muses of fall 2022!
COLOR + TEXTURE
Just like in the image of Lake Winnipesaukee above with it's brilliant blue sky framing brilliant orange, yellow and red foliage, see how this gorgeous pumpkin arrangement pops in front of a cerulean blue backdrop of paint. Stack various colors of golden plates & glassware and it's all you need for a stunning tablescape.
Pumpkin & Blue Table Scape via Southern Living
Looking for something bold yet soft. Consider a chunky, textured blanket or extra extravagant chairs in Boucle fabric, fur or velvet. Try neutrals for a softer look or go bold in Marigold, forest green, caramel or mushroom tones.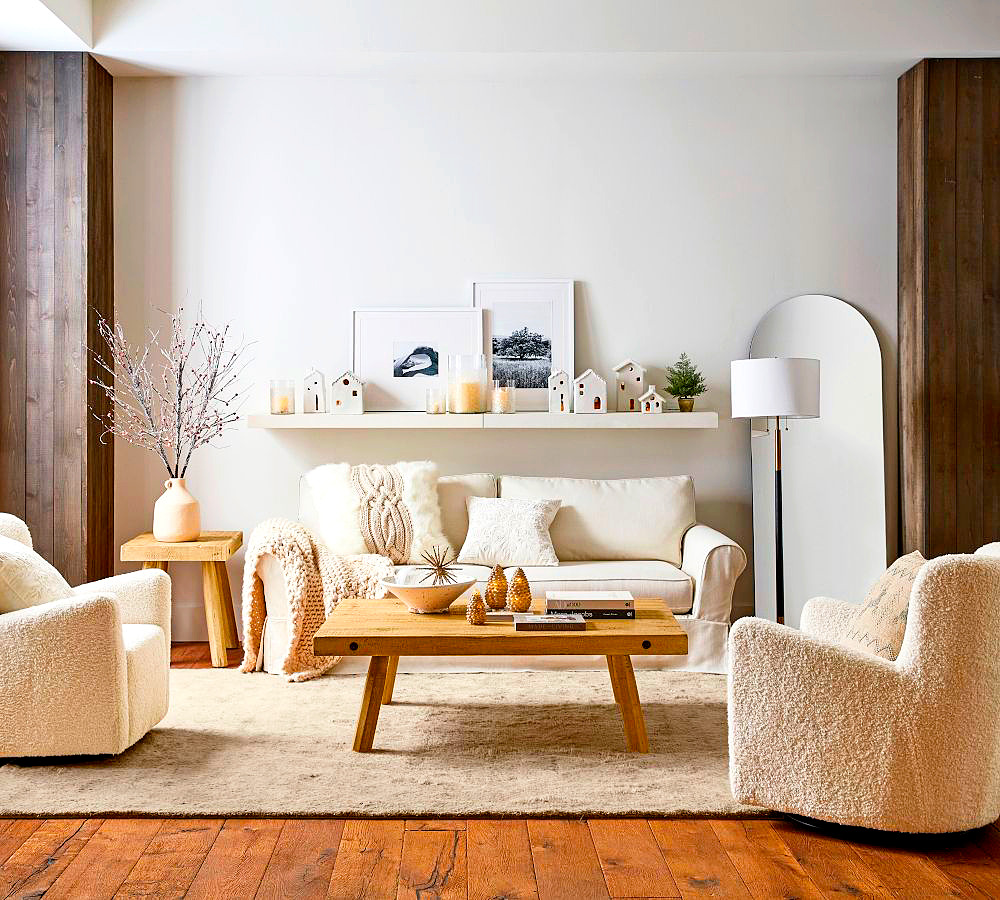 Ellsworth Chunky Blanket via Pottery Barn
There are endless styles to choose from to get a look that really coordinates with your surroundings. Texture can be found in patterns, such as the wooden slated chair below with a puffy seat cushion. Curved and interesting chair shapes count as well. They draw interest just as a variety of organic shapes in nature does with harmonious success. Try mixing and matching – each of the below could work well within the same open concept living space.
Textured Chairs via CB2 Studio
How fabulous is this Mongolian Fur with Mid-Century Modern Wood accents? Fabulous! Look at how well it's soft, fluffy lines and texture pair with the strong leather, metal, and glass living room details below. Just gorgeous and so easy to make work within so many different styled spaces.
Mongolian Cream Fur & Wood Arm Chair via Grayson Living
ORGANIC FOUND OBJECTS
If organic textures are your jam, what better way to accomplish a focal point of interest then with items that represent nature itself. These details bring colors found outside the home, inside easily. Leaves, branches, flowers, and not only are these easy to use in a kitchen, hallway, living room or bedroom – they are even simpler at dressing up an exterior door, stairway, or external facade.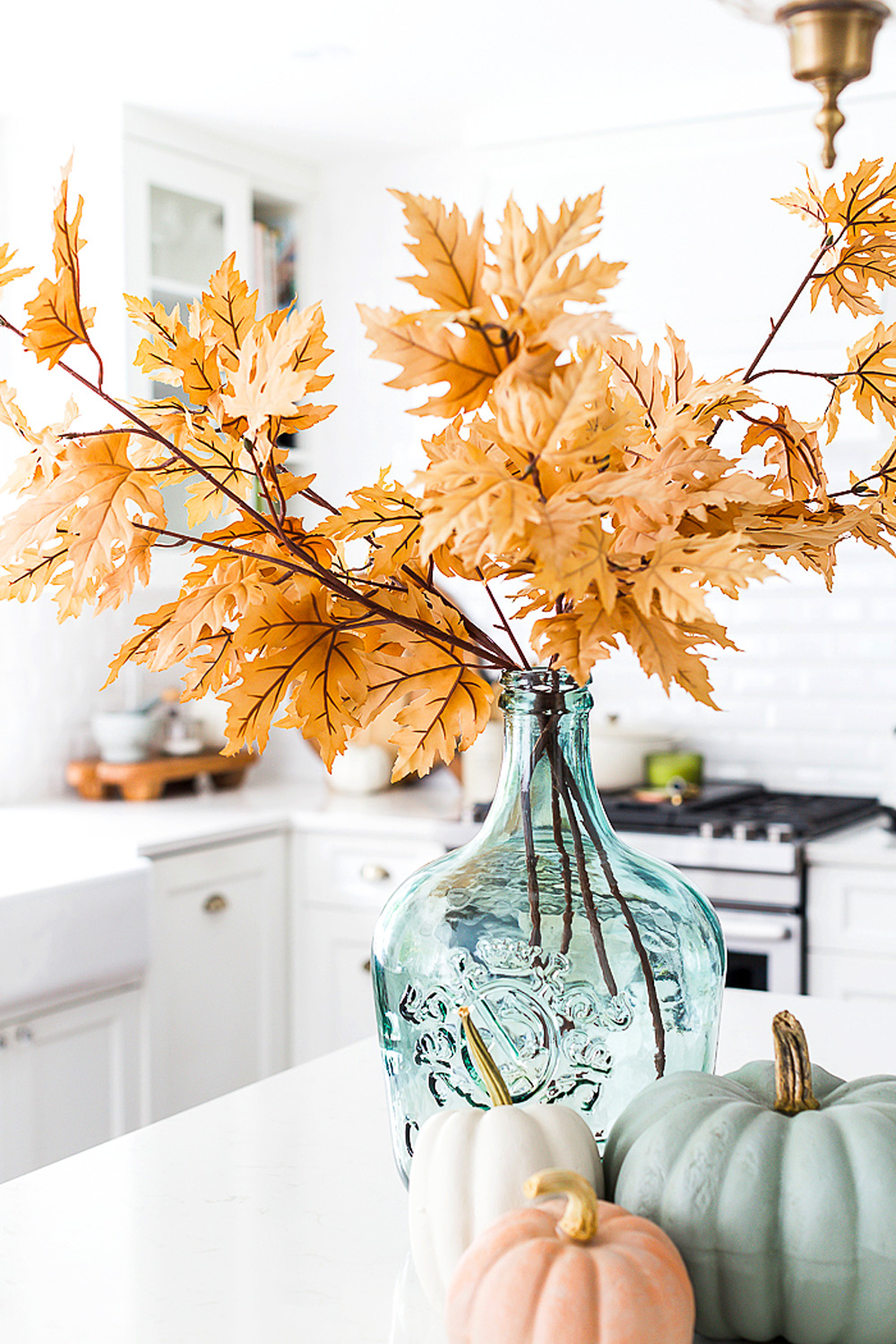 Muted Fall Color Decor via So Much Better with Age
I especially love monotone or monochromatic color use in hallways, entryways and foyers. They really concentrate the wow factor of a particular color to capture the welcoming vibe fully.
Decorating with Color via Den Garden
Go for the dramatic! There are so many deep tones found everywhere you look in fall, yet somehow they still look soft and inviting in a setting. Winston's has a glorious collection of autumn floral arrangements that range in colors for all spaces.  Moonlit Magic may be a favorite but Gilded Garden, Golden Hour and Sugar Plum are a close second. These would even pair nicely all together if you've got the space or are hosting a fall event!
Autumn Floral Collections via Winston Flowers
Try this adorable and elegant faux floral arrangement with hints of Magnolia, Crab Apple & Eucalyptus. This sweet little vase full of 'happy' works anywhere you fancy, from home office to a spa room or vanity.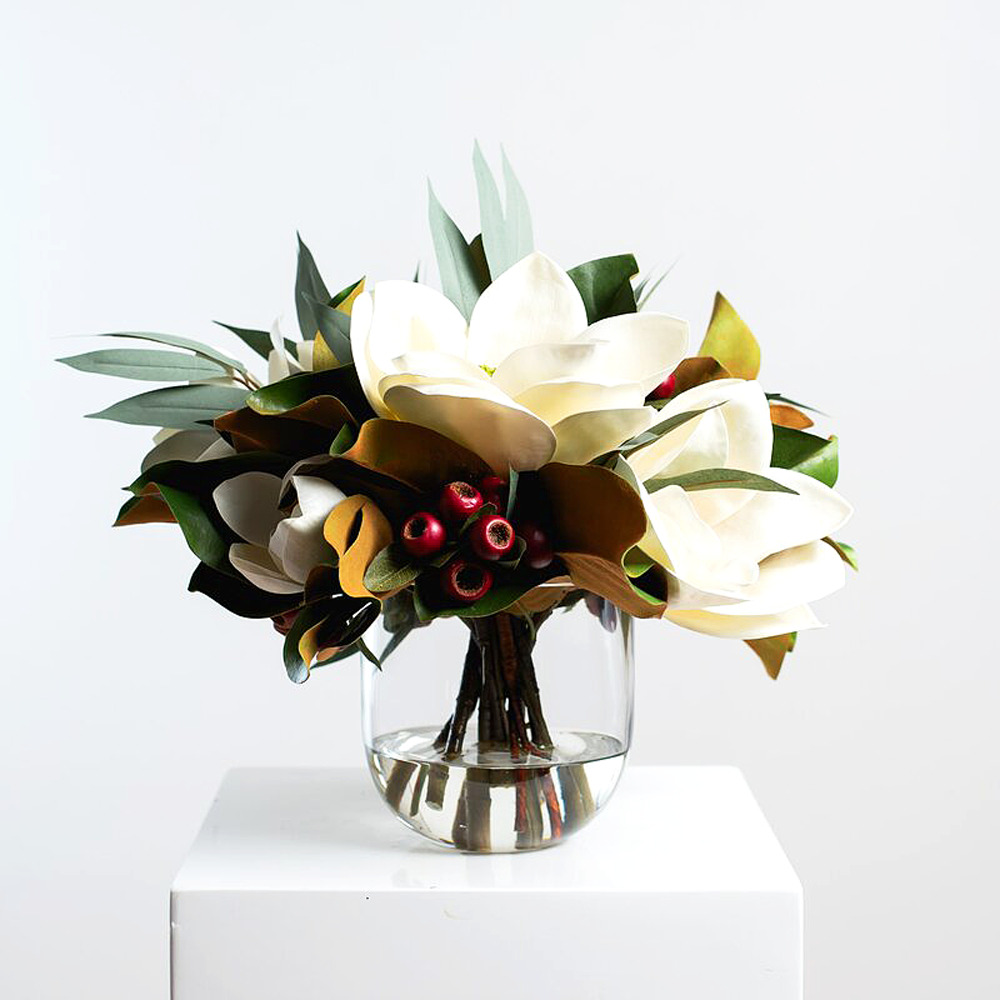 Magnolia, Crab Apple & Eucalyptus Faux Arrangement  via Darby Creek Trading
KEEP IT OUTSIDE
Layer pumpkins up a stairway against natural stone. Add a cafe table with a blanket and decorative glassware and you've made yourself the perfect fall oasis.
Rustic Cafe Table & Fall Stairway via Southern Living
Throw up a Fiery Golden Wreath of Leaves on a White-Washed Antique Door. Fill a container with Chrysanthemums and Winter Cabbage and place it in a strategic spot where you can get a glimpse of it from inside a window or outside as you pass. Create a front porch escape with a bench or chairs, pillows, blankets and an outdoor rug to enjoy the outside as much as possible during this blissful time of sunny days and cooler crisp nights.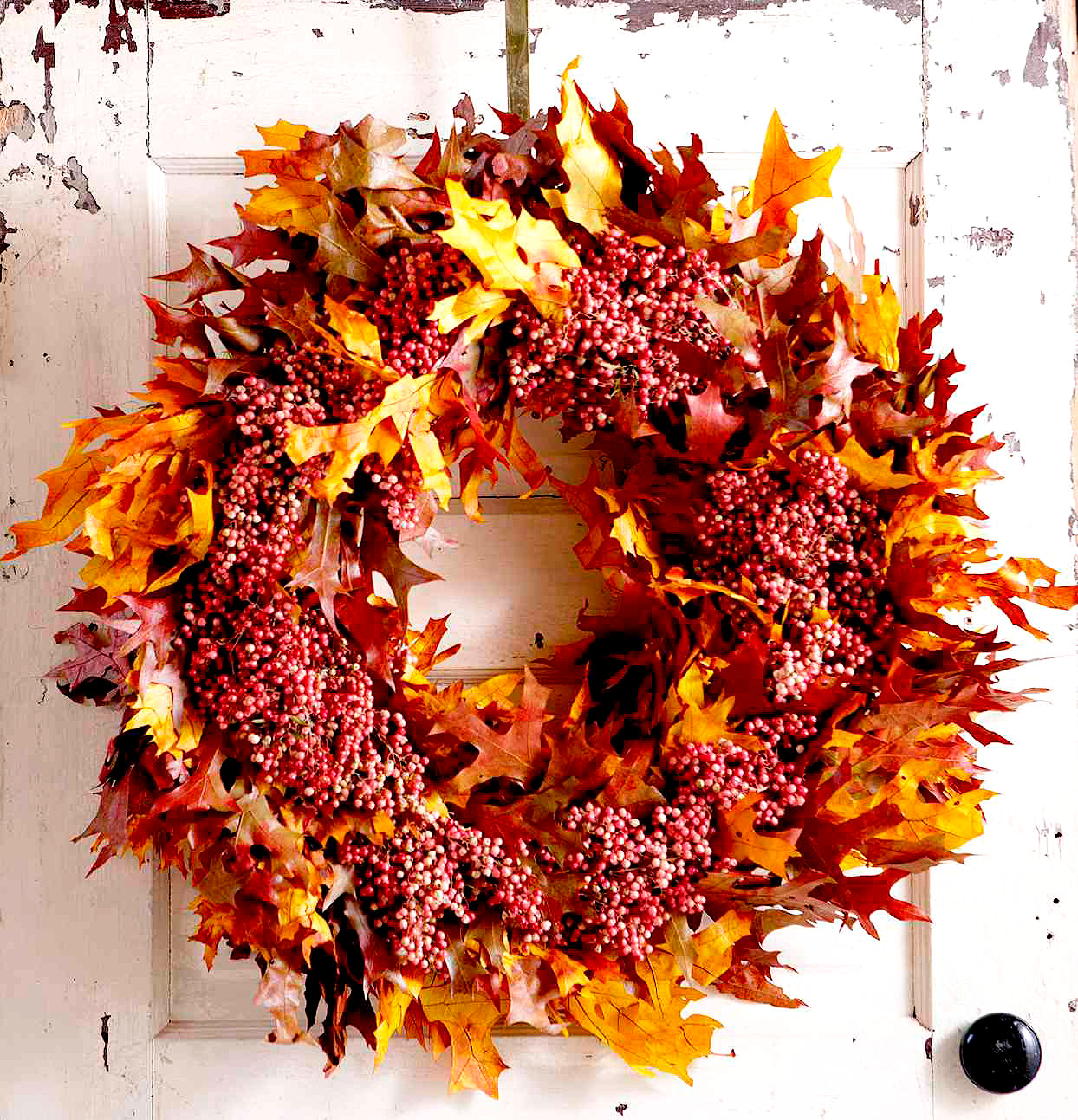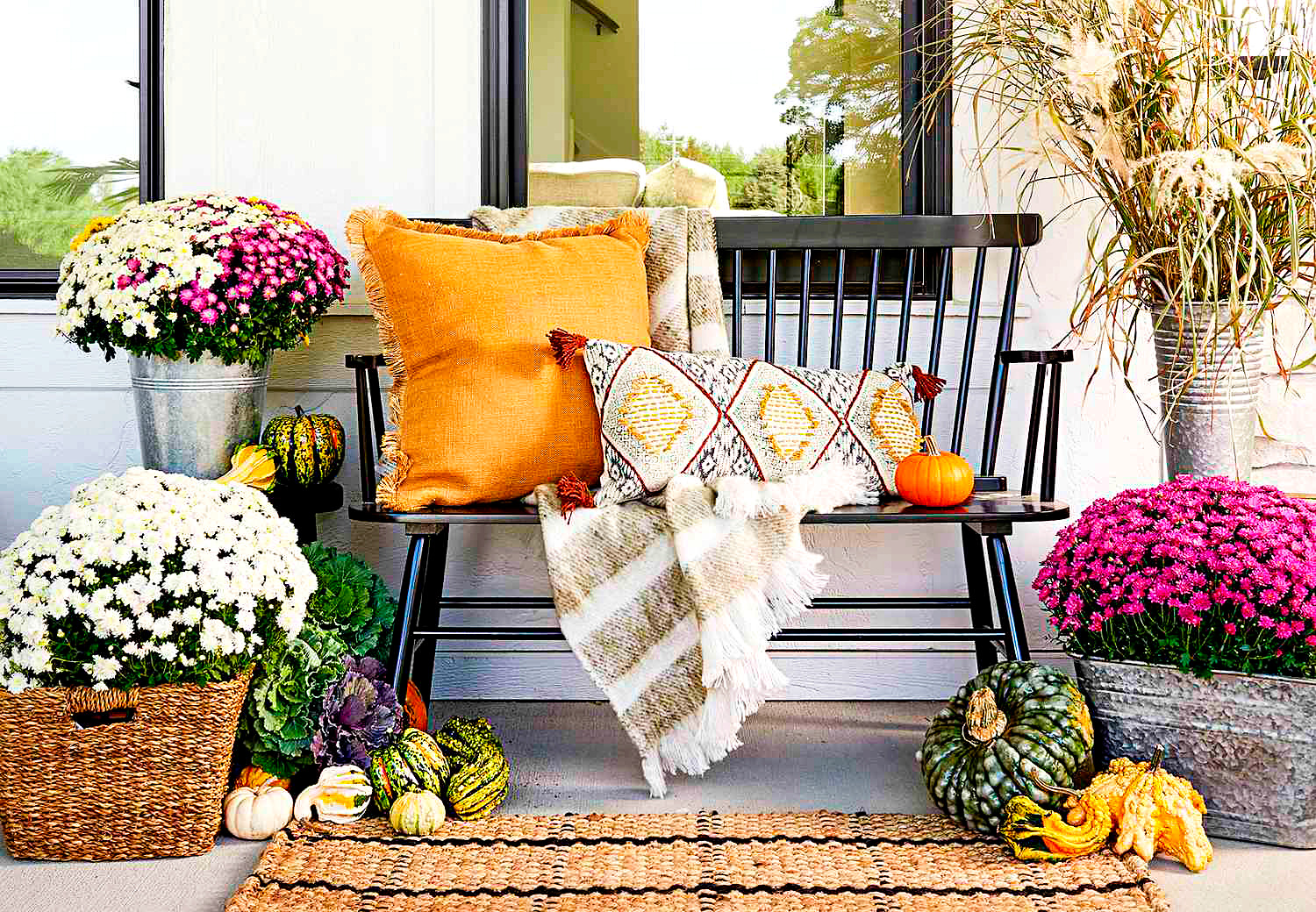 Prettiest Fall Front Door Ideas via BHG
SOFT PINK & DEEP GREEN LOVE
There's something so lovely about a blush-y soft salmon pink paired with a deep, lush green. This peachy color can be found at the top of 100 foot maple trees when they first start to turn towards a deeper hue. The transition as the sunlight hits it at dusk or dawn is majestic. It's probably why Limelight Hydrangea's are so popular for both spring and fall garden interest.
Fading Fall Limelight Hydrangea via Proven Winners

Wall of Fall Turning Limelight Hydrangea via Private Newport
See how the above color palette found in the fall-fading limelight hydrangea works so well in the living space below styled at Neiman Marcus. Soft peachy salmon, muted gold, dove gray, and earthy brown make for a simultaneous glowing and muted affect. We love the look of it all!
Salmon & Earthy Light Styled Living Room via Miranda Kerr
If peach or pink tones aren't your color – just go for the green. It's such a soothing color to surround yourself in and this time of year the textures and options are endless. Try a velvet throw or duvet or just a sham if something smaller is appealing.
Velvet Textured Bedding in Loden via Pottery Barn
HONING IN THE HOLIDAYS
Any of the above tips can be used when considering your holiday or seasonal decorations – but the natural elements of autumn are always timeless. Now faux options are also so realistic, they take the effort out of needing to find something and may be a more eco-friendly option for many decorators and stylists. Not needing to completely recreate your preferred look each year is also a nice perk!
Hamilton Greenery & Wreath via Frontgate
This weeping-willow type holiday tree from CB2 is dreamy. Pair it with the shorn sheepskin tree skirt and you've transported yourself to a Nordic wonderland ready for all types of festivities.
Draping Holiday Tree & Shorn Tree Skirt via CB2 Studio
FALL FINAL DETAILS
Once you've got your stage styled, now comes the fun part – filling your space with aroma's that sooth away the outside world and remind you of everything 'home'. We love this Cedar & Balsam collection by Illume. These candles are just the right amount of 'holiday tree' aroma for us. They have pretty little containers for easy storing or display, and they can be found at local Wholefoods in the area.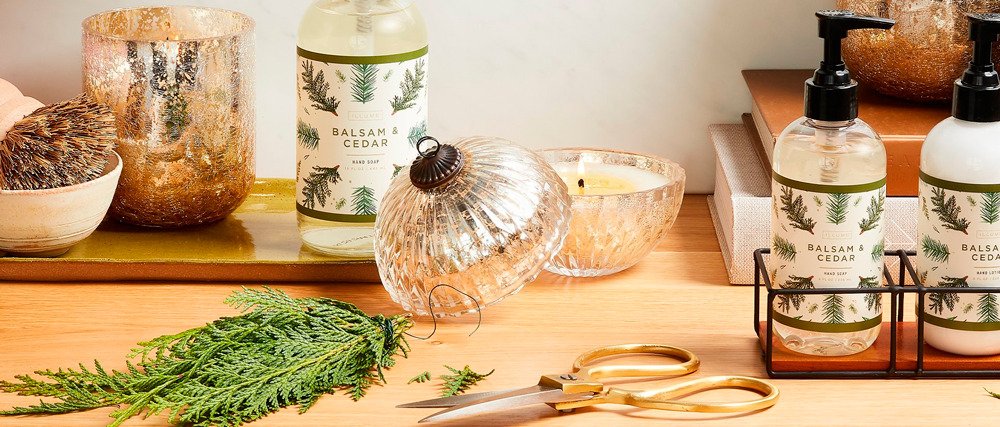 Cedar & Balsam Candle Collection via Illume
Prefer an aroma that makes your tummy rumple with joy? Make a pumpkin spice soup, a mulled wine or spiced cider – or try this Perfect Apple Crumple from Sally's Baking Addiction. This recipe couldn't be simpler!
Apple Cobbler Crisp with Caramel & Vanilla Ice Cream via Sally's Baking Addition
Now what are you waiting for? Go grab yourself a fall delight with your favorite friend (fury or otherwise) and cozy up in your newly-styled autumn space! And don't forget to enjoy every moment of the season.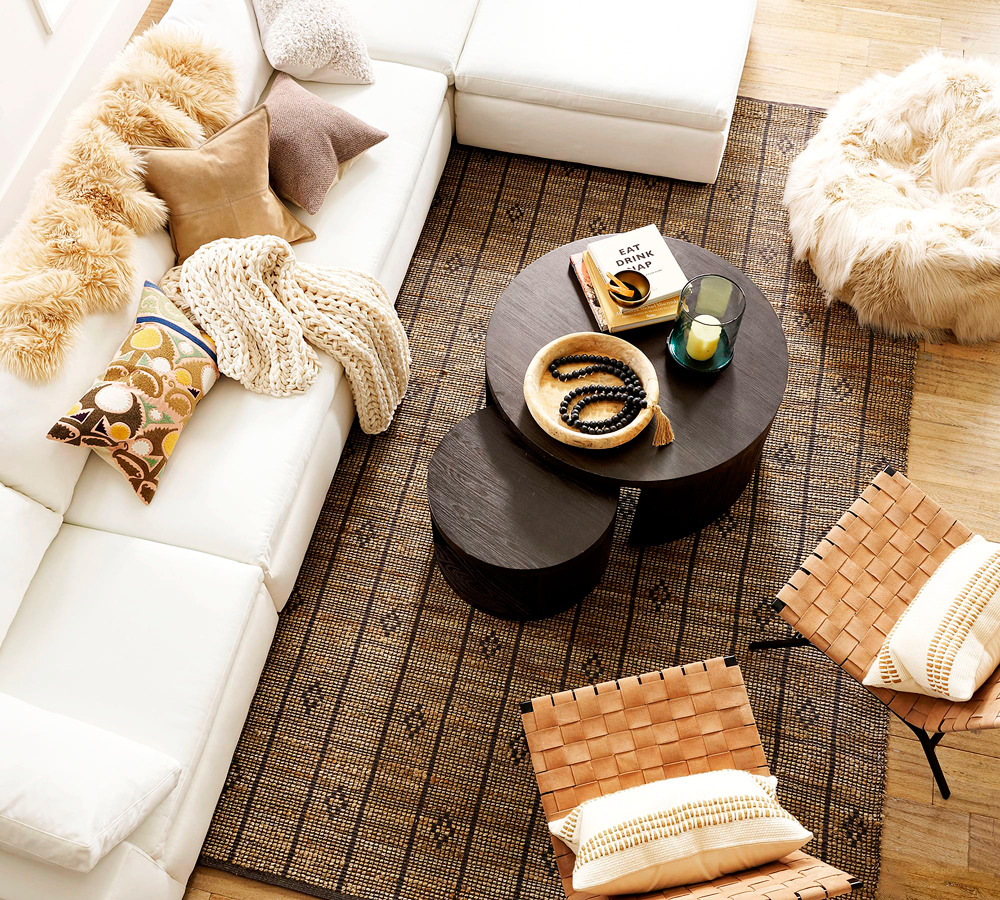 Mongolian Faux Fur Patchwork Bean Bag via Pottery Barn
---