No matter what trends arise in 2021, there is no doubt that getting outside will be at the top of everyone's list. And what better way to enjoy it than investing in your own outdoor living-space for a guaranteed return on your two most precious assets – your home and your happiness!
Whether you're home has a balcony, a rooftop, a deck, a modest yard, or a sweeping grand landscape, here's an extensive list of fresh ways to enhance (and appreciate) your outdoor space this year – and for many to come.
If you're starting from scratch with a new purchase, prepping for a sale down the road, or building upon what you've already accomplished from past years – check out this array of inspiration. From nature-voyeurs, to glam-enthusiasts, to cozy-homebodies, to hostess-mostests; we've pulled together something here for each and every!
THE LIVING ROOM RE-IMAGINED
Dual Outdoor Living Space via My Paradissi
Looking to get some fresh air after being cooped up all winter… or year? I know we are! And the perfect antidote for the winter (aka Covid) blues is an outdoor living room! A place where you can wander out under the open sky over the next 6+ months as much as you want to.
Consider a dual level outdoor space with the ground as your carpet and a flow of ivy as your lower-level backdrop (shown above). Place a few chairs on the upper level as a balcony overlook with your lounge are below to create a dynamic space with multiple uses and views.
Have a patio with multiple levels of stone? Add colorful rugs and pillows to patio lounge furniture as well as an upper level dining set to bring the space together and create a super-summery style! The contrast between the stone and fabric textures will makes it so inviting!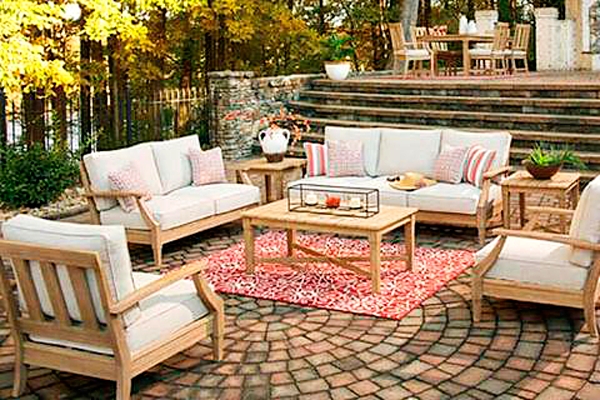 Inspiration via Clover Home Leisure
Craving a comfort zone? Find yourself a cushy couch or seat-back bench and set it up to the max with a rug, throw pillows, plants, candles, blankies, and grab a book – or a buddy – and enjoy! Have a backdrop of trees? Even better! Get some string lights and lanterns and surround yourself with subtle, glowing light.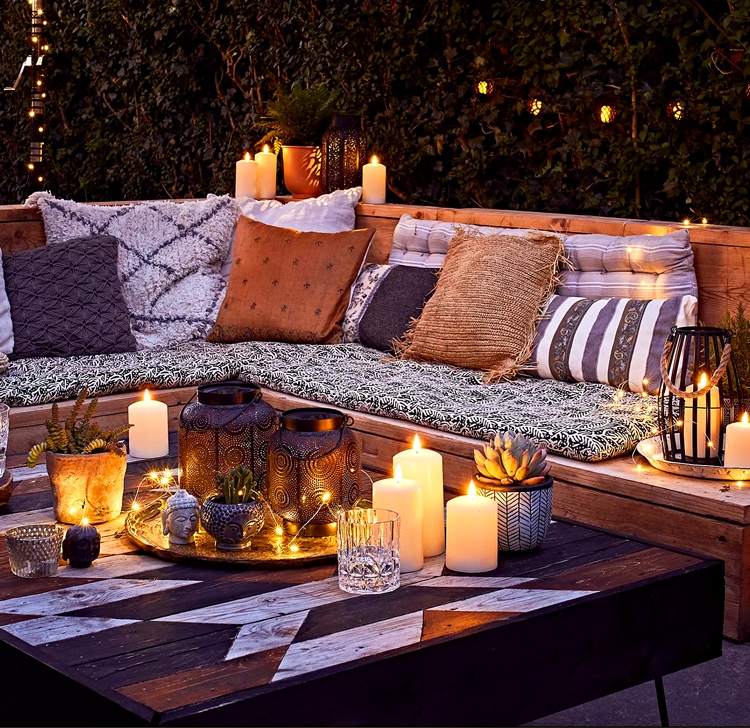 Enchanted Living Room via Real Homes
Take it a step further and grab an old wooden table (or make your own) and give it a whimsical paint job. We love the modern, southwest feel of the one pictured above. Throw in some sconces and trays, along with potted ceramic table plants, miniature sculptures, crystal accents, and you'll find there's no need to go back indoors at all… except maybe on a rainy day.
But even rain doesn't have to stop you, get yourself a Sunbrella tarp or a movable shade and stay outside to enjoy the dewy days! Embellish it with chimes, pendants or any kind of hanging charm and create a truly unique space within your space.
Rain or Shine Living Room via Real Homes
Long narrow spaces also have wonderful potential. A nice wild hedge creates a wonderful border that can be decorated as if it were a wall in your space. We love the modern yet charming look of this painted brick fireplace with seating area next to the more relaxed lounge area with floor pillows. The landscape may be minimal but the effect is anything but!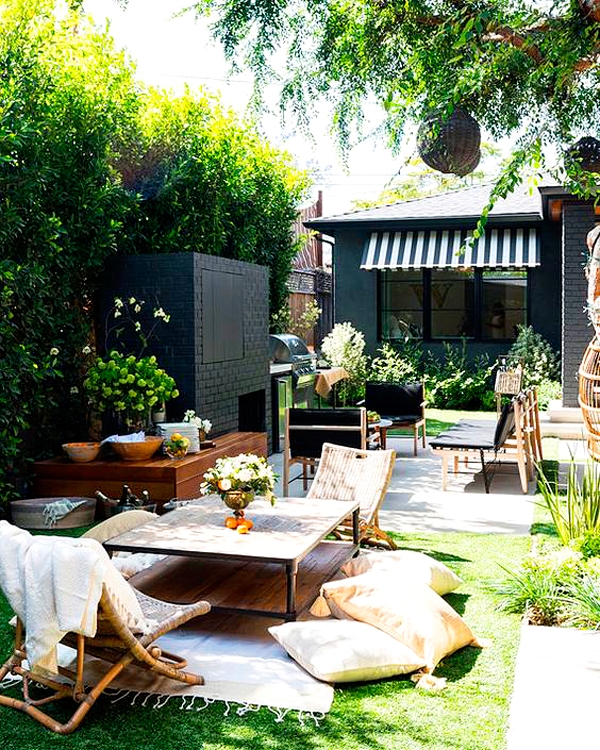 Maximize the Details via 100 Layer Cake
Take your privacy to the next level create a concrete or stone wall adorned with a hedge and towering full-foliage trees surrounding the corner nook. Add lights, seating, a table and gas fireplace and you'll feel like your miles away.
Have a deck or rooftop? Add a wooden low-profile wall with a corner bench for cozy seating. Choose ones with storage built-in for an extra perk. Add a table and chairs with a shade feature and you'll enjoy it from sun up to sun down.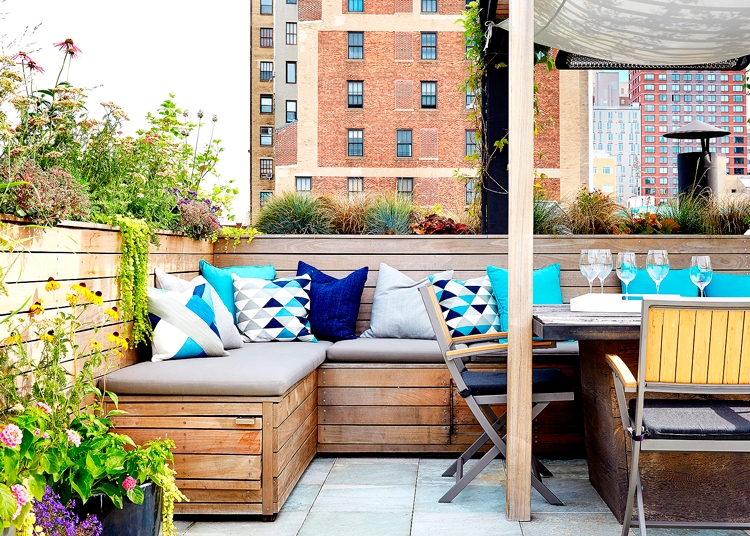 Storage Sitting Nook via Martha Stewart
If you have a dramatic patio with windows or glass doors to your home and like to keep it simple, go with a minimal seating area of a sofa and two end chairs with a functional table in the center. Bookend it with some tall trees for color and let the space speak for itself. We love the simple, elegant look of the space pictured below.
Outdoor Wicker Living Room via Eternity Modern
If outdoor charm tickles your fancy, try some gorgeous ever-blooming hydrangeas with a picnic-meets-modern furniture set up. Ornate patterned pillows against reclaimed wood and a shock of climbing green sets the space within these white walls perfectly!
Cozy Sitting Nook via Barrington News
Open beams with hanging paper-lantern, string lights and tied back curtains over patchwork stone offer an enchanting look and allow pockets of lush, cool grass for your feet to find their way onto.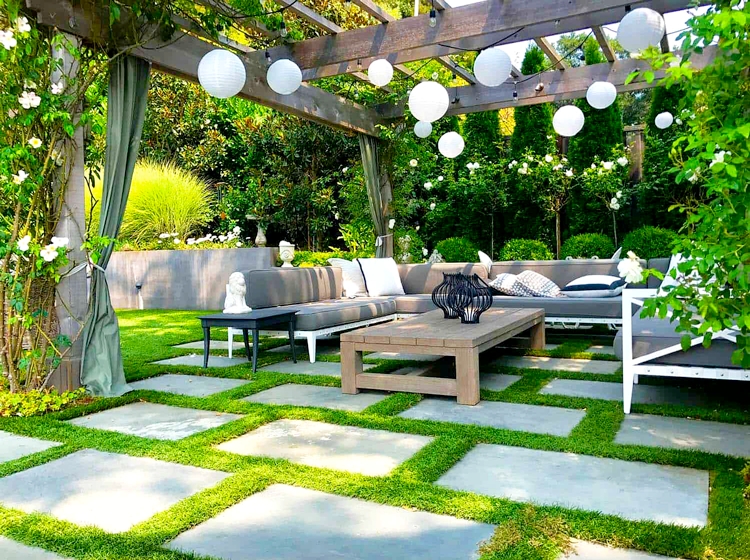 Enchanting Outdoor Space via One King Design
Add a full fireplace and a shock of climbing flowers to a corner and create a completely different look.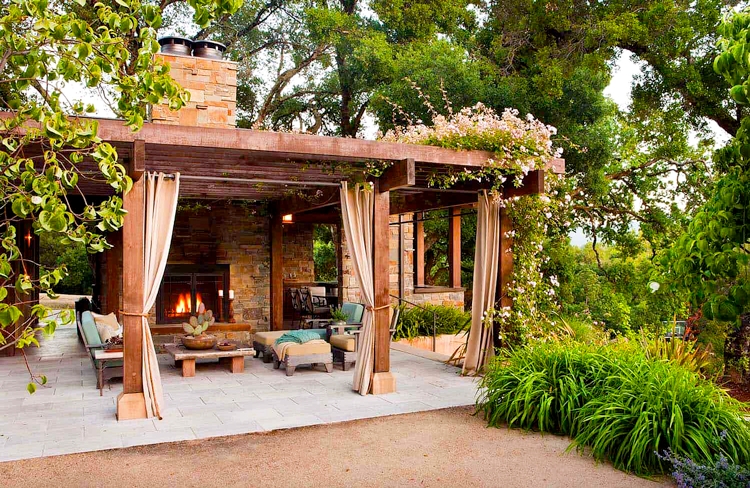 Covered Fireplace via One King Design
Have a wide open space? No problem. Set up a square border of wooden beams filled with Pea Stones and you've got yourself a brand new patio. It's the perfect foundation for some chairs, benches, fire pit and side tables that can easily be surrounded by decorative shrubs whatever your style.
Open Landscape Living Room via One King Design
What about tricky landscapes with large rocks or ledges? Take advantage of it! Add to it with additional stones and fill in the nooks with flowering plants and leafy greens for a rock wall garden effect. Lay some organic shaped stones for a patio, throw in a fire pit to warm up chillier nights, add a table between two sitting chairs and enjoy summer days surrounded by cool rock elements and fresh air.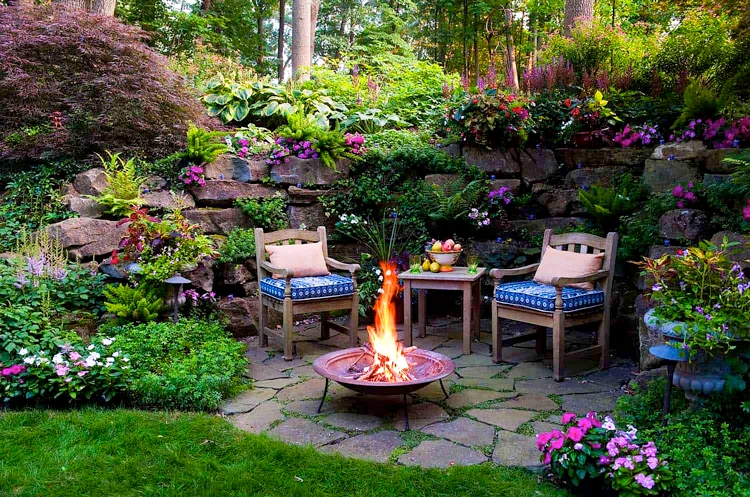 Rock Wall Garden Nook via One King Design
OPEN SPACE ENTERTAINMENT
Once you're outdoor space is set up – it's time for some company! Showing off your space is just as fun as enjoying it solo. Kick it up a notch by adding an outdoor dining room or enchanted pergola with grape vines or wisteria. Anything with an overhang is perfect for hanging decor, lights, flower arrangements and plants. Throw some stone underfoot and you'll feel like you've escaped to an Italian villa.
Farm to Table Outdoor Dining via One King Design
 To really enjoy the wafting perfume of hanging wisteria, try adding hammocks or swing chairs on all sides.
Hanging Wisteria & Hammonck Dining via One King Design
 Looking for a more elegant and timeless dining effect? Try a white pergola with cast iron hanging lanterns and a row of cushioned chairs lining a long wooden table. Throw in a picket fence, rock wall, floor lanterns to match, and sit back and enjoy the view for endless hours.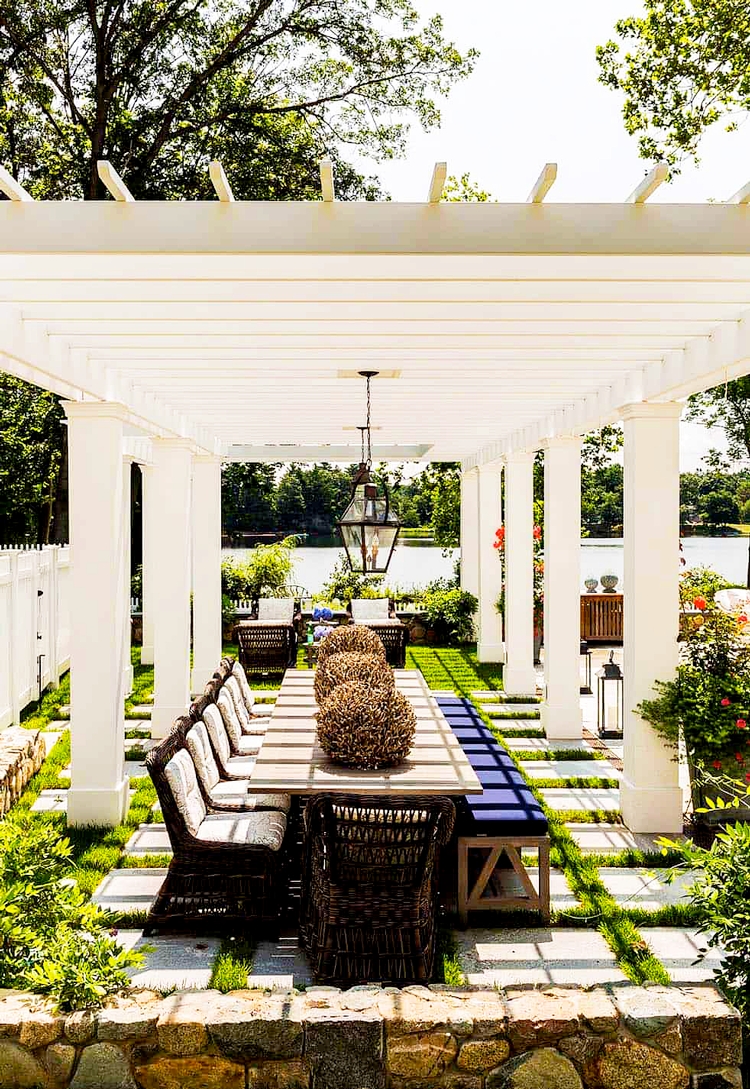 Elegant Tablescape Dining via One King Design
KICK UP YOUR KITCHEN
Enjoy cooking? Nothing beats whipping up a meal for family or friends under a sunny sky! From edgy and industrial set ups to simpler do-it-yourself counters with storage, take your pick and start prepping your next outdoor party.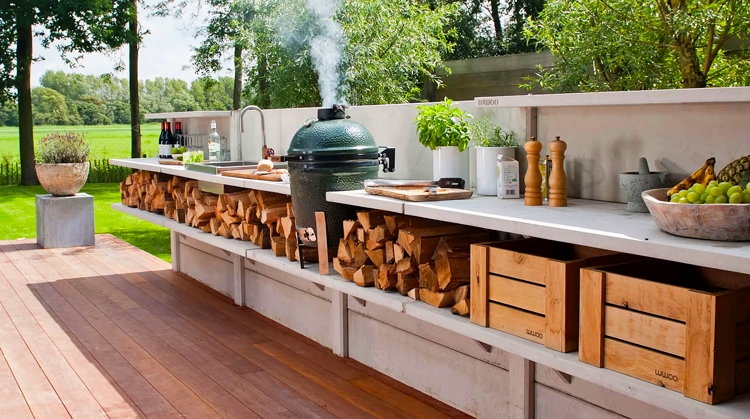 34 Outdoor Kitchens Designs via Love Property
We love this simple DIY butcher block countertop with storage that hosts a cut out for a dome hibachi grill. If you're not a fan of fire, simply replace the designated spot with a decorative glass 5 gallon drink dispenser and let the fun begin!
DIY Outdoor Entertaining Ideas via Home Depot
MOVIE NIGHT UNDER THE STARS
If your idea of a dreamy outdoor night shared with guests includes watching a movie, comedy show or concert, let's talk outdoor theaters. Nothing says 'entertain me' more than a platform deck covered in pillows, cushy comforters and knitted blankets with a large screen set for viewing!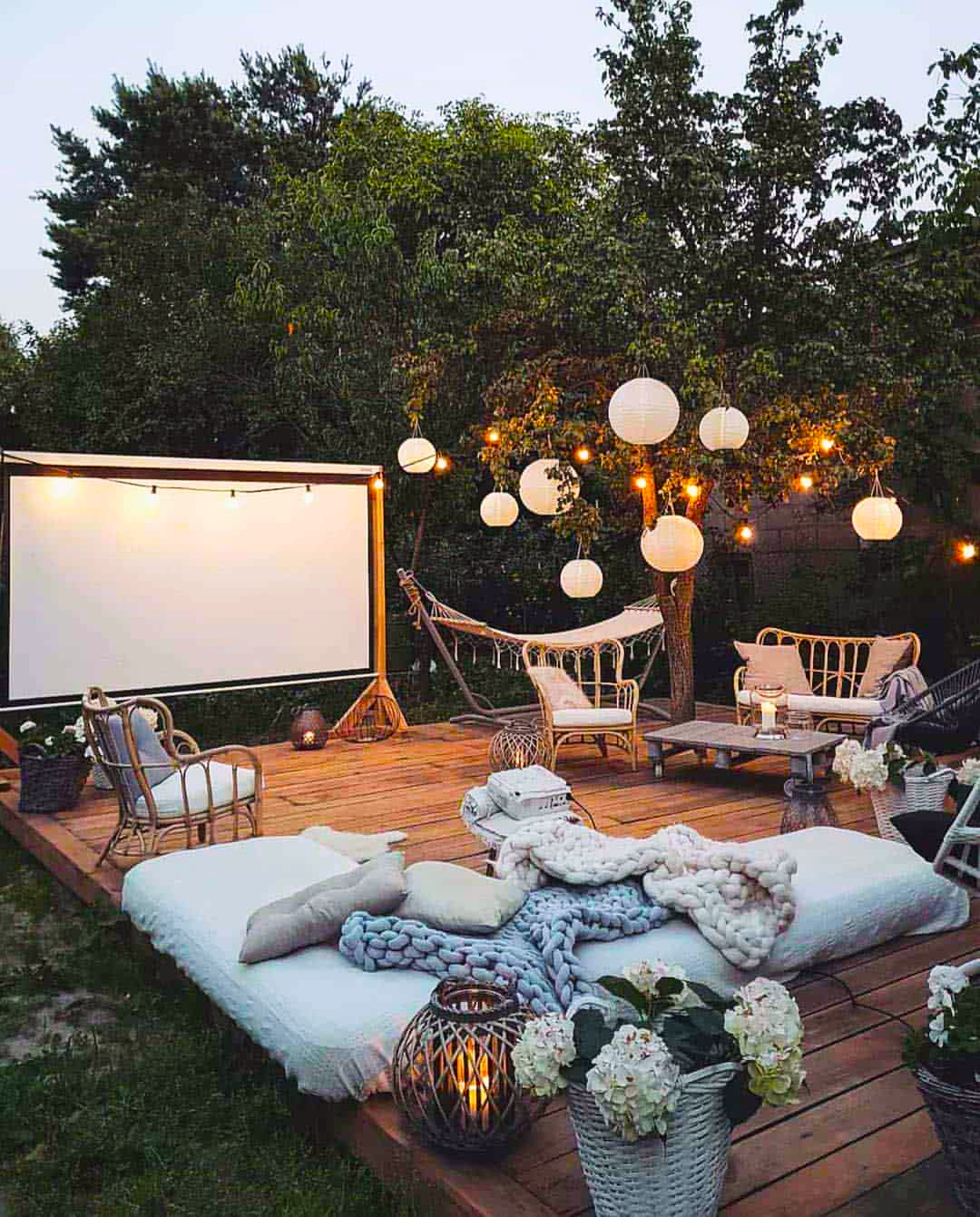 Lawn Spread Movie Night via One King Design
If you're lawn is more like a city space… try a projector against a stone or brick wall. It's the perfect way to change up an outdoor living room for special viewing nights shared with friends… or by yourself with a big bowl of popcorn.
City Movie Night via Real Homes
If you're really crafty, try this DIY outdoor home theatre idea. It's a dual trellis/pergola to host flowering vines and foliage all season long with a hideaway movie screen for easy set up for whenever you need some screen time.
DIY Dual Pergola & Outdoor Theatre via The Horticult
However you like to spend your time outdoors, we hope this list inspires you to find ways to enjoy it even more!
Stay tuned for our Part 2 follow up to come soon, where we'll explore all the details to take your outdoor space to the next level with everything from pollinator gardens, to small-space pools and luxurious details to enhance your already imagined space.
Until then, grab some groceries and christen that new kitchen and living space! What better way to celebrate the spring (and loved ones) than with a tasty, colorful picnic spread to kick off the season surrounded by your best buds!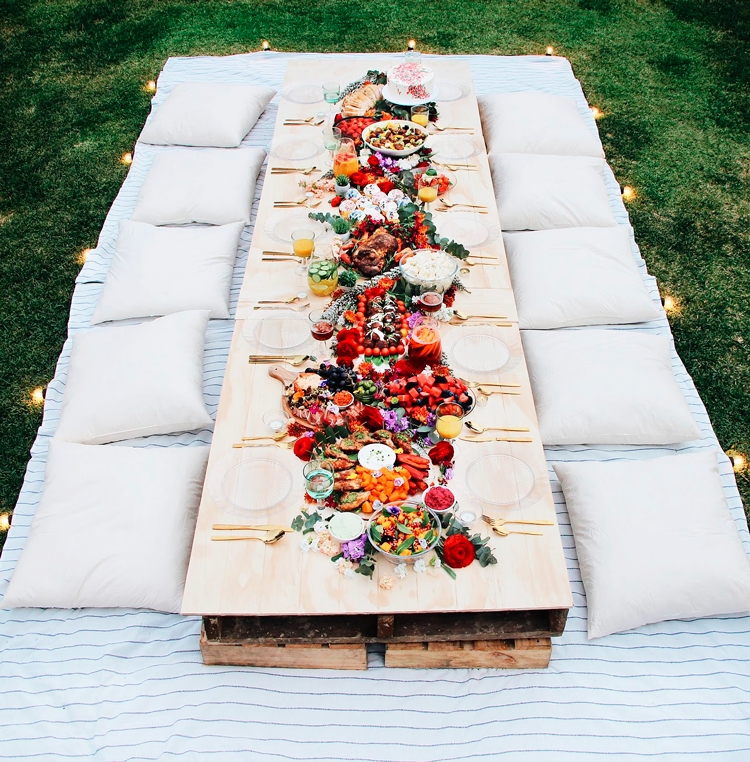 Spring Picnic via Tara Milk Tea

Whether you're preparing to BUY or SELL or want to learn about the current market trends, or want explore your current home value, Julie Harrison is here to help.