After this year's eternal wave of redecorating, redesigning and renovating, it's finally time for the fun part…. sharing your space! Put the final touches on your interior and exterior surroundings with these new 2021 design trends.
Maximalist Design Trends via Smith Honig
This extensive seasonal guide lists everything out from 'Maximalism and Japandi' to 'Art Curation and Natural Findings' to capture even the most trend-setting stylists' attention. Whether it's an outdoor gathering, an intimate dinner party or an indoor/outdoor bash – get your space prepped and ready for the summer social scene happening right at your own humble home. We hope you enjoy your visual stroll through our gorgeous gallery of inspiration specifically pulled together by us for you.
MAXIMALISM MAKES AN ENTRANCE
Maximalist Interior Design via Chloe Dominik
If you're a die-hard minimalist, it might take you awhile to get used to the idea of this one. But even the most scaled down designer can take advantage of this style trend and incorporate just enough to embellish any space grandly.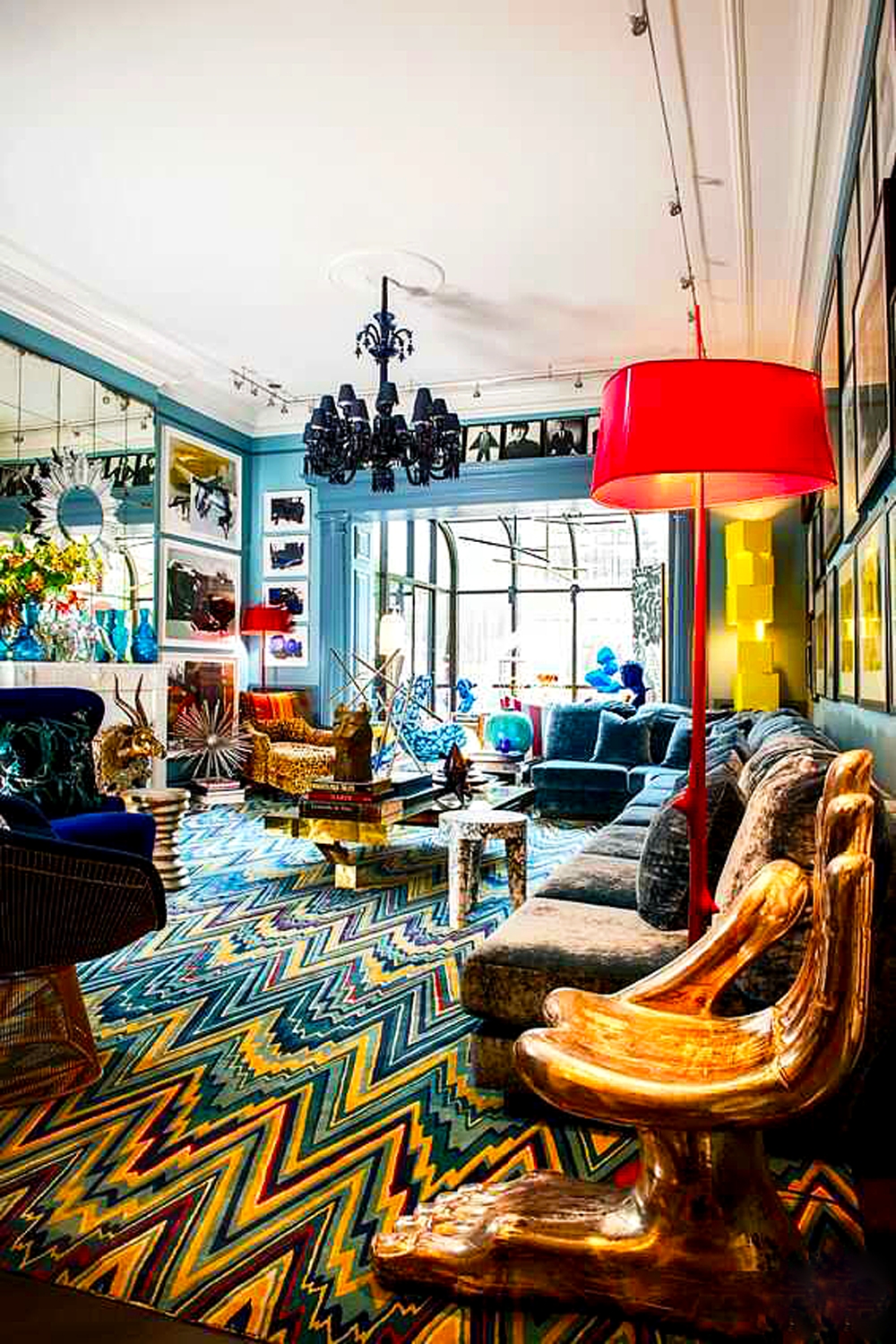 Maximalist Design Guide via Smith Honig
One of our favorite ways to slide some Max-Décor into your neutral, streamlined home is by adding some decorative Wall Paper. Yes, you heard us. It's back! However, this isn't your Grandma's forever commitment. With advancements in technology, decorative paper coverings are now simply 'peel and stick'. You can put them on… take them off… and put them back on somewhere else. Thank you and yes please!
Temporary Bold Backsplash via The Spruse
Surprise Accent Stair Riser via Etsy
There are so many ways to utilize a touch of these temporary surfaces whether it's bold and colorful, high-contrast or monotone patterns. Try covering an accent wall, the back of a non-working fireplace, a piece of old furniture like a bookcase, or one of our favorites – add it to your staircase risers for a funky surprise.
For the art enthusiast, try a graphic print or graffiti wall. Love tattoos but don't want the commitment? Go for broke with a temp-tattoo for your favorite bedroom wall. The best thing is – when you've outgrown it or it's time for something new, it's as easy as peeling it away!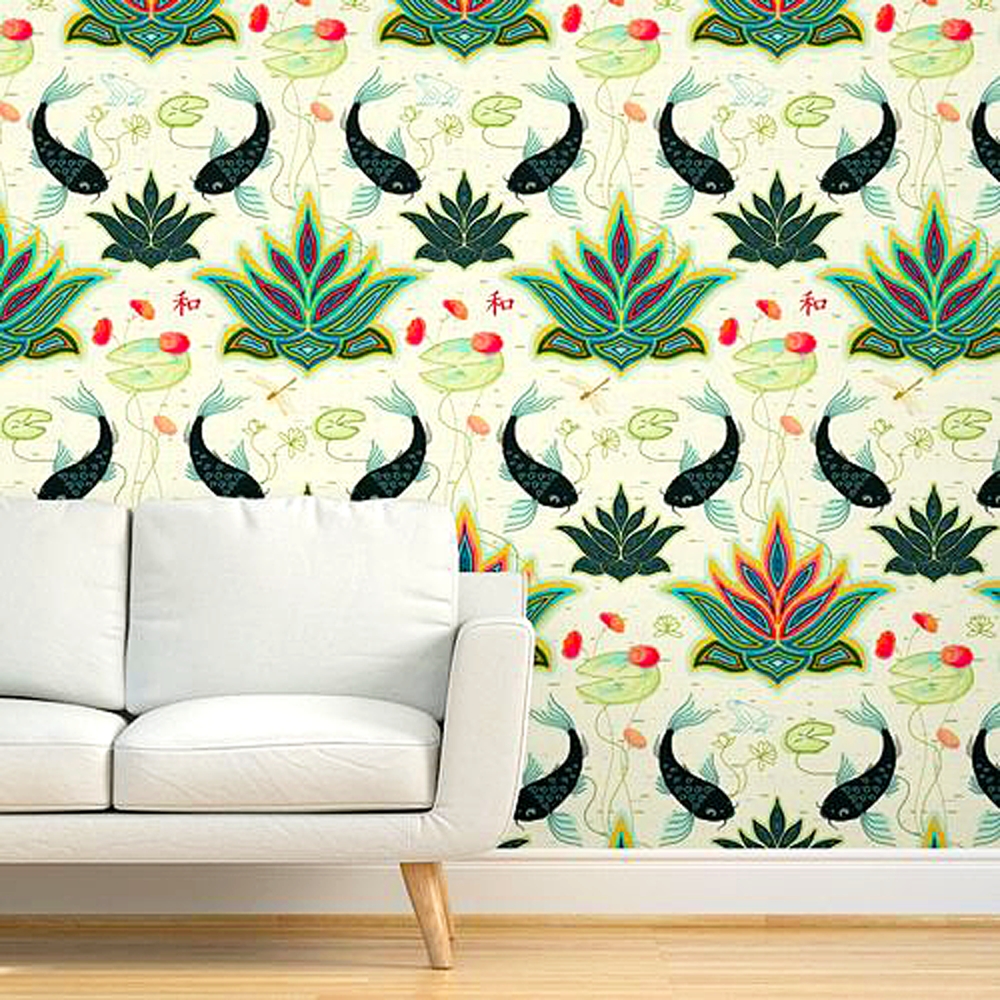 Peel & Stick Coi Fish Wallpaper via Spoonflower
PAIR WARM HUES & BOLD COLORS
There's something so special about a warm inviting room that calls for you to come inside. Color pairing is such an easy way to achieve a welcome vibe while balancing it with a stylish counterpart. It's a 'two for'.
We love this bubble gum pink and muted-mustard. What a genius combo. Add the chandelier and French doors and it's mod meets glam meets amazing!
Mustard & Bubble Gum via Smith Honig
Another winner if you're a fan of rich wooden accents is graphite gray with white and coral textiles. The below bedroom with Boho pillows and lush greenery with an accompanying candle trio, creates a wonderful ambience within the space. The dark gray wall is the perfect backdrop for sleeping, with the light and bright details keeping it lively to start the day and all throughout.
Graphite Gray & Coral Bedroom via Digs Digs
GRANNY CHIC FOR FLORAL LOVERS
Fondly referred to as 'Granny Chic', this oddly enchanting trend is finding it's way everywhere. Designers are now mixing loads of vintage prints, florals, velvets, paisleys, and woods in a way that is reminiscent of the coveted French countryside. It's absolutely an acquired taste and it's not for everyone, but it's definitely a fun way to express a maximalist aesthetic with a decidedly kitschy point of view. Think William Morris modern day!
Floral & Coral Living Room via The Nordroom
Whether your a fan of floral patterns or just love an organic, ornate touch, these patterns and textures mix perfectly with Scandinavian homes and Mid-Century Mod which is mainly in natural color hues. It can bring a nice design element to a wall without it being too distracting or over-the-top cute.
JAPANDI [Yup… that's a thing!]
Scandinavian Meets Japanese 'Japandi' via The Nordroom
Offering a nice contrast to the Granny Chic style, you'll find Japandi. Japandi is the aesthetic combination of Scandinavian and Japanese design, which tend to have quite a bit in common. Both styles are focused on simplicity, using natural materials and are highly functional.
Japandi design has clean lines, light rooms (in both terms of natural light & color) and it has no unnecessary clutter to muck up your space. However, a home with Japandi style isn't vapid or bland. Not in the least!! The design pieces are carefully curated to create a home that's functional, natural and comforting using high quality materials with weighted in sustainability.
AU NATURAL – RAW STONE
Raw Marble Backsplash via Camille Styles
While raw stone and mixing of stone have been showing more prominence recently, it's a recurring and timeless trend that's here to stay. Stone is not just for flooring or counters anymore. Nope! You'll find pretty much any home accent available — coffee tables, accessories, frames, headboards, and even stone light fixtures – anything that wood or metal can be used for, stone is right behind it.
Most of us spent the last year squeezing the max use from our outdoor spaces. Pouring money and time into making them ultra comfortable year-round by  investing in covered porches, decking, patios, heaters, pools, lighting, fire pits and fireplaces, entertainment set ups, landscapes, gardens, and more.
Raw Stone is the perfect accompaniment to any of the above mentioned spots in your outdoor space – plus it stays great looking for years to come, so it's well worth the investment. Try adding it to paths, coffee tables, side tables, vases, lighting, walls, sculptures, hanging tree mobiles, bird feeders, waterfalls, and even garden benches.
Raw Natural Stone Outdoor Oasis via Camille Styles
BRING THE OUTSIDE IN
Feeling a stronger connection to nature? No surprise there because it feeds our lives and ensures our mental well-being. Try surrounding an interior room with greenery, a forest/jungle decor theme, or a wall of plants, and bring the garden indoors. Add green patterns and decor accents paired with natural materials that focus on sustainability to blend it all together perfectly.
How to Use Plants Inside via Design Basics
Greenspace is known to make us feel more relaxed and have beneficial effects on our mental well being. It also purifies our air, adds an organic detail of design and can be great company for humans (and pets)!
Also, green is a very soothing color, so no matter how you incorporate it – living or not – it will help to offer you a calming space to escape to whenever a date with Ms. Nature is desired.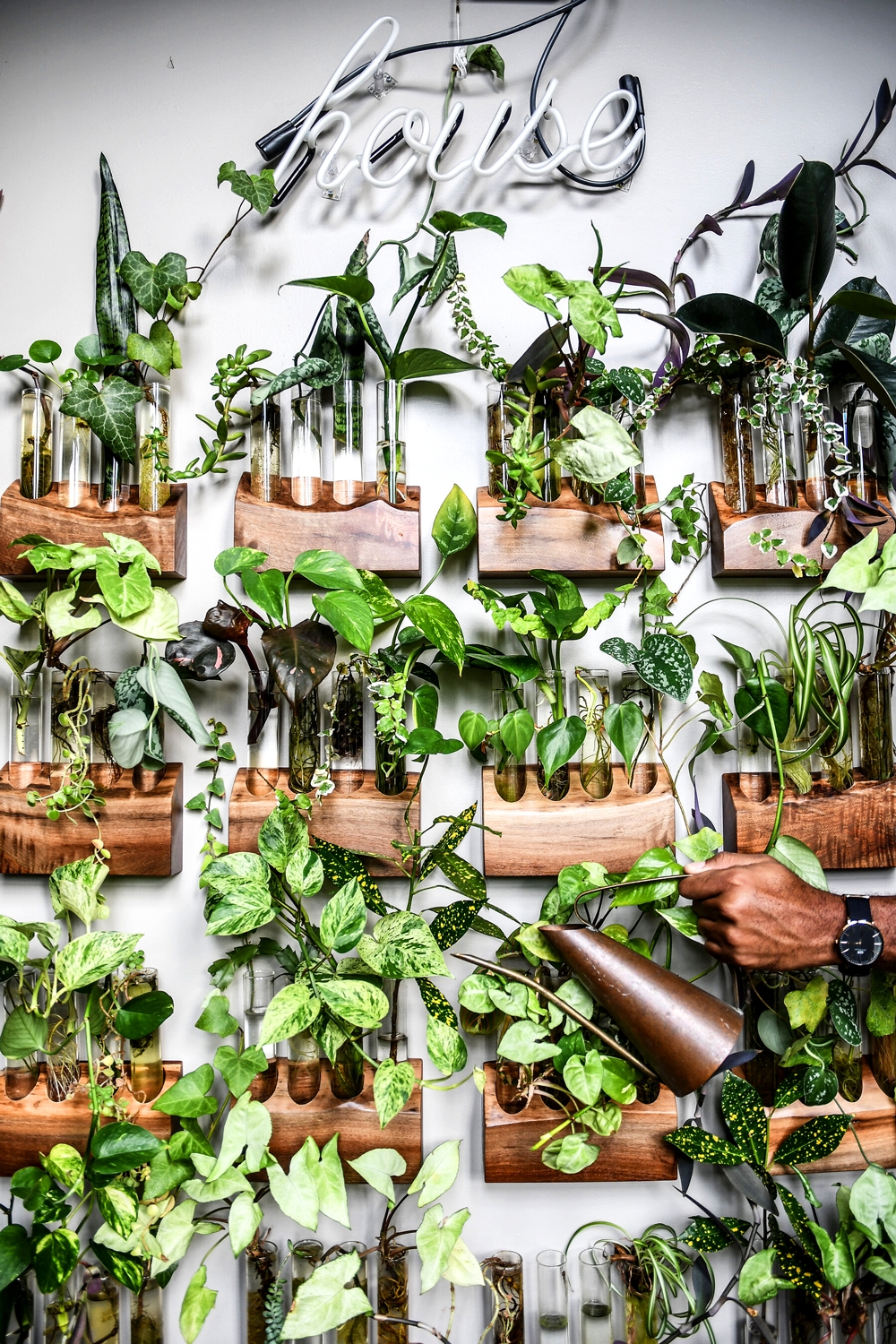 Choose the Right House Plants via New York Times
Creating Green Space In & Out via The Nordroom
THE COLOR YELLOW
A pop of color is always a fun surprise. It can lift your mood, energize the viewer and show spectacular personality. What better sunshine color to reflect happiness and hope in our surroundings? We love yellow! With blue being so popular lately, you can always depend on yellow to be a complimentary companion. And being one of the two tones that Pantone chose as it's color of the year, it is also equally spectacular with shades of gray – a wonderful neutral and the other chosen color of 2021.
Yellow Dual Couches & Violet Rug via The Spruce
Try a large dual couch set facing each other over a lavender patterned rug (properly done above) or an entry hall, or even a front door as a welcome greeting to approaching guests. It's like a smile to your eyes! Looking for a touch of gold to embellish your outdoor patio? Try this vintage yellow striped umbrella with a generous display of white cotton fringe by Business & Pleasure Co. Pair it with some teak furniture and lush plantings to keep the party going all summer long!
Antique Yellow Vintage Market Umbrella via Business & Pleasure Co
However you spend your time this summer, we hope this touch of inspiration offers you some ways to enjoy it a little bit more!
Whether you're preparing to BUY or SELL a home, want to learn the current market trends, or want explore your current home value, Julie Harrison is always here to help!