As winter fades into a distant memory the urge to throw open the windows, clean out the closets and walk around the yard, deck or patio takes over. Spring is the perfect time to focus on showcasing your home's exterior beauty. It also helps to perk up your home's curb appeal to onlookers. as well as your family, friends and self!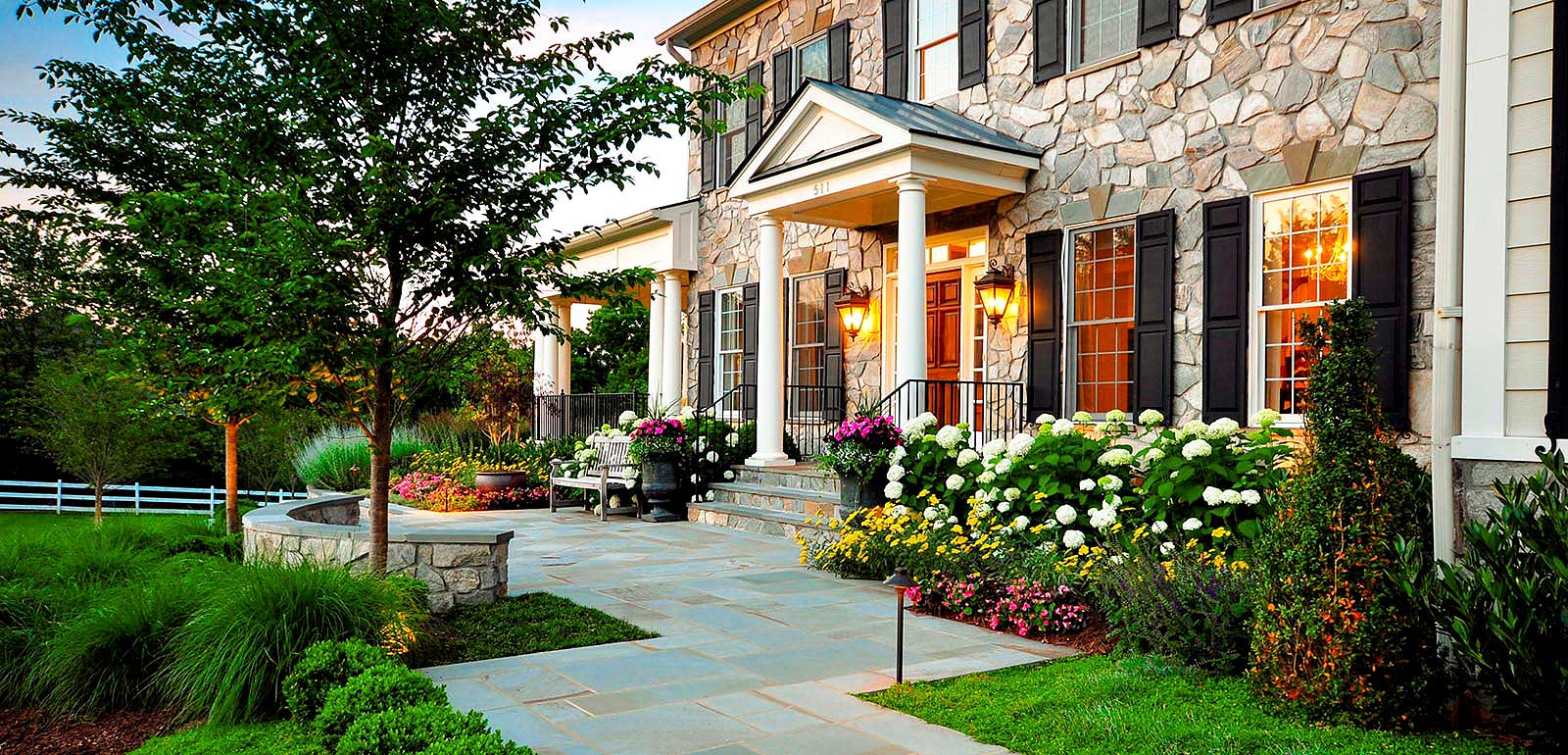 Modern Front Yard Landscape Ideas via Home Edit
We've gathered our favorite experts' advice for spring clean ups in this handy list to take (most of) the work out of maintaining your most coveted outdoor spaces. Learn how to keep the outside of your home in tip-top shape to enjoy this season or to attract buyers in the coming market.
From paint, to cleaning, to landscape, and even to simple exterior accent details, this helpful guide will keep your home looking it's very best – and help you manage any post-winter problems before they happen.
Read on below for tips on how to prepare, protect and preserve your property's exterior health this spring.
KEEP IT CLEAN
Give your home a bath (yes, literally). Give your house a good scrub to wash winter and spring pollen away. Remove the storm windows and wash the glass inside and out. Hire a professional (don't attempt this yourself) to power wash every inch. They'll know how to keep everything sealed while getting it spotlessly clean – and they'll also know how to properly protect the surrounding landscape to make your home look new.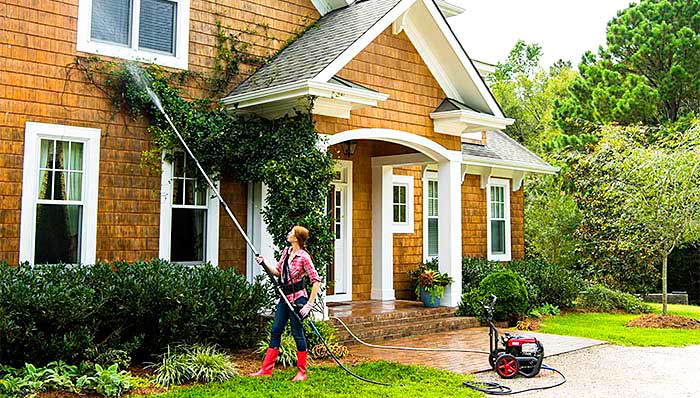 How to Properly Power Wash your Home via Lowes
Another important area that can sometimes get forgotten is the gutters. Whether you like to hoist yourself up on a ladder or watch from below, get your gutters good and empty. They control the flow of rainwater on your house, protecting your roof, siding and foundation. With spring rain ahead, a clogged gutter can potentially leak to infiltrate your home's interior. No thank you! You don't want any moisture getting between walls, insulation or the structure of your home ever. Always be on the lookout for any damage or cracks to seal anything up as soon as you find it. It's always best to splurge on a pro to keep your feet safely on the ground. If you have rooms above the gutters, you'll be amazed at how much it improves the view. It also helps to protect the landscape below by controlling the flow of water and we all want those spring blossoms to look their best!
Hot To Get Windows Spotless via My Window Washing
When cleaning the exterior, be sure to include the patio and/or deck. Whether you have high-end wood alternatives, or some form of natural wood, consider using an earth-friendly cleaning solution.  Experts recommend spraying things down, waiting about 15 minutes and then giving it a good scrub with a deck-friendly broom before washing it all away. That way you don't have to worry about well water, your plants, or doing any damage to your environment. Treating real wood with agents that protect against algae or decay is also a key component to maintaining natural wood. Let it dry thoroughly before staining or sealing. Your deck, and guests, will thank you all season long.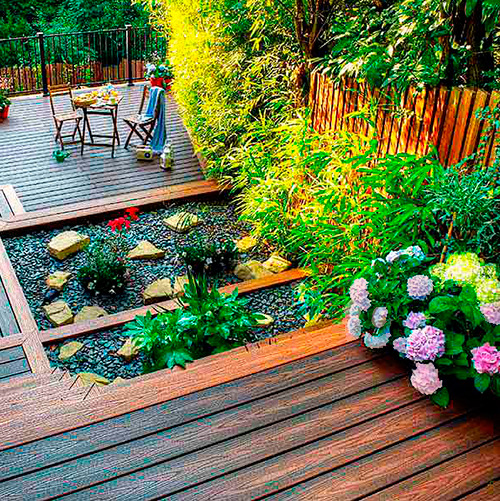 Tiered Platform Deck via Arbor Deck UK
If the pool is the place where you spend most of your warm weather months, well now is the time to inspect all of your equipment and order those supplies. Filters, valves, water treatments, thermometers (and yes, consider even getting those floats and loungers) to prepare well ahead of when you want to use them. It's always best to have something helpful handy when you need it. Especially when it helps to preserve your summer fun!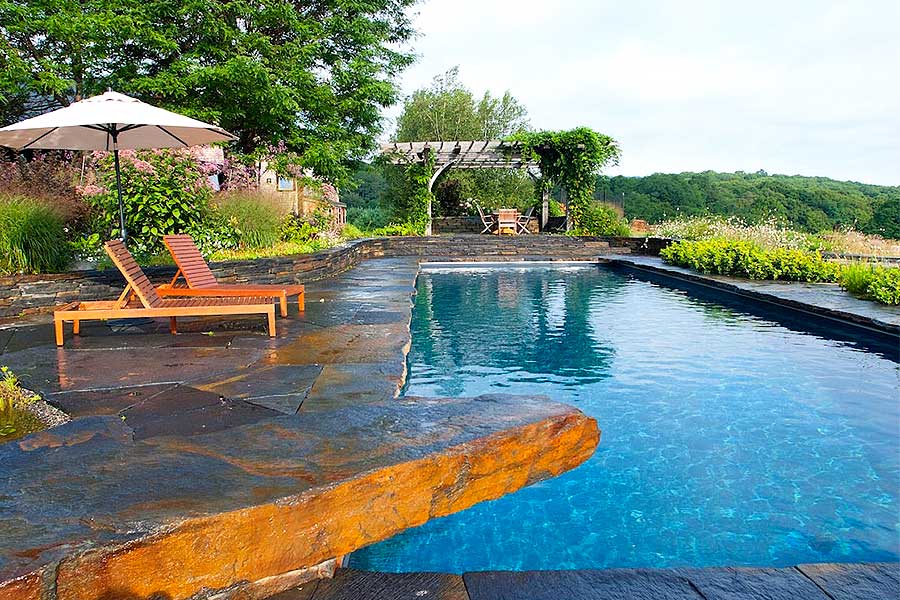 Natural Lagoon Design via Water House Pools
A NEW SPRING COAT
Whether you have a majestic home or a simple nook, we highly recommend not skipping the due diligence when it comes to adding a fresh coat of paint. Find a rock-solid, professional painting company and choose one that will give you a list of references that include some of their earlier work to know how it stands up over time. A good paint job should last 10 years and it's important that you are satisfied long after a year or two has passed.
Exterior paint doesn't just look nice, it protects your shingles and siding from water damage. Plus, a thorough professional painter will seal and caulk every little nook and cranny, keeping it all air tight to extend the overall durability of your entire exterior to the outside elements.
To make sure that your color endures, it's recommended to use an oil-priming method before adding two coats of latex, which keeps the color vibrant over time. Oil primer soaks into wood like a sponge, allowing the paint to last longer – which is what you want. More protection is always better. Plus, it really saturates the color, which makes it look it's most gorgeous-best!
Best Exterior Color Combinations via Bob Vila
Not sure about color? No problem! Most professionals will help you with that. They'll share insights on what's trending, or timeless, and what may work best in your particular setting (bright sun or shaded by trees) to meet your tastes perfectly.
This year so far, we're finding all shades of blue (always a popular pick from year to year) including pale, to vibrant, to all shades of teal and turquoise.

Gray Blue, Brick & Coral Peach Door via Poor Little It Girl
Another top choice is ivory or off-white as opposed to the stark, white farmhouse look from recent years. Think warm whites that are more of a milky-cream tone than stark whites that can be cold.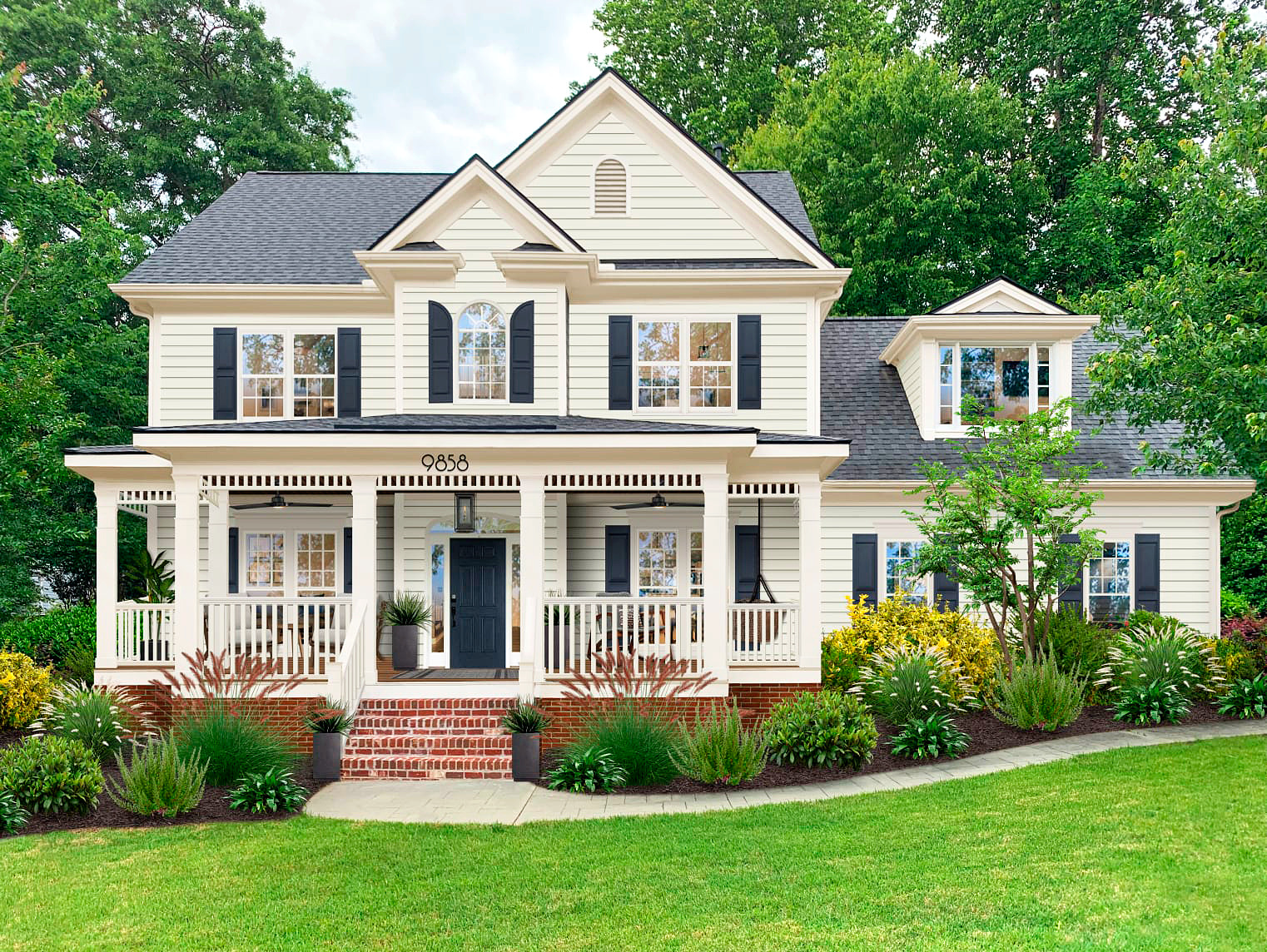 2023 Exterior Paints via Benjamin Moore
And the most classic of classic, natural wood of course. Stains have always had their spot in the market but now due to modern cabins, mid-century architect styles, and the new styles of upscale mixed-material home design, they're really taking a moment to shine.

2023 Exterior Paints via Benjamin Moore
FRONT DOOR ADORATION
Color doesn't just make an impact in extra large quantities or over a large surface of your entire home. The front door is the perfect way to make a style statement with plenty of space to have fun. Whether you love a natural wood, a muted tone, classic high-gloss black or a big-bold pop of color, the front door is a focal point that puts the exclamation on your home.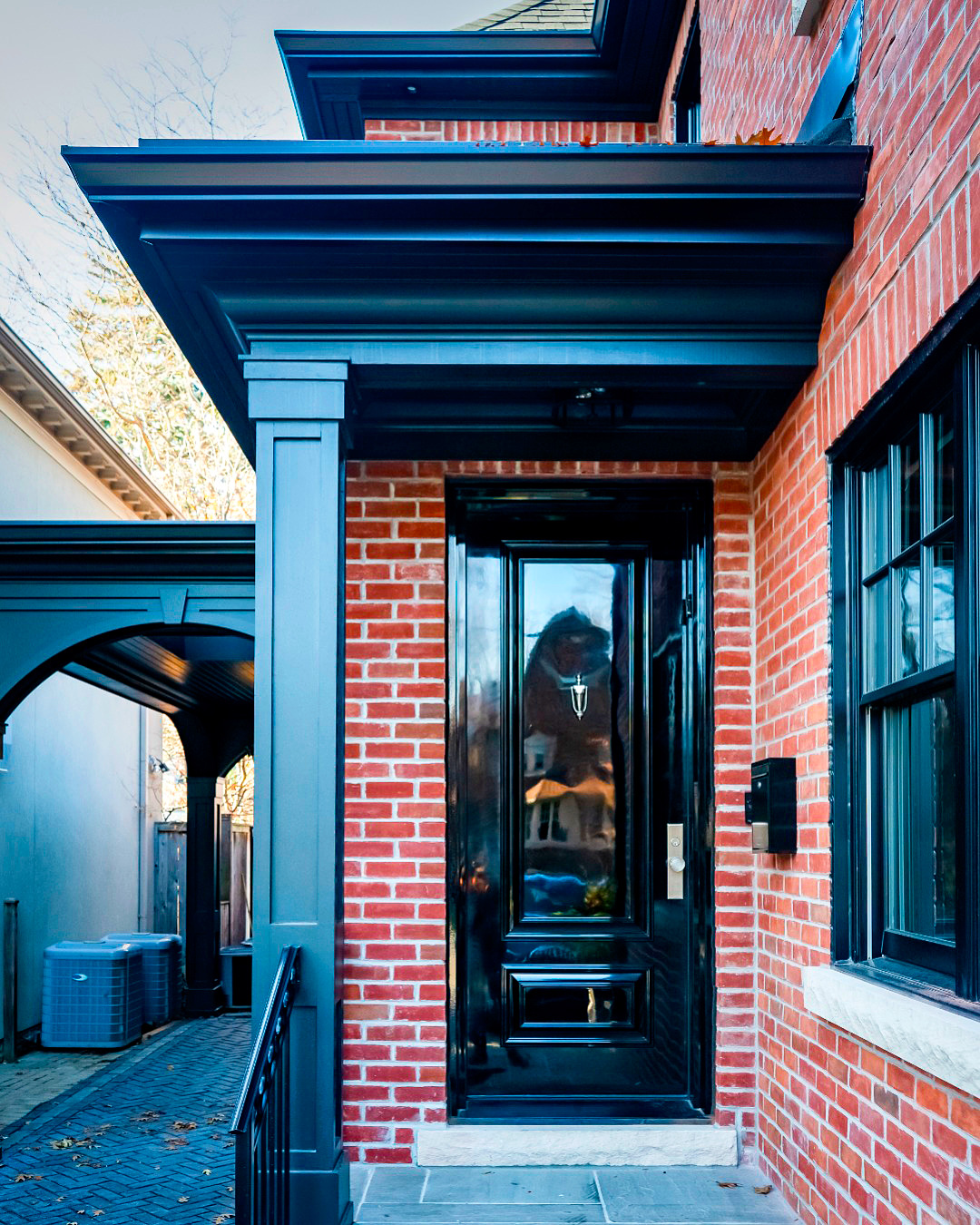 Glossy Black Front Door via Field Stone Windows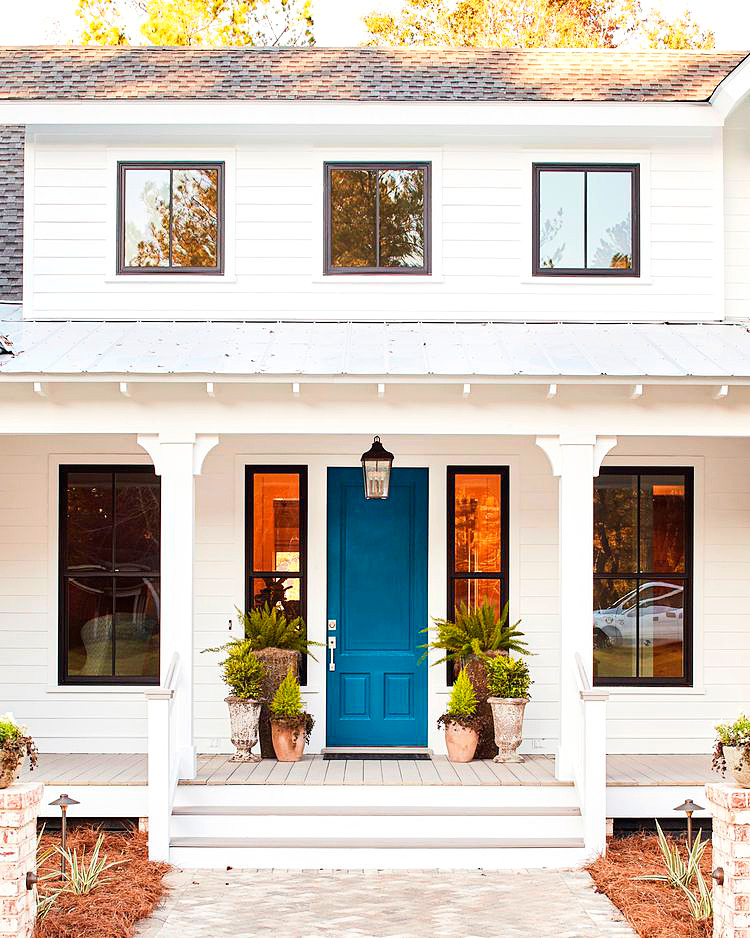 Best Front Door Colors via Martha Stewart
TREES & YOUR SURROUNDING HABITAT
It's also prime time to give your trees a brush-up. Take a simple walk through your property. Note how the plants change and what's natural for different species throughout the different seasons. Do the needles change color? Do the leaves fall off? Does the bark exfoliate? Are there seedpods present? Are the buds pronounced during the winter? Once you're familiar with their natural characteristics, any health issues should become obvious if they ever arise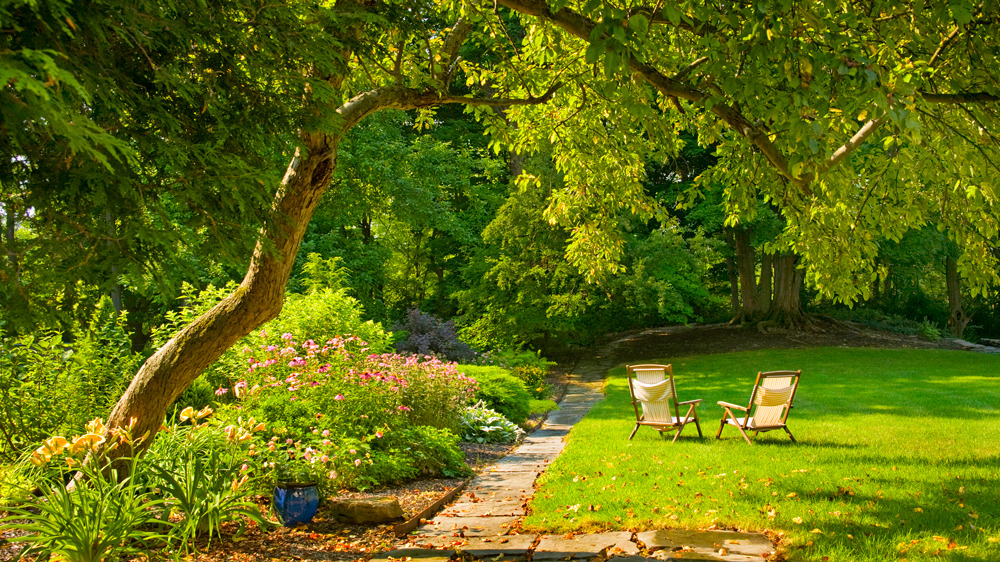 Best Privacy Trees via Homes & Gardens
To prepare for spring, experts suggest mulching plant beds and applying fertilizer. Consult a professional for the best formula tailored to your landscape and existing plant species.
Don't forget the plants: Framingham's Native Plant Trust (nativeplanttrust.org) is home to an expansive nursery and they urge gardeners to consider native plants for their Eco-friendliness and ease of care. Native plants aren't dependent on pesticides, they adapt well to local weather, and restore natural habitats.
Common tree species such as oaks, hickories, black cherry, willow, and birch help to support insects, shade, and energy efficiency. Willows are especially important for pollinators that emerge early in the spring season, as they have abundant nectar and pollen in March and April. Flowering dogwoods are also colorful and bird-friendly, supplying much more than beauty to their surroundings. They offer the local birdies a feast of food and nutrients. Plus, some extra protein from eating unwanted pests off of the bark and flowers.
Array of Native Plants via Native Plant Trust
ROOFS COVER IT ALL
And when it comes to your own refuge, taking proper care of your roof is vital to everything below it. Request a drone fly-over inspection. It's a safe, quick, and easy way to inspect the whole roof from the ground without having to set up ladders and staging to access steep corners. You can identify any damaged roof material or any wall and chimney flashing issues that may need simple repairs and a little attention. This a great tool to help identify roof leaks prior to interior signs. Conduct an annual inspection to detect issues early and ensure maximum longevity.
COPPER ACCENTS & SLATE COMPOSITE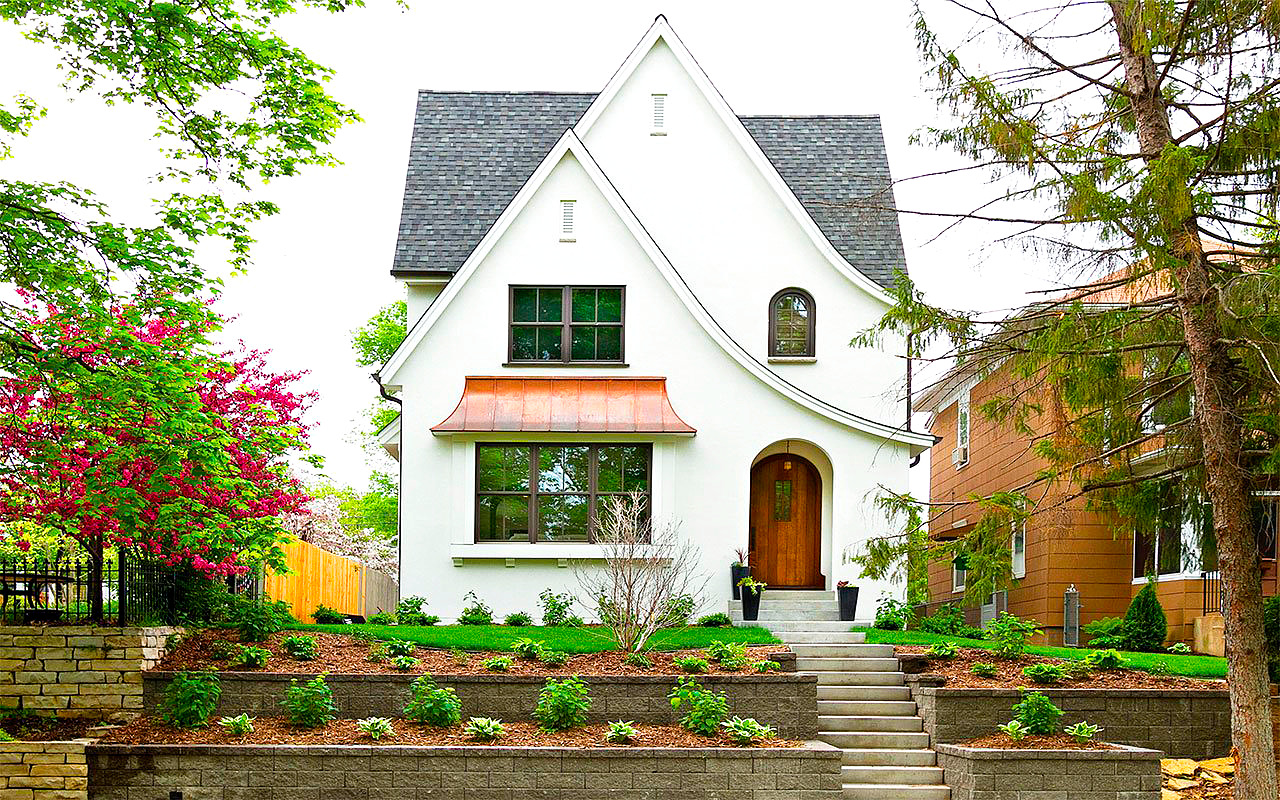 Copper Window Awning via MSP Mag
There are few options better than copper and slate for boosting your home's curb appeal. Copper is a beautiful material that has timeless style, durability and requires little upkeep. It is also a rare detail so it can really make your home standout from others, and speak to the care you've given it over the years. Consider copper gutters, cupolas, chimney caps, door fixtures, chimney flashing and window awnings.
Weathered Silver Cedar Shingles Composite via Enviroshake
Slate and cedar shingles are two more design elements that stand the test of time but now with 'real look' composite materials in a range of colors, it's more affordable than ever to get the look without the high maintenance and cost associated with the either real option. Try a classic slate color in onyx black or a classic faux cedar shingle in a weathered silver cedar.
The same goes for decks, balconies and any outdoor structure like a gazebo. Composite materials now resemble real wood products in considerably close comparison and have extreme durability. They'll last basically forever, and there's no splintering, which you get with wood—which means you can walk barefoot on it and enjoy it fully without worry. Composites also don't need to be stained or protected from sun damage. They're virtually maintenance-free and they tend to retain much less heat on those scorching summer days. If you're going to have it, you want to be able to use it whenever you feel like it.
Pergola Deck Design via Timbertech
LAST BUT NOT LEAST OF ALL
As you're touching up every exterior detail of your abode, be sure to protect its worth. Insurance prepares clients for unforeseen events that can have a special focus on urban condos and apartments, to humble residences and grand estates. If your not certain you've got your investment fully covered, don't wait to find an expert that can help.
Newbury Street Cherry Blossoms via Brownstone
REWARD YOUR HARD WORK
And after it's all said and done, what better way to reap the rewards than to share it with loved ones and the people you admire most. Throw yourself a big bash to show off the sweat and toil.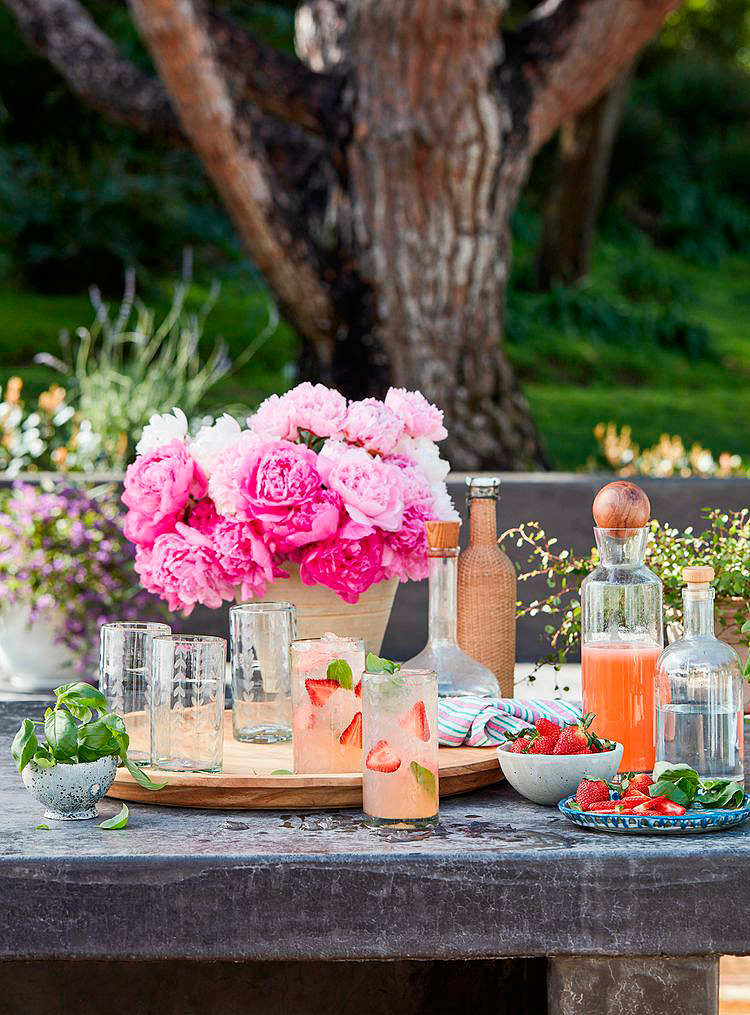 15 Elegant Outdoor Party Ideas via BHG
Have questions or need recommendations for any of the above? Get in touch with  Julie anytime. She has a vast network of experienced professionals and she is here to help!