Casa Joven, San Miquel via Sotheby's International

 Colorful plantings, winding pathways, and plenty of green screens can transform any urban space that's exposed on three sides into your own a private oasis.
Garden Paradise Made via This Old Home
Corner lots with allies running along the back can be quite a challenge when trying to create a private outdoor space in the city, but vine-covered fences and arbors can easily shield seated areas from the streets that won't come across as unfriendly walls. Generous plantings on both sides of sidewalks can also give neighbors something to admire as they walk by on their way through the neighborhood.
Buffalo Garden via This Old House
Inspiring Cottage Gardens via Town & Country Living
Grassy or foliage-filled paths that meander between a mix of perennial and annual flower beds can offer a tranquil breath of relaxation no matter how large or small your space. Add charming detail between stones and crevices, to convert conventional grass to water-thrifty perennials. Use colorful annual petunias and zinnias as fillers until perennials of yarrow, catmint, manzanita panchito, and golden storksbill become well established. Use any size and length of a picket fence, new and old ironwork and salvaged ornaments to add artistic personality to your garden – and show off your own style. Make it your own. There are no rules when it comes to what you want in your own private nook.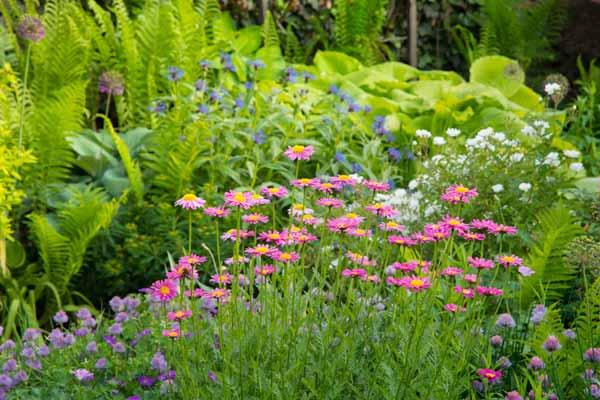 Secret Garden via This Old House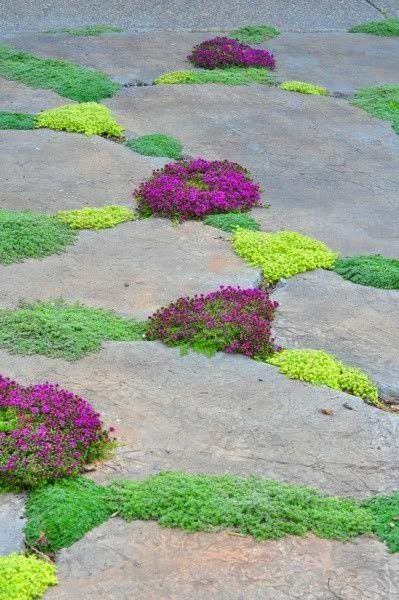 Plants & Patio Stones  via Home Talk

Country Garden Styles via This Old House

Lush hops vine or Moon Flowers will fill narrow allies or fencing and the flowers exude a heady scent in midsummer. Porthole openings in arched doorways can also be made with timbers salvaged from an old garage. Also consider a variety of Honeysuckle in bright sunny gold tones. pinks or fiery coral. These lovely crawlers are robust growers and offer amazing wafting fragrances on warm nights. Add in some jasmine vine – it might not last through the winter but buying one each year won't seem like that high a price to pay once you catch your first inhale. If you want something similar that will last from year to year, consider a form of Clematis called 'Sweet Autumn', which by its self-explanatory nickname will give bursts of white flower through the fall that reward you with their incredible and light perfume.
18 Secret Garden Ideas via Do It Yourself Lists 
Enviable Secret Garden Ideas via Matchness
10 New Secret Garden Ideas via Forbes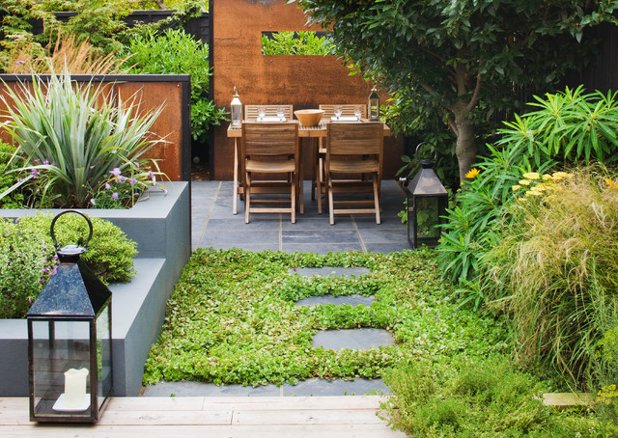 To build up walls or supports that might be needed, use an arbor or A frame trellis covered with clematis and climbing roses. Thickly planted beds won't require much weeding, as they leave little room for interlopers and if you have room put in a bench or low profile seating to enjoy the view with a guest… or just by yourself, as it is your secret garden.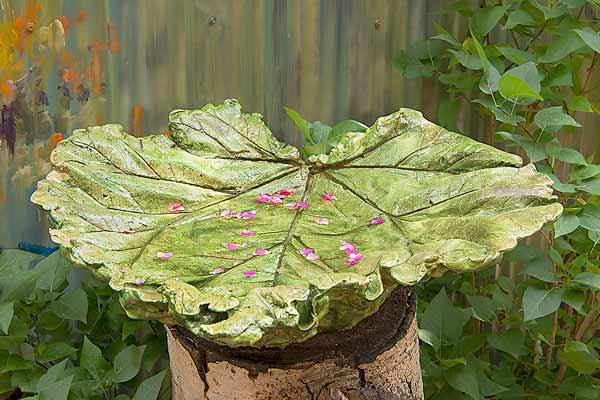 DIY Bird Bath via This Old House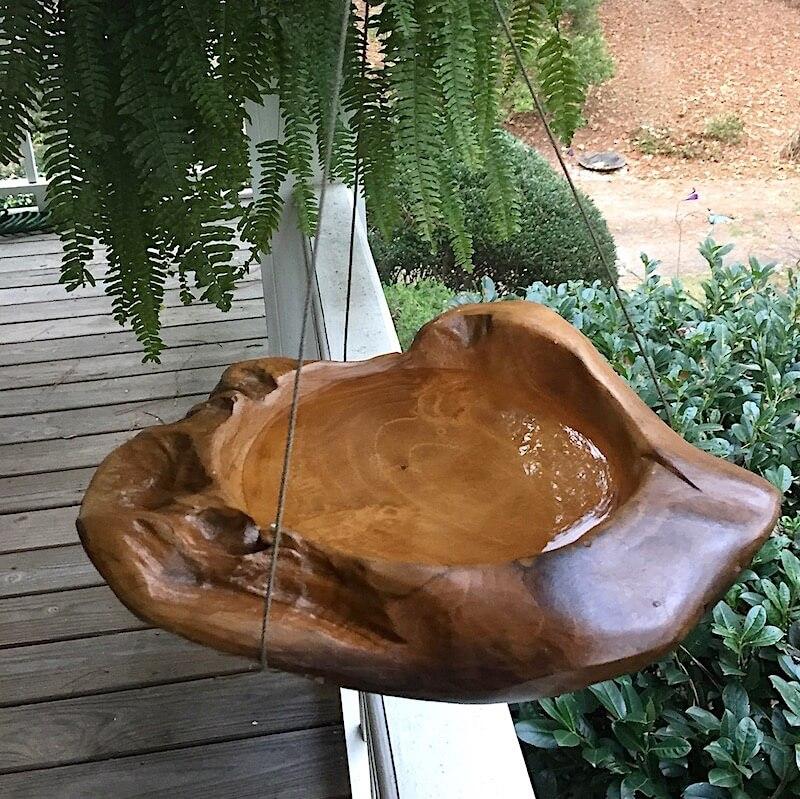 Teak Hanging Bird Bath via The Bird House Chick

Also, check out the suggestions for designing an outdoor space using Pantone's color of the year, Living Coral… from throw pillows and hanging lanterns, to area mattes and outdoor chairs. Various tones of terracotta pots or colorful glazed containers will play beautifully off each other outside and will compliment the best of nooks, landscapes, beach bungalows, patios, and secret gardens like the ones shared above. Read more here.
Outdoor Shades of Terracotta via Casa Colibri Terra
Outdoor Shades of Terracotta via Casa Colibri Terra
Our final suggestions? Throw in a tiny mosaic tile table for placing chilled ice tea or summertime sangria. And if you're looking for an option that offers instant privacy when a little extra seclusion is needed, consider adding a curtain made of translucent parachute material – in white or a bold color – it can be strung along clear line that can be drawn or open, whatever you're mood. It's light enough that it can be tacked along wood or poles easily and it's water resistant but dries incredibly fast. Work in some magical vintage string lights – and no power source? no problem – use warm glow-y solar versions that last hours and hours in the high sun summer days. They will give you hours of soft, dreamy lighting to extend your time in your private oasis. Happy creating!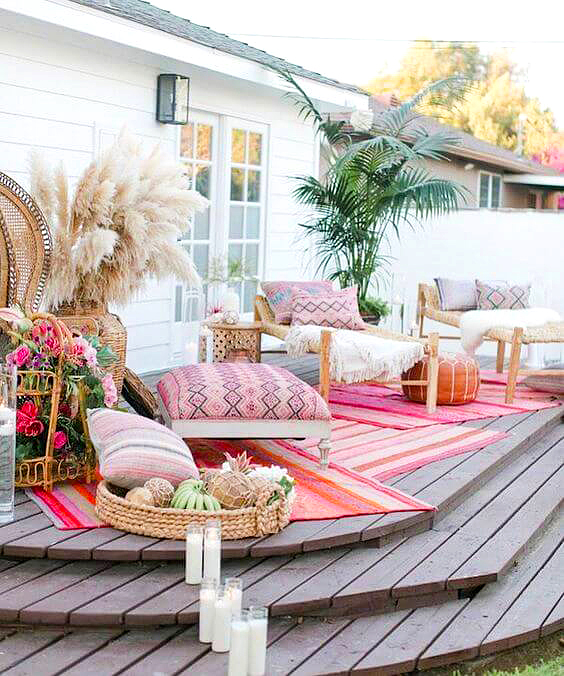 Coral Toned Outdoor Boho Inspiration via Backyard Master
---
INSPIRATION SOURCE
Featured Image – Casa joven, Sotheby's Global Properties
This Old House – Creating a Secret Garden
5 Inspiring Cottage Style Gardens – Town & Country Living
Secret Garden Tour – Titusville.org
Small Space Grass & Flowers – Home Talk
18 Secret Garden Ideas – Do It Yourself List
Enviable Secret Garden Ideas – Matchness
10 Secret Garden Ideas – Forbes
Hanging Teak Bird Bath – Bird House Chick
Backyard Master – 31 BOHO Inspired Outdoor Spaces